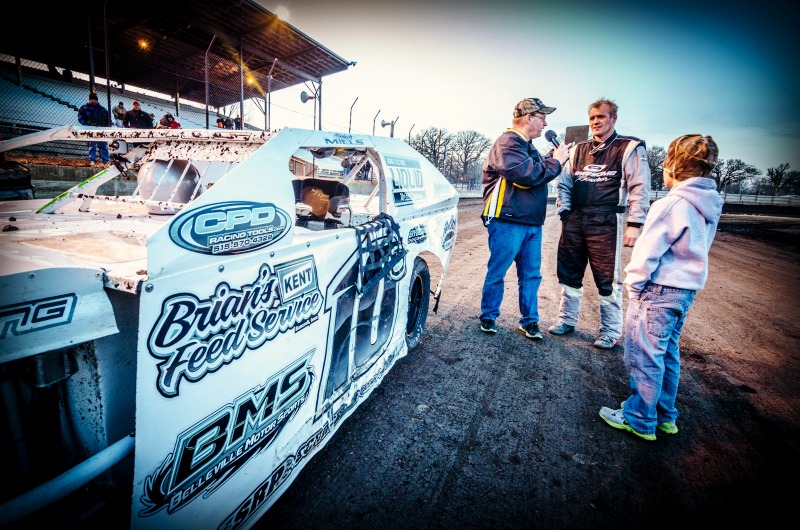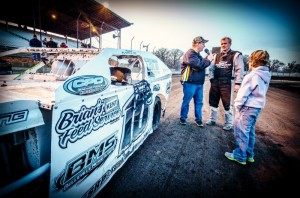 ALGONA, Iowa (April 5) – Stacey Mills' racing to-do list got shorter Saturday night.
Mills held off Mike Jergens to prevail in a green, white, checkered finish and earn $1,000 for the IMCA Xtreme Motor Sports Modified feature win at Algona Raceway's season-opening North Iowa Frostbuster.
"This is my first $1,000 win. I've been trying to do that for a long time," the new Fast Shafts All-Star Invitational ballot candidate said. "It was a good race. We had a good night. Everything worked out perfect for us."
After winning his heat from the third row, Mills drew the inside row four start from the main event. He had the lead before midway of the 20-lapper.
Mike Jergens tried to stay close in the late going but had to settle for second. Dustin Smith, Tad Reutzel and Dan Menk rounded out the top five.
Kevin Opheim scored his 108th career IMCA Sunoco Stock Car victory. Ben Schultze topped the Karl Chevrolet Northern SportMod feature, Cody Nielsen was the IMCA Sunoco Hobby Stock win­ner and Nate Coopman collected Mach-1 Sport Compact career win number 91.
Also taking the initial green from seventh, Opheim had the lead 10 laps into the 15-lapper for Stock Cars. He survived a near spin after contact with another car, restarting at the front and lead­ing to the finish.
Chad Palmer and Randy Green both challenged before ending in second and third, respectively. Chris Palsrok was fourth and Dan Mackenthun ran fifth.
Schultze started second and led every circuit in the SportMod 12-lapper. Fastest in the first set of turns, he won ahead of Matthew Looft, Josh Larsen, Greg Sidles and Darrin Roepke.
Nielsen drew the pole and was scored first every time around the track in the 12-lap Hobby Stock feature.
Working the bottom line to perfection, he saw lapped traffic become a non-factor following a cau­tion just after halfway. Cory Weishaar, Malik Sampson, Austin Hauswirth and Craig Graham were next across the stripe.
Chasing Coopman to the Sport Compact checkers were Ryan Bryant, Dustin Haggard, Jacob Kofoot and Danny Sassman.
Feature Results
Modifieds – 1. Stacey Mills; 2. Mike Jergens; 3. Dustin Smith; 4. Tad Reutzel; 5. Dan Menk; 6. Austin Wolf; 7. Trent Loverude; 8. Jeff Dolphin; 9. Jason Fisher; 10. Jeremy Mills; 11. Josh Ruby; 12. Jesse Hoeft; 13. Ryan Watnem; 14. Clayton Christensen.
Heat winners were Stacey Mills and Jergens.
Stock Cars – 1. Kevin Opheim; 2. Chad Palmer; 3. Randy Green; 4. Chris Palsrok; 5. Dan Macken­thun; 6. Elijah Zevenbergen; 7. Calvin Lange; 8. Jeff Deal; 9. John Wiemann; 10. Andy Altenburg; 11. Bruce Wickman; 12. David Smith; 13. Rich Pedersen; 14. Cody Frerichs; 15. David Wickman; 16. Travis Shipman.
Heat winners were Lange and Palmer.
Northern SportMods – 1. Ben Schultze; 2. Matthew Looft; 3. Josh Larsen; 4. Greg Sidles; 5. Dar­rin Roepke; 6. Matt Hoeft; 7. George Nordman; 8. Nate Whitehurst; 9. Logan Swearingen; 10. Brandon Ostwald; 11. George Gilliland; 12. Benjamin Chukuske; 13. Andy Beenken; 14. Nick Meyer; 15. Jeremy Biddle; 16. Nate Albrant.
Heat winners were Roepke and Looft.
Hobby Stocks – 1. Cody Nielsen; 2. Cory Weishaar; 3. Malik Sampson; 4. Austin Hauswirth; 5. Craig Graham; 6. Drew Barglof; 7. Mike Vogt; 8. Aaron Rudolph; 9. Chad Gentz; 10. Matt Olsen; 11. Weston Koop; 12. Jay Sidles; 13. Brandon Nielsen; 14. Neil Forsberg; 15. Joe Heyes; 16. Bryce Sommerfeld; 17. Dennis Theesfeld; 18. Bryant Johnson; 19. Wade Gilliland; 20. Justin Nehring; 21. Tyler Pickett; 22. Daniel Smith.
Heat winners were Graham, Nielsen and Olsen.
Sport Compacts – 1. Nate Coopman; 2. Ryan Bryant; 3. Dustin Haggard; 4. Jacob Kofoot; 5. Danny Sassman; 6. Cory Peters; 7. Lyle Oberhelman; 8. Lucas Parsons; 9. Jay DeVries; 10. Kay­tee DeVries; 11. Nick Hogan; 12. Dalton Lewis; 13. Oliver Monson; 14. Chris Heyes; 15. Justin Nielson; 16. Megan Lappegard.
Heat winners were Bryan and Sassman.