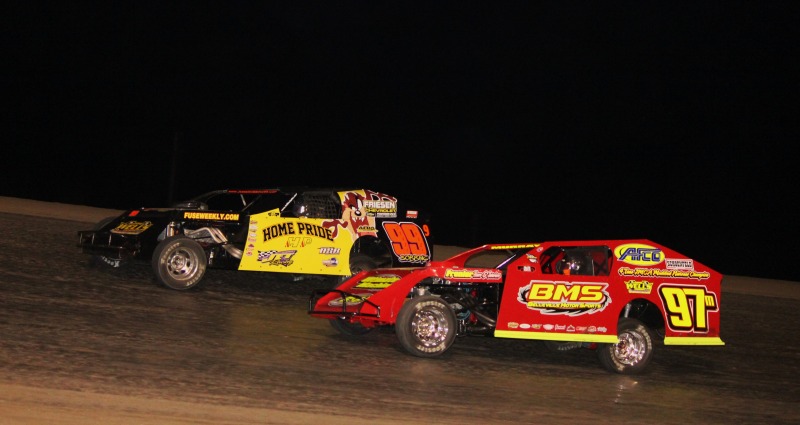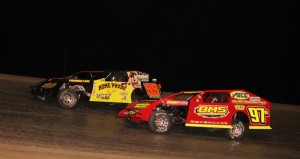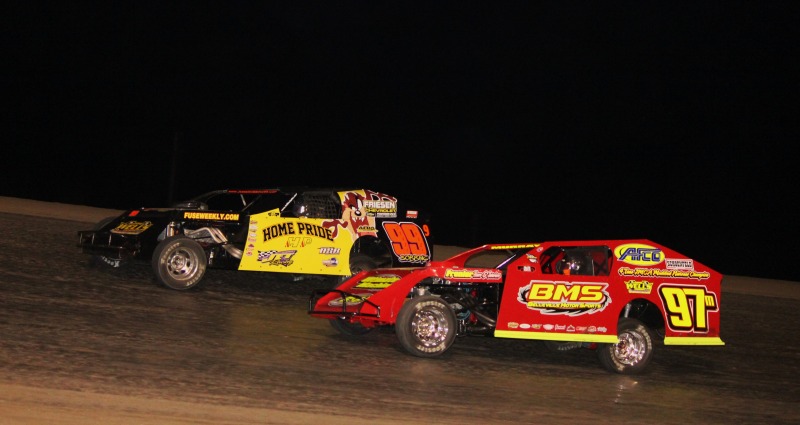 By Mike Hughes
HAYS, Kan. (March 28-29) – More than 160 race teams from eight states made the trip to RPM Speedway for the season-opening Sunflower Classic and Jesse Sobbing and David Murray Jr. drove home with the biggest checks.
Each earned $1,000 for their IMCA Xtreme Motor Sports Modified feature wins at Hays. Both were already qualified for the Fast Shafts All-Star Invitational ballot.
In Friday's opener, Jeremy Frenier started outside pole and stayed in front to lap 16, when Sob­bing got underneath coming out of turn four to take a lead he would not relinquish. Lapped traffic came into play but Sobbing held off Murray, who finished inches ahead of Cody Gearhart for se­cond. Frenier and Jeff Hunter rounded out the top five.
On Saturday, Travis Hatcher led the first eight laps before Dylan Sherfick and Murray shot past following a restart. As the field came out of four to the halfway mark, Murray got under Sherfick to take the top spot and drove away for the rich payday. Sherfick was second, followed by Gearhart, Taylor, and Hatcher.
Mike Nichols swept $750 to win Dirt Track Central Jax Sports Grille Great Plains Series features for the IMCA Sunoco Stock Cars.
Nichols made his move in lapped traffic to take the opening night lead and took the checkers ahead of Kyle Vanover, Nick Tubbs, B.J. Wagoner and 'B' winner Nolan Remus.
After a first lap mishap, the Saturday feature went 25 caution-free laps and Nichols made his way back to victory lane. Pole starter Angel Munoz finished second and Jason Rogers was third. Tubbs was fourth and Vanover ended in fifth.
Tyler Frye picked up where he left off last year as he got past Blaine Walt on lap 17 to win the 20-lap Karl Chevrolet Northern SportMod main event on Friday. Walt stayed close but had to settle for second, with Daniel Gottschalk, Ben Kates, and Jake Krone completing the top five.
Austin Carter shot to the top spot at the drop of the green in the Saturday show but Clay Money took control on lap nine and led the remaining distance for the trip to victory lane. Carter held on for second, followed by Walt, Cory Struckhoff and Brenden Damon.
Dillon Thompson started on the pole for Friday's IMCA Sunoco Hobby Stock main and led all 20 laps. Chuck Madden chased Thompson most of the way but had to settle for the runner-up spot. Mike Traskowsky finished third, followed by Jason Fusselman and Kurt Hansen.
More than 40 Hobby Stocks checked in Saturday night. Madden started pole and swapped the early lead with Garrett Hager. The final half of the 20-lapper went caution free and set up an excit­ing finish.
As the leaders went into the final turn, third running Adam Armstrong shot to the lead and held on for another early season victory. Madden, was second while G.W. Fuller had the drive of the night af­ter starting 24th and finishing third. Fusselman and Jeremy Wagner rounded out the top five.
Defending national champion Ramsey Meyer led all 15-laps in winning the opening night Mach-1 Sport Compact feature. A caution on lap 14 set up a green-white-checkered finish but Meyer was beat heat race winners Art Herzog and Michael Smith to the checkers. Kirk Pfannenstiel was fourth and Richard Tegethoff fifth.
Hometown driver Kirk Pfannenstiel led all 15 caution-free laps in topping the Saturday show. Meyer finished second, with Kiowa Higdon, Smith and Herzog finishing out the top five.
The weekend's race sponsors were Xtreme Motorsports and D & B Motors. The regular season at Hays will kick off on Saturday, April 12, at 7 p.m. with the school buses joining the regular divi­sions divisions in action.
March 28 Feature Results
Modifieds – 1. Jesse Sobbing; 2. David Murray Jr.; 3. Cody Gearhart; 4. Jeremy Frenier; 5. Jeff Hunter; 6. Chris Bragg; 7. Brendon Gemmill; 8. Jesse Taylor; 9. Mike Densberger; 10. Dylan Sher­fick; 11. Eddie Belec; 12. Kyle Rohleder; 13. Corey Burch; 14. Kevin Gray; 15. Ryan Heger; 16. Joe Cleveland; 17. Tim Watts; 18. Travis Hatcher; 19. Jason Schoenberger; 20. Clay Sellard; 21. Ronnie Hill; 22. Jeremy Zorn; 23. Corey Lagroon; 24. Van Gemmill.
Heat winners were Sobbing, Frenier, Bragg and Zorn. "B" winners were Sellard and Hatcher.
Stock Cars – 1. Mike Nichols; 2. Kyle Vanover; 3. Nick Tubbs; 4. B.J. Wagoner; 5. Nolan Remus; 6. Angel Munoz; 7. Justin Temeyer; 8. Jeff Tubbs; 9. Scot Granzella; 10. Lance Borgman; 11. Jason Rogers; 12. Casey Woken; 13. Perry Misner; 14. Michael Pepper; 15. Kyle Clough; 16. Mark Zorn; 17. Geoff Jermark; 18. Chris Meis; 19. Robert Rutherford; 20. John D. Sieg; 21. John A. Sieg; 22. Chad Borgman; 23. Tyler Tipton; 24. Jason McIntyre.
Heat winners were Jeff Tubbs, Vanover, Nick Tubbs and Temeyer. Remus won the "B" feature.
Northern SportMods – 1. Tyler Frye; 2. Blaine Walt; 3. Daniel Gottschalk; 4. Ben Kates; 5. Jake Krone; 6. Cory Struckhoff; 7. Clay Money; 8. Kurtis Pihl; 9. Brenden Damon; 10. Shane Meeks; 11. Nate Ginest; 12. Austin Carter; 13. Jimmy Ness; 14. Bryan Herrick; 15. Mark Franklin; 16. Fred Traskowsky; 17. Ryan Moser; 18. Jeremy Couse; 19. Brandon Clough; 20. Cody Pancake; 21. Henry Henderson; 22. Andy Barton; 23. Eric Pfeifer; 24. Jeremy Sigler.
Heat winners were Henderson, Krone, Carter and Kates. "B" winners were Franklin and Ness.
Hobby Stocks – 1. Dillon Thompson; 2. Chuck Madden; 3. Mike Traskowsky; 4. Jason Fussel­man; 5. Kurt Hansen; 6. G.W. Fuller; 7. Brock Beeter; 8. Garrett Hager; 9. Cody Graham; 10. Russ Specht; 11. Luke Pfannensteil; 12. Noah Ludwig; 13. Brian Stich; 14. Kyle Pfeifer; 15. Toby Schield; 16. Andrew Sebastian; 17; James Pittman; 18. Ron Wehling; 19. Darren Unrein; 20. Os­car Runyon; 21. Tommy Fose; 22. T.C. McKain; 23. Corey Madden; 24. H.J. Colburn.
Heat winners were Ludwig, Beeter, Thompson and Pfeifer. "B" winners were Fuller and Runyon.
Sport Compacts – 1. Ramsey Meyer; 2. Art Herzog; 3. Michael Smith; 4. Kirk Pfannenstiel; 5. Richard Tegethoff; 6. Madison Reed; 7. Mike Wagner; 8. Andrew Soderland; 9. Justin Rohr, 10. Kiowa Higdon; 11. Brandon Lobdell.
Heat winners were Higdon and Herzog.
March 29 Feature Results
Modifieds – 1. Murray; 2, Dylan Sherfick; 3. Gearhart; 4. Taylor; 5. Hatcher; 6. Bragg; 7. Zorn; 8. Frenier; 9. Hunter; 10. Mike Wadel; 11. Colgin; 12. Belec; 13. Van Gemmill; 14. Hill; 15. Sobbing; 16. Travis Sherfick; 17. Roth; 18. Rohleder; 19. Schoenberger; 20. Brendon Gemmill; 21. Heger; 22. Burch; 23. Densberger; 24. Gray.
Heat winners were Rohleder, Hatcher, Gray and Bragg. "B" winners were Frenier and Roth.
Stock Cars – 1. Nichols; 2. Munoz; 3. Rogers; 4. Nick Tubbs; 5. Vanover; 6. Wagoner; 7. Misner; 8. Jason Davis; 9. Jeff Tubbs; 10. Lance Borgman; 11. Chad Borgman; 12. Woken; 13. Tipton; 14. Dustin McClurg; 15. Pepper; 16. Granzella; 17. Clough; 18. John D. Sieg; 19. Rutherford; 20. John A. Sieg; 21. McIntyre; 22. Temeyer; 23. Zorn; 24. Shannon Maughlin; 25. Jermark; 26. Wes Baier.
Heat winners were Wagoner, Nick Tubbs, Granzella and Vanover.
Northern SportMods – 1. Money; 2. Carter; 3. Walt; 4. Struckhoff; 5. Damon; 6. Dustin Daniels; 7. Frye; 8. Ginest; 9. Pihl; 10. Gottschalk; 11. Trenton Kleweno; 12. Krone; 13. Austin Walker; 14. Herrick; 15. Henderson; 16. Mike Appel; 17. Moser; 18. Josh Appel; 19. Kamron Gruber; 20. Pan­cake; 21. Ness; 22. Dakota Sproul; 23. Meeks; 24. Kates.
Heat winners were Carter, Frye, Krone and Gottschalk. "B" winners were Walker and Mike Appel.
Hobby Stocks – 1. Adam Armstrong; 2. Chuck Madden; 3. Fuller; 4. Fusselman; 5. Jeremy Wag­ner; 6. Wehling; 7. Stich; 8. Corey Madden; 9. Sebastian; 10. Pfannensteil; 11. Pittman; 12. Lud­wig; 13. Travis Coop; 14. Pfeifer; 15. Jason Sucky; 16. Mike Giesenhagen; 17. Schield; 18. Hager; 19. Roy Armstrong; 20. Beeter; 21. Brady Bencken; 22. Traskowsky; 23. Graham.
Heat winners were Thompson, Fusselman, Stich, Beeter, Traskwosky and Graham. "B winners were Corey Madden and Ludwig.
Sport Compacts – 1. Pfannenstiel; 2. Meyer; 3. Higdon; 4. Smith; 5. Herzog; 6. Soderland; 7. Tegethoff; 8. Reed; 9. Lobdell; 10. Wagner; 11. Rohr; 12. Shaun Woods.
Heat winners were Meyer and Pfannenstiel.