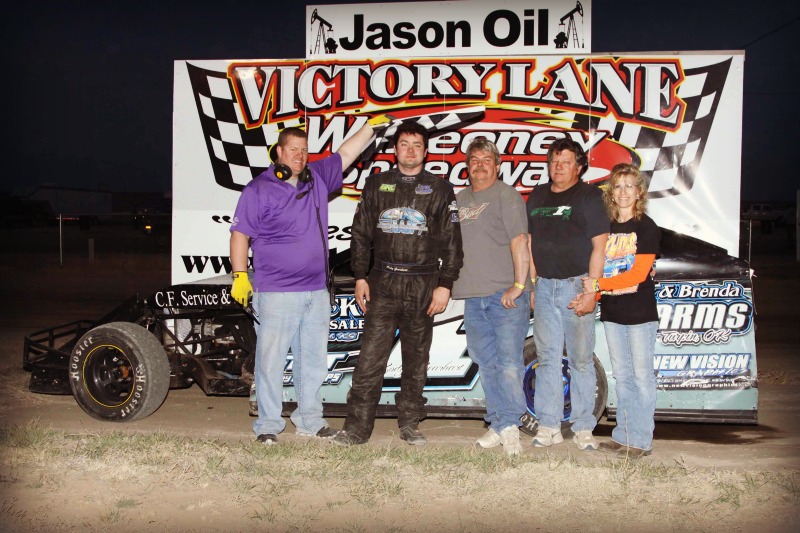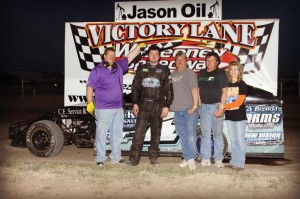 By Mike Hughes
WaKEENEY, Kan. (March 30) – Cody Gearhart checked out on everybody in winning the IMCA Xtreme Motor Sports Modified feature at WaKeeney Speedway's Spring Fling special.
Marty Clark had jumped out to the early lead in Sunday's headliner only to slide off the back­stretch on lap three and go to the tail of the field. That gave the front spot to Gearhart, who sped off and left the field way behind en route to the $1,000 payday.
Dylan Sherfick chased Gearhart but had to settle for second, followed by Jeremy Frenier, Tim Watts and Kyle Rohleder. Gearhart was already on the ballot for the Fast Shafts All-Star Invita­tional.
Mike Nichols scored his third $750 Dirt Track Central Jax Sports Grille Great Plains Series victory in as many nights, in an IMCA Sunoco Stock Car field loaded with heavy hitters.
Jason Rogers took the lead at the drop of the green and three early cautions kept the pack close. Rogers continued to lead at the halfway mark of the 25-lap event, followed by Nichols and Jeff Tubbs.
Rogers and Nichols put on a show, with Nichols finally taking over the top spot on lap 20. A cau­tion on lap 24 set up a green, white, checkered finish but Nichols held off Rogers and Tubbs at the line for the victory. Angel Munoz and Justin Temeyer rounded out the top five.
Also taking checkered flags were Tyler Frye in the Karl Chevrolet Northern SportMods, Adam Arm­strong in the IMCA Sunoco Hobby Stocks and Ramsey Meyer in the Mach-1 Sport Compacts.
Daniel Gottschalk and Cory Struckhoff took turns in front of the Northern SportMod field before Frye made his move following a lap five restart and led the rest of the 20-lapper. Struckhoff, Blaine Walt, Ben Kates and Josh Appel rounded out the top five.
North Dakotan Brock Beeter looked to make his long haul worthwhile as he took the lead at the start of the Hobby Stock feature. Beeter led to the crossed flags in the 15-lap race until Armstrong gained control on lap nine.
A couple late cautions bunched the field but Armstrong held on for his second $500 winner's check in as many nights. Beeter held on for the runner-up spot, trailed by Garrett Hager, Brady Bencken and Colton Pfeifer.
Meyer passed Art Herzog on lap four of the 12-lap Sport Compact feature and pulled away for his second win on the weekend. Kiowa Higdon finished second, followed by Herzog, Michael Smith and Brandon Lobdell.
More than 110 cars from six states filled the pits for the season-opening special at WaKeeney.
All five IMCA divisions are in action on Sunday, April 6. The green flag will fly at 6:30 p.m.
Feature Results
Modifieds – 1. Cody Gearhart; 2. Dylan Sherfick; 3. Jeremy Frenier; 4. Tim Watts; 5. Kyle Rohle­der; 6. Van Gemmill, 7. Clay Sellard; 8. John Fabrizius; 9. Anthony Roth; 10. Chris Heim; 11. Ja­son Haug; 12. Marty Clark; 13. Jesse Richter; 14. Matt Henke; 15. Wheat Lippelmann; 16. Craig Colgin; 17. Don Geist; 18. Randy Wilson; 19. Chadd Brown; 20. Danny Concelman; 21. Brian Cal­hoon; 22. Scott Brown; 23. Alex Albin; 24. Bill Albin.
Heat winners were Rohleder, Gearhart, Gemmill and Sherfick.
Stock Cars – 1. Mike Nichols; 2. Jason Rogers; 3. Jeff Tubbs; 4. Angel Munoz; 5. Justin Temeyer; 6. Kyle Clough; 7. Nick Tubbs; 8. B.J. Wagoner; 9. Brent Moss; 10. Perry Misner; 11. Wheat Lippelmann; 12. Michael Meyer; 13. Jason McIntyre; 14. Jason Davis; 15. Casey Woken; 16. Tyler Tipton; 17. Austin Janousek; 18. Wes Bauer; 19. Shannon Maughlin; 20. Eric Kin­derknecht; 21. Scot Granzella; 22. John A. Sieg; 23. John D. Sieg.
Heat winners were Nichols, Rogers and Jeff Tubbs.
Hobby Stocks – 1. Adam Armstrong; 2. Brock Beeter; 3. Garrett Hager; 4. Brady Bencken; 5. Colton Pfeifer; 6. Andrew Sebastian; 7. Cody Graham; 8. Jeromy Wagner; 9. Colin Heim; 10. Kyle Pfeifer; 11. William Bauer; 12. Al Emmons; 13. Robert Emmons; 14. Sierra Swart; 15. Leon Pfannen­stiel; 16. Lyle Russell; 17. Tanner Moss; 18. Mike Giesenhagen; 19. Jason McClurg; 20. Daniel Irwin; 21. Roy Armstrong; 22. Justin Meserve; 23. Monte Honas.
Heat winners were Roy Armstrong, Adam Armstrong and Garrett Hager.
Northern SportMods – 1. Tyler Frye; 2. Cory Struckhoff; 3. Blaine Walt; 4. Ben Kates; 5. Josh Appel; 6. Clay Money; 7. Bryan Herrick; 8. Austin Carter; 9. Austin Walker; 10. Jeremy Sigler; 11. Trenton Kleweno; 12. Ryan Moser; 13. Willie Wynn; 14. Kaid Calhoon; 15. C.J. Pfannenstiel; 16. Dakota Sproul; 17. Trevor Geist; 18. Henry Henderson; 19. Dan Lauer; 20. Jeremy Couse; 21. Brandon Clough; 22. Mike Appel; 23. Daniel Gottschalk; 24. Jimmy Ness.
Heat winners were Josh Appel, Walt, Herrick and Kates. Walker won the "B" feature.
Sport Compacts – 1. Ramsey Meyer; 2. Kiowa Higdon; 3. Art Herzog; 4. Michael Smith; 5. Bran­don Lobdell; 6. Dean Herzog; 7. Madison Reed; 8. Andrew Soderland; 9. T.J. Janousek; 10. Richard Tegethoff; 11. Ed Jasper; 12. Kirk Pfannenstiel; 13. Justin Rohr.
Heat winners were Meyer and Pfannenstiel.