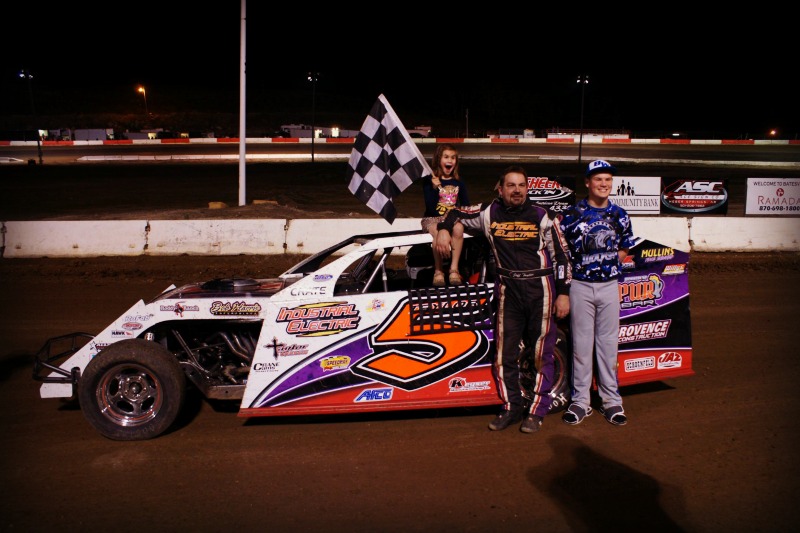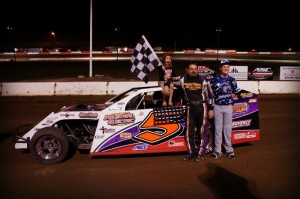 BATESVILLE, Ark. (March 20-22) – Jeff Taylor's North Dakota car is pretty fast in Arkansas, too.
Taylor swept the three Mid-America Modified Championship features at Batesville Motor Speedway, earning $1,500 for each of his Thursday, Friday and Saturday IMCA Xtreme Motor Sports Modified feature wins.
"I've never won three nights in a row. I've won twice before but this is the first time I've ever done that," said Taylor, new to the 2014 Fast Shafts All-Star Invitational ballot. "I had a really good race car all three nights and a lot of help getting it that way. It was a pretty neat deal all the way around."
The Taylor Chassis ride is one he's raced previously in North Dakota. Marlyn Seidler brought it south.
Taylor won from third starting Thursday and Saturday, and all the way from 21st on Friday.
"That was probably the best I've ever been at this place," he said of the Friday feature. "I had an awesome car. Anybody could have driven it."
Taylor led the last four circuits of the opening night 25-lapper. He'd fallen back to fifth and then had to pass Jacob Murray, Spencer Wilson and Jared Siefert before setting his sights on Ken Schrader.
Schrader was making his first IMCA start of the season. The front two were running with lapped cars when they got together in an incident that saw Taylor emerge with the lead.
Completing the top five were Schrader, Wilson, Richie Tosh and Siefert.
In front before the halfway point on Friday, Taylor was comfortably ahead of Tosh, Seidler, Brandon Smith and Shawn Walsh when the checkers flew.
"I could run anywhere I wanted. High, low, I ran all over," he said. "I couldn't have asked for a better car.
Taylor led every lap on Saturday. Tosh repeated in second while Walsh, Tyson Franks and Wilson rounded out the top five.
Taylor has won feature events at three consecutive Mid-America Modified Championships, including a pair in 2012.
Feature Results
March 20 – 1. Jeff Taylor; 2. Ken Schrader; 3. Spencer Wilson; 4. Richie Tosh; 5. Jared Siefert; 6. Jacob Murray; 7. Tyson Franks; 8. Brian Mullen; 9. Brandon Smith; 10. Payton Taylor; 11. Marlyn Seidler; 12. Eric Van Iten; 13. Mitchell Galloway; 14. Mark Norris; 15. Mikey Bell; 16. Mike Bowers; 17. Jordan Turner; 18. Bennett Johnson; 19. Brent Hartwick; 20. Clay Norris; 21. Todd Sherrill; 22. Rick Engles; 23. Kevin Sustaire.
March 21 – 1. Jeff Taylor; 2. Tosh; 3. Seidler; 4. Smith; 5. Shawn Walsh; 6. Wilson; 7. Johnson; 8. Brian Ritchie; 9. Bowers; 10. Engles; 11. Mullen; 12. Hartwick; 13. Jordan Turner; 14. Van Iten; 15. Clay Norris; 16. Mark Norris; 17. Siefert; 18. Franks; 19. Brad Calhoun; 20. Sherrill; 21. Sustaire; 22. Jason Bahrs; 23. Murray; 24. Bell.
March 22 – 1. Jeff Taylor; 2. Tosh; 3. Walsh; 4. Franks; 5. Wilson; 6. Smith; 7. Siefert; 8. Seidler; 9. Jason Wilkey; 10. Hartwick; 11. Murray; 12. Sustaire; 13. Johnson; 14. Van Iten; 15. Turner; 16. Clay Norris; 17. Mark Norris; 18. Payton Taylor; 19. Mullen; 20. Ritchie; 21. Bahrs; 22. Bell.