CHICO, Calif. (March 7-8) – After a disappointing 2013 season, Kellen Chadwick picked the perfect night and the perfect track to launch a successful 2014 campaign.
Chadwick held off Ryan McDaniel and then Troy Foulger in winning the Saturday night IMCA Xtreme Motor Sports Modified feature at Silver Dollar Speedway. The Nor-Cal Challenge Series opening victory came on night two of Silver Dollar's Silver Cup special.
"After last year, it was very important for us to get off to a good start this season," said Chadwick. "This being a Nor-Cal Series race, $1,000 to win and a Fast Shafts All-Star Invitational ballot qualifier, we accomplished that."
Foulger, defending series champion McDaniel, opening night Silver Cup winner Nick DeCarlo and Monte Bischoff rounded out the top five. Forty-three Modifieds vied in the tour lidlifter.
Chadwick started the 30-lapper from inside row two, caught Foulger for second on the fourth circuit and set his sites on McDaniel, finally getting the lead on lap 13.
Once in front, Chadwick kept McDaniel in check following four restarts, the last of them coming with two laps to go.
DeCarlo passed Bischoff for fourth before Folger found his way around McDaniel and into second on the white flag lap. Chadwick took the checkers with the 2013 monkey off his back.
"Last year, if something could go wrong, it did," he said. "We won a few main events but with some things that happened and things that broke while we were leading probably cost us 10 wins. Last year was just one of those years. It's important for us to put that behind us and start over."
The opening night Silver Cup winner two years ago, Chadwick decided against making the three-hour trip to Chico on Friday following a midweek gulley washer. Afterward his Saturday win he had plenty of compliments for promoter Dennis Gage and the track staff.
"My hat is off to the Silver Dollar crew for even getting the races in," Chadwick said. "I can't believe they did it."
The Nor-Cal Challenge Series returns to Silver Dollar for the tour finale on Sept. 27.
Feature Results
March 7 – 1. Nick DeCarlo; 2. Duane Cleveland; 3. Jake Vantol; 4. Kyle Casson; 5. Albert Gill; 6. Alex Wilson; 7. Jesse Bailey; 8. Raymond Lindeman; 9. Kyle Wilson; 10. Curtis Towns; 11. James Hite; 12. Roger Lorenzini; 13. Jay Sears; 14. Craig Nieman; 15. Dustin Massey; 16. Dave Duste Jr.; 17. Jeff Olschowka; 18. Riley Simmons; 19. Ryan McDaniel; 20. Richard Papenhausen.
Heat winners were DeCarlo, Cleveland, Olschowka and Sears. Papenhausen won the "B" feature.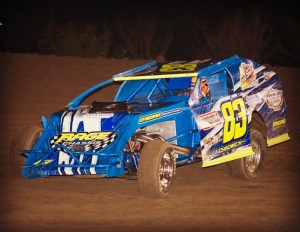 March 8 – 1. Kellen Chadwick; 2. Troy Foulger; 3. Ryan McDaniel; 4. DeCarlo; 5. Monte Bischoff; 6. Randy McDaniel; 7. Papenhausen; 8. Aaron Crowell; 9. Casson; 10. Simmons; 11. Lorenzini; 12. Cleveland; 13. Gill; 14. Duste; 15. Matt Murphy; 16. Chester Kniss; 17. Sears; 18. Olschowka; 19. Oreste Gonella; 20. Towns.
Heat winners were Ryan McDaniel, Randy McDaniel, Chadwick and Folger. Cleveland and Casson won the "B" features.