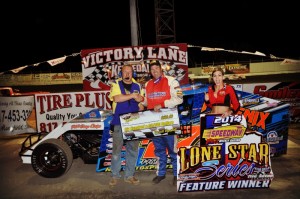 KENNEDALE, Texas (March 1) – Glen Hibbard checked out on everybody before taking the IMCA Xtreme Motor Sports Modified checkers Saturday at Kennedale Speedway Park.
Hibbard started the Spring Kick-Off main event from outside row one and led all 20 circuits to take the $600 victory and career-first Texas Lone Star Series win.
"We hit the set up dead on," said Hibbard, who piloted a new Phoenix Race Chassis across the stripe. A couple restarts and lapped traffic didn't slow Hibbard much as he won comfortably ahead of Jeff Emerson, Keith White, J.P. Dowell and Chris Elliott.
Also winning tour features were defending champion Gabe Tucker in the Southwest Racing Special­ties Southern SportMod Lone Star Series main and Kirk Martin in the Wild Child Race Cars Stock Car headliner.
Tucker wheeled the same Express car he won the 2013 Scoggin-Dickey Parts Center Southern SportMod national title in to his first triumph of the new season.
He started seventh, was running at the front by midway and held off Justin Cass and Jake Upchurch following restarts with six and then four laps left.
"It was good to get the win but we didn't do anything wild to celebrate," Tucker said. "We checked the nuts and bolts and went over the car to get ready for the next race."
Cass, Upchurch, Jon White Jr. and Alex Hickham rounded out top five.
Planning an ambitious 2014 season, Martin started fifth and reeled in long-time leader Tucker with a lap and a half left to prevail in the IMCA Sunoco Stock Car feature.
"I was racing against the best of the South. It was very exciting for me to win that race," said Martin, powered by a new motor package provide by Tanglewood Oil Field Services. "We changed our setup on our (2012) Medieval Chassis and it was the best, fastest car we've ever had."
Tucker, Jay Bransom, Matt Guillaume and Jeremy Carter completed the top five.
After an early spin, Chad Wilson took home the $800 IMCA Eagle Motorsports RaceSaver Sprint Car win.
Wilson started eighth and was quickly into second before spinning. He got moving again before the yellow flew for an incident elsewhere on the track, got his spot back and led the last 15 of 20 laps.
Working traffic on the high side, he put some distance on his nearest challengers following a re­start with three to go. Jeff Day, Josh Hawkins, John Ricketts and Claud Estes followed at the fin­ish.
"It was a pretty cool night for us," Wilson said. "My dad passed away a year ago this weekend. This was pretty special for all of us."
Sunday's Lone Star Series program was lost to inclement weather.
Feature Results
Modifieds – 1. Glen Hibbard; 2. Jeff Emerson; 3. Keith White; 4. J.P. Dowell; 5. Chris Elliott; 6. Josh McGaha; 7. Chris Bragg; 8. Jay Bransom; 9. Matt Martin; 10. Justin Radcliff; 11. Chad Mel­ton; 12. Dean Abbey; 13. Kevin Rutherford; 14. Ronnie Welborn; 15. Ben Ketteman; 16. Thomas Walp; 17. Tommy Williams; 18. Marvin Skinner; 19. Robert McKinney; 20. Travis Mosley; 21. Don Chamblee; 22. David Cook; 23. Jack Sartain; 24. Chase Allen; 25. Richard Walp; 26. Jeremy Wil­lis.
Southern SportMods – 1. Gabe Tucker; 2. Justin Cass; 3. Jake Upchurch; 4. Jon White Jr.; 5. Alex Hickham; 6. Michael Martin; 7. Brad Shirley; 8. Cory Williams; 9. Allen Montgomery; 10. Jeff Reynolds; 11. Jarrett Roberts; 12. Justin Long; 13. Jeffrey Abbey; 14. Jay Coone; 15. Chris Grusen­dorf; 16. Jacob Pirkle; 17. Randy Doyle; 18. Justin Shaw; 19. Preston Manka; 20. James Skinner; 21. Bobby Ortega; 22. Wes Cummings; 23. Duain Pritchett; 24. G.W. Egbert IV.
Stock Cars – 1. Kirk Martin; 2. Gabe Tucker; 3. Jay Bransom; 4. Matt Guillaume; 5. Jeremy Carter; 6. Colby Deming; 7. Tyler Muirhead; 8. Kevin Sustaire; 9. Levi Hodges; 10. Michael Sheen; 11. Doogie Hauser; 12. Jason Batt; 13. Steven Orebaugh; 14. Billy Wade; 15. Randy Mar­tin; 16. Roman Garcia; 17. Mart Wampler; 18. Thomas Schmidt; 19. Damon Hammond; 20. Duain Pritchett; 21. Tristan Carman; 22. David Bissonnette; 23. Bob Staiert; 24. Brandon Williams; 25. Willie Cook; 26. Adam Schwarz.
Sprint Cars – 1. Chad Wilson; 2. Jeff Day; 3. Josh Hawkins; 4. John Ricketts; 5. Claud Estes; 6. Jeb Sessums; 7. Justin Fifield; 8. Michelle Melton; 9. Logan Scherb; 10. Jeff Emerson; 11. Scott Petersen; 12. Shawn Mize; 13. Colby Estes; 14. Chipper Wood; 15. Marcus Thomas; 16. Regan Hawkins; 17. Elizabeth Richardson; 18. Shane Redline; 19. Tony Dowd; 20. Ryan Hall; 21. Bobby Ruf­fin; 22. Chase Brewer; 23. Kyle Jones; 24. Justin Melton; 25. Anton Hernandez.