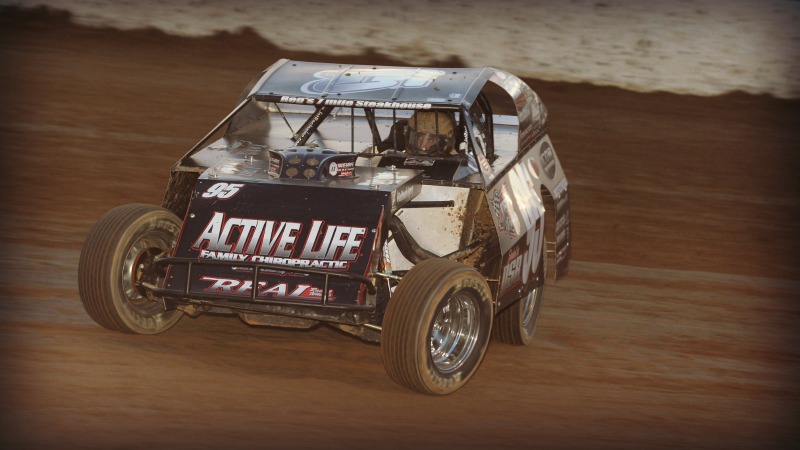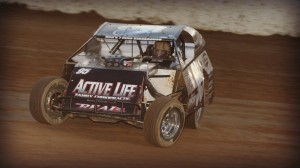 SOMERTON, Ariz. (Feb. 14-15) – Different weekend, same results.
Dylan Smith returned to Cocopah Speedway to complete his four-race sweep of Winter Nationals, earning $1,000 for his Friday night IMCA Xtreme Motor Sports Modified win and $3,000 for the Saturday checkers.
He'd also gone south to Somerton to win $1,000 features on Feb. 7 and 8.
"On Saturday I matched the total I won the first three races at Cocopah so it was a pretty good night," said Smith, who will spend part of that bounty fixing his hauler, which broke down last Thursday in Arizona. "We raced with a lot of good guys down here. I hope we can keep winning races when we start racing at home in Nebraska."
Smith won from seventh starting on Friday and from 10th on Saturday. The victories were his IMCA career 91st and 92nd.
Tim Ward, Justen Yeager, Scott Drake and R.C. Whitwell completed Friday's top five. Chasing Smith across the stripe on Saturday were Drake, Winter Challenge Series champion Ricky Thornton Jr., Jesse Sobbing and Zane DeVilbiss.
Ward and Yeager had started to pull away from the rest of the field in Friday's 25-lapper before Smith used the high line to reel the frontrunners in
.
Passing Yeager with seven laps to go and then Ward with five laps to go, Smith led the rest of the distance in a fast-paced contest that ran caution free.
"It was an exciting race and it got over quick," he said. "You can't ask for much more than that."
Smith had his work cut out again for him Saturday after starting in the row behind Drake and alongside Sobbing.
Again using the high side, Smith passed Sobbing, Ryan Roath and finally Drake to gain the lead just eight circuits into the 30-lap feature.
The first of two cautions came just before midway, then second with four laps remaining. Drake tried to make his move on the bottom but couldn't complete the pass.
More than 40 Modified drivers from nine states took to the track during Valentine's Weekend at Cocopah.
Brock Beeter also ran his Winter Nationals streak to four with a second weekend sweep of IMCA Sunoco Hobby Stock features.
Karl Chevrolet Northern SportMod winners were Rick Diaz and Ben Kates.
Feb. 14 Feature Results
Modifieds – 1. Dylan Smith; 2. Tim Ward; 3. Justen Yeager; 4. Scott Drake; 5. R.C. Whitwell; 6. Larry Hood; 7. Ricky Thornton Jr.; 8. Jesse Sobbing; 9. Ryan Gaylord; 10. Marlyn Seidler; 11. Donald Robinson; 12. Eric Center; 13. Duane Cleveland; 14. Lance Mari; 15. Russell Allen; 16. Ryan Roath; 17. Bobby Horton; 18. Troy Heupel; 19. Bryan Burnes; 20. Jeff Streeter; 21. Steve Stultz; 22. Kent Rosevear; 23. Mike Corning; 24. Austin Black.
Heat winners were Robinson, Ward, Yeager and Smith. "B" feature winners were Thornton and Mari.
Hobby Stocks – 1. Brock Beeter; 2. Craig Ebers; 3. Andrew Sebastian; 4. Brent Wofford; 5. Brian Johnson.
Northern SportMods – 1. Rick Diaz; 2. Nick Spainhoward; 3. Ben Kates; 4. Chris Toth; 5. Josh Wood; 6. Miles Morris; 7. James Dupre; 8. Timmy Reese; 9. Schannon Mohamed; 10. Cody Brown; 11. Sean Callens; 12. Cody Daffern; 13. Ron Regues; 14. Joshua Cordova.
Feb. 15 Feature Results
Modifieds – 1. Smith; 2. Drake; 3. Thornton; 4. Sobbing; 5. Zane DeVilbiss; 6. Seidler; 7. Spencer Wilson; 8. Mari; 9. Corning; 10. Ward; 11. Steve McCollough; 12. Center; 13. Burnes; 14. Heupel; 15. Ty Rogers; 16. Horton; 17. Streeter; 18. Jake Donnelly; 19. Stultz; 20. Roath; 21. Allen; 22. Hood; 23. Yeager; 24. Whitwell.
Heat winners were Roath, Smith, McCollough and Hood. "B" feature winners were DeVilbiss and Mari.
Hobby Stocks ­– 1. Beeter; 2. Ebers; 3. Wofford; 4. Sebastian; 5. Johnson; 6. Taylor Brisighella.
Northern SportMods – 1. Kates; 2. Spainhoward; 3. Keith Smith; 4. Toth; 5. Diaz; 6. Wood; 7. Morris; 8. Dupre; 9. Daffern; 10. Pegues; 11. Mohamed; 12. Reese; 13. Callens; 14. Brown; 15. Cordova.