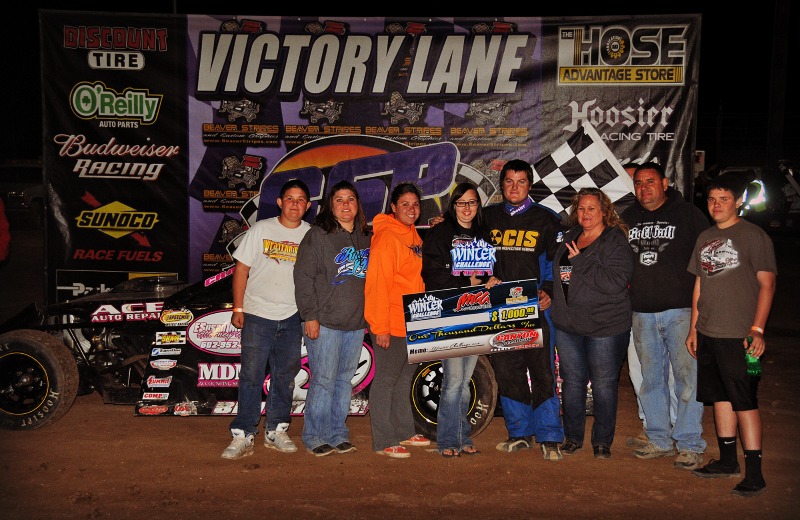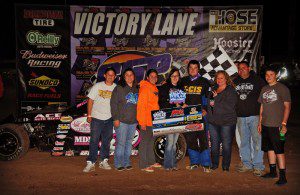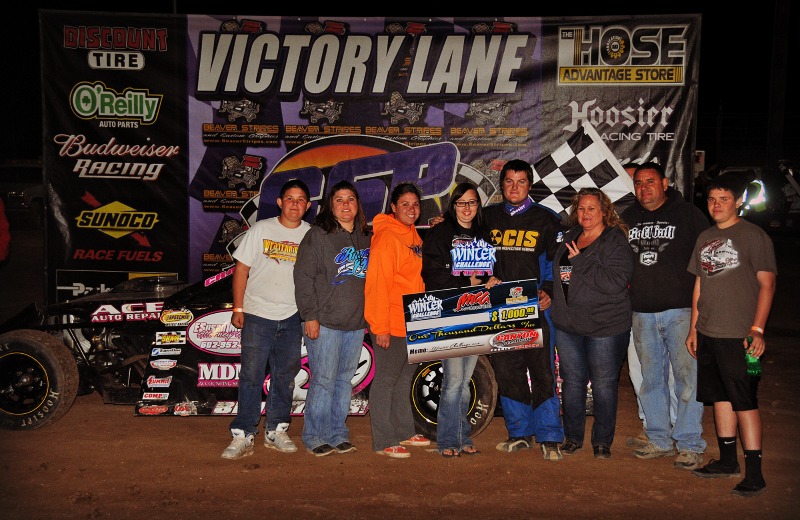 PEORIA, Ariz. (Jan. 25-26) – Ricky Thornton Jr. admitted that he missed on his setup for Friday's Winter Challenge Series opener at Canyon Speedway Park.
Unfortunately for his IMCA Xtreme Motor Sports Modified foes, he was right on the mark Saturday and Sunday, topping both $1,000 to win feature races.
"We were too loose on opening night," said Thornton, who'd previously piloted the ride borrowed from Anthony Madrid for the Duel At The Desert at Las Vegas Motor Speedway last November and then for the Jan. 19 Snowbird Classic show at Arizona Speedway. "We thought the track would stay more tacky Friday and finished 11th but we hit our setup the next two nights."
After starting third on Saturday, he snuck into the front on the second set of turns and led all 25 circuits. Sticking to his preferred inside line, Thornton held off challenges from Tim Ward and took the checkers by three car lengths.
Ward, Friday winner Jason Noll, Jesse Williamson and Brian Schultz completed the top five.
Running the inside line paid off again on Sunday as Thornton raced from ninth starting. He was quickly up to third before a pair of back-to-back restarts.
Thornton made the most of the high side following the first restart, then passed Ward and Noll for the lead from the low side following the second. He stayed in front for the remaining 18 circuits, beating series point leader Jesse Williamson, Ward, Ryan Roath and Chris Olexiewicz across the stripe.
"It was definitely a good two nights for me," said Thornton, already on the ballot for the Fast Shafts All-Star Invitational.
Feature Results
Jan. 25 – 1. Ricky Thornton Jr.; 2. Tim Ward; 3. Jason Noll; 4. Jesse Williamson; 5. Brian Schultz; 6. Larry Hood; 7. Lance Mari; 8. Chris Olexiewicz; 9. Riley Simmons; 10. Mike Jergens; 11. Donald Robinson; 12. Troy Heupel; 13. Nate Warren; 14. Chris McCurdy Jr.; 15. Garrett Funk; 16. Ryan Roath; 17. Jason Briese; 18. Guy Norton; 19. Jesse Sobbing; 20. Dustin Anderson; 21. Jay Foster; 22. Steven Pfeifer.
Jan. 26 – 1. Thornton; 2. Williamson; 3. Ward; 4. Roath; 5. Olexiewicz; 6. Jergens; 7. Heupel; 8. McCurdy; 9. Ty Rogers; 10. Rusty Corneliusen; 11. Sobbing; 12. Chad Andersen; 13. Noll; 14. Mari; 15. Briese; 16. Robinson; 17. Tommy Fain; 18. Schultz; 19. Chad Baca Jr.; 20. Foster; 21. Mike Martin; 22. Hood.