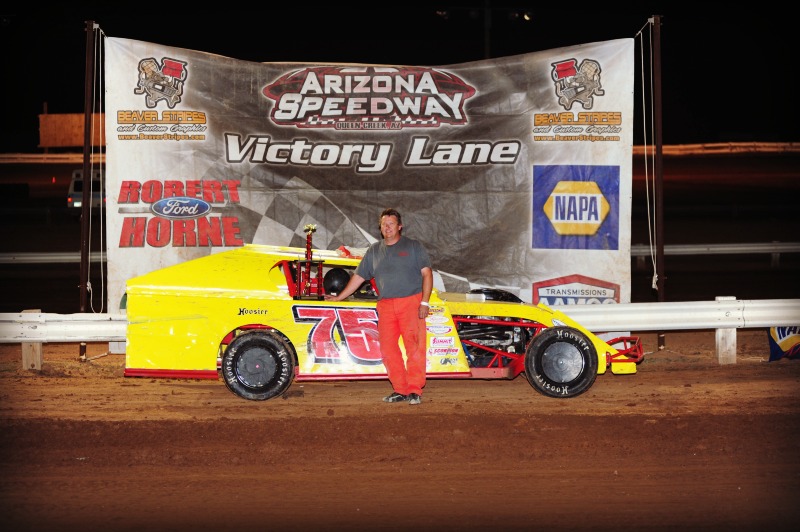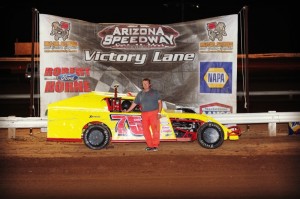 APACHE JUNCTION, Ariz. (Jan. 18-19) – North Dakota visitor Spencer Wilson had more than the track conditions and the competition to rave about following Arizona Speedway's Snowbird Classic.
Wilson led all 25 laps Saturday and again Sunday night to sweep $1,250 and $1,400 to win main events for the IMCA Xtreme Motor Sports Modifieds. Both features were 2014 Fast Shafts All-Star Invitational ballot qualifiers.
"I have to tip my hat to them, those guys did an excellent job prepping the track from top to bottom. The track was racy all over," said Wilson, getting some early-season starts in while avoiding the brutal winter weather back home. "The surface was smoother than a paved road."
"There was a lot of pretty close racing and the guys were respectful of other guys' equipment," he added. "I love that. Two nights of racing and I didn't even have to put a rivet in afterwards."
Wilson drew the outside front row both nights. Following a pair of restarts Saturday for errant racers, he jumped to an immediate lead while challenged by pole starting Guy Norton.
Second row starter Tim Ward moved into second around Norton on lap four to give chase. A frontstretch tangle eliminated a couple cars on lap seven with Wilson maintaining his lead on the restart. The final 18 laps went green, white, checkered with Wilson taking the win in over Ward, the 12th starting Ryan Roath, 16th starting Eric Center and Anthony Madrid.
Still breaking in his new Shaw by Taylor Chassis, Wilson ran in front from start to finish again on Sunday.
"Jeff said he could help me," Wilson summarized, " and I guess he did that."
Zane DeVilbiss was second, a car length and a half off the pace, after a mid-pack start. Completing the top five were Ricky Thornton Jr., Ward and Don Earven. Chris Olexiewicz raced from 22nd starting to seventh for hard charger honors.
Feature Results
Saturday – 1. Spencer Wilson; 2. Tim Ward; 3. Ryan Roath; 4. Eric Center; 5. Anthony Madrid; 6. Guy Norton; 7. Zane DeVilbiss; 8. Shawn Zelenka; 9. Tyler Mecl; 10. John Morris Jr.; 11. Eric Kelley; 12. Garrett Funk; 13. Philip Baillie; 14. Cody Miller; 15. Don Earven; 16. Keith Krenklis; 17. Steve Carter; 18. Chaz Baca Jr.; 19. Donald Robinson; 20. Shelby Frye; 21. Chris Olexiewicz; 22. Billy Tower Jr.; 23. Steve Stultz; 24. Mike Martin.
Heat winners were Mecl, Kelley and Wilson. DeVilbiss won the "B" feature.
Sunday – 1. Wilson; 2. DeVilbiss; 3. Ricky Thornton Jr.; 4. Ward; 5. Earven; 6. Roath; 7. Olexiewicz; 8. Funk; 9. Baillie; 10. Kenny Hawkins; 11. Morris; 12. Mecl; 13. Jesse Patterson, 14. Tower; 15. Brian Shultz; 16. Miller; 17. Steve Streeter; 18. Scott Francoeur; 19. Center; 20. Robinson; 21. Justin Thornton; 22. Baca.
Heat winners were DeVilbiss, Ricky Thornton Jr. and Don Earven.