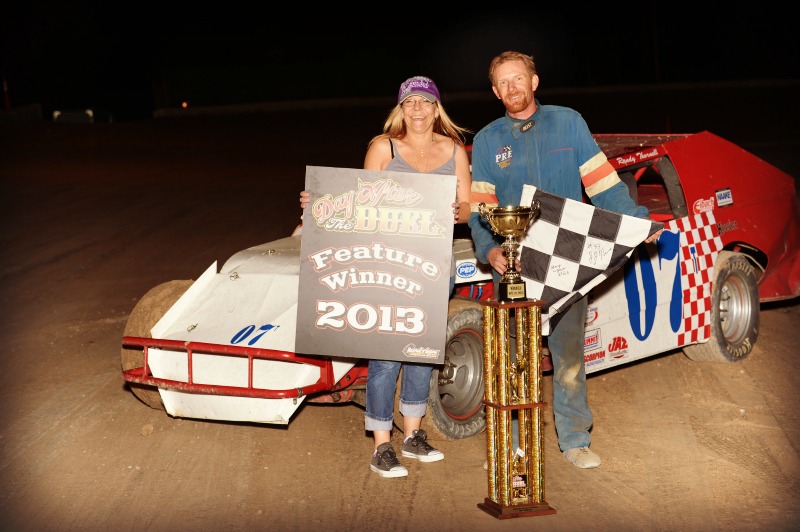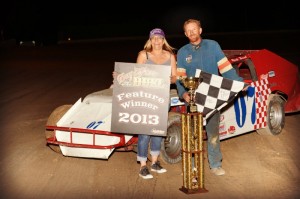 PAHRUMP, Nev. (Nov. 10) – Randy Thornell enjoyed two long runs at the front of the IMCA Xtreme Motor Sports Modified field before departing from Pahrump Valley Speedway with a $1,500 paycheck.
Thornell led 15 laps before midway of Sunday's Day After The Duel special before bobbling after a restart and watching Kyle Brown drive by.
He stayed close and returned the favor just five circuits later, however, leading to the finish and racing his way onto the ballot for the 2014 Fast Shafts All-Star Invitational.
Thornell's car, engine and even his trailer are homebuilt. He's pared back his own racing sched­ule this season while traveling the go-cart circuit with son Blake.
"We won the first night out when this car was new in 2010," he said. "We experimented more with setup this year and got faster as the season came to an end. We learned a lot of stuff. Sunday night was very sweet."
Tony Kinkade Jr., Jesse Williamson, Joe Wabsis and Jason Pike completed the top five.
Ben Kates was the Karl Chevrolet Northern SportMod winner.
Feature results ­ – 1. Randy Thornell; 2. Tony Kinkade Jr.; 3. Jesse Williamson; 4. Joe Wabsis; 5. Jason Pike; 6. Dan Snowden; 7. Richard Anderson; 8. Cory Sample; 9. Jeff Talley; 10. Rich Horibe; 11. Kyle Brown; 12. John Laughlin; 13. Robert Witmer; 14. Dan Lee; 15. Troy Foulger; 16. Steve Nash; 17. Paul Stone; 18. Dan Fitzgerald; 19. Jon Jensen; 20. Dustin Boney; 21. Dan Neubauer; 22. Chase Hansen.
Heat winners were Foulger, Jensen, Stone and Thornell. Brown won the "B" feature.