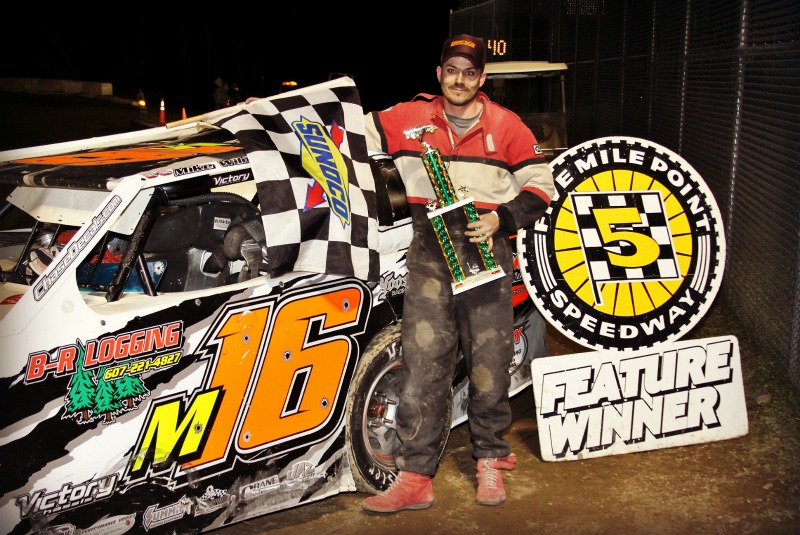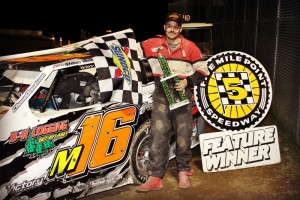 KIRKWOOD, N.Y. (Nov. 9) – Mike Wilmot clinched his career first World Products Empire State Series title with his third tour win of the season Saturday at Five Mile Point Speedway.
After avoiding early race collisions that slowed the IMCA Xtreme Motor Sports Modified finale, Wilmot raced from eighth to third before getting caught up by a spun car.
He restarted at the rear, used the high side of the oval to make his way back toward the front and was running side-by-side with Gary Roberts for the lead by the 15th of 25 circuits.
Finally pulling ahead, Wilmot beat Roberts to the $600 checkers by less than a car length. Matt Cole, Kevin Cole and Matt Jones rounded out the top five.
Dirt Works Eastern Region champion and former tour titleist Chris Fleming had the best shot mathematically at displacing Wilmot atop the standings but was slowed twice by trips to the pit to fix flat tires. He still managed to finish 11th.
The regular season champion at 5MP, Wilmot had also won the series opener there in April. He'd also prevailed in the Oct. 26 tour show at Black Rock Speedway.
The finale for the 12th annual Empire State Series was part of the National Quarter Mile Dirt Track Championship Weekend at Kirkwood, which had been postponed a week due to inclement weather.
Feature results – 1. Mike Wilmot; 2. Gary Roberts; 3. Matt Cole; 4. Kevin Cole; 5. Matt Jones; 6. Brian Steigerwald; 7. Brad Sites; 8. Tanner Harpell; 9. Will Ward; 10. Mike Stoddard; 11. Chris Fleming; 12. Tony Harris; 13. Gary Smith; 14. Dan Burman; 15. James Cornell; 16. Tyler Stoddard; 17. Matt Roberts; 18. Jared Spalding; 19. Michael Butler; 20. Ray McClure; 21. Logan Terry; 22. Billy Ward.
World Products Empire State Series top 20 point standings – 1. Mike Wilmot, Windsor, 265; 2. Chris Fleming, Union Springs, 242 (one feature win): 3. Gary Roberts, Afton, 242 (no feature wins); 4. Brad Sites, Monroeton, Pa., 230; 5. Matt Roberts, Afton, 209; 6. Michael Stoddard, Binghamton, 181; 7. Jared Spalding, Troy, Pa., 179; 8. Tyler Stoddard, Binghamton, 173; 9. Matt Jones, Cortland, 166; 10. Brian Steigerwald, Norwich, 165; 11. Eddie Sites, Monroeton, Pa., 141; 12. Mike Smith, Arkport, 139; 13. James Cornell, Port Crane, 133; 14. Jason Benjamin, Towanda, Pa., 129; 15. Logan Terry, Towanda, Pa., 124; 16. Jacob Maynard, Wyalusing, Pa., 120; 17. Matt Cole, Binghamton, 119; 18. Kevan Cook, Constantia, and Will Ward, Cobleskill, both 104; 20. Gary Smith, Harpursville, and Todd Stone, Campbell, both 97.