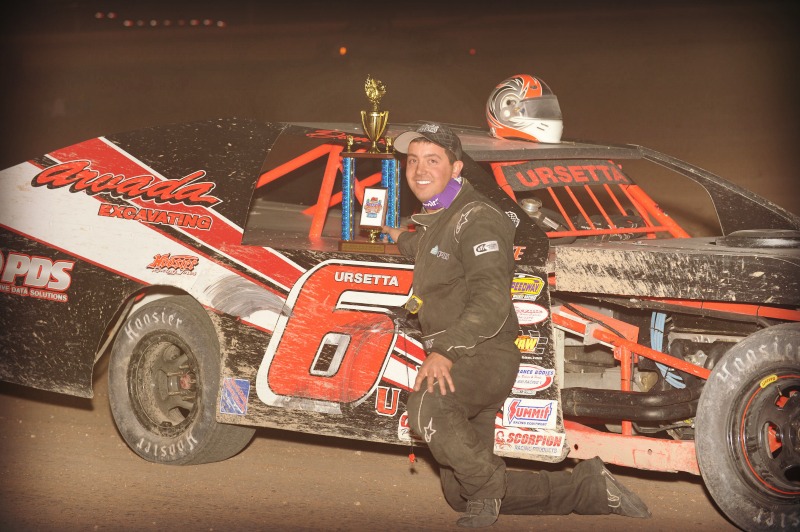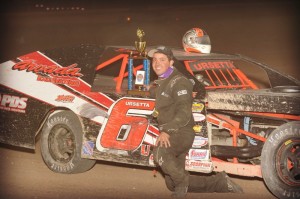 LAS VEGAS, Nev. (Nov. 8) – Jeremy Payne and Dominic Ursetta were IMCA Xtreme Motor Sports Modified winners during a record-breaking Duel In The Desert program Friday at Las Vegas Motor Speedway.
The three-time and defending Duel winner, Payne paced the first of two qualifying features on the LVMS half-mile Dirt Track while Ursetta topped the second race.
Tyler Frye scored the IMCA SportMod checkers.
Both Modified features paid $777 to win, the SportMod feature $500. An event record 320 entries, including 247 Modifieds and 73 SportMods, have now competed at the 16th annual event.
The top four finishers from each Modified qualifier advance to the outside row of Saturday's $7,777 to win main event.
Dustin Boney, Travis Sherfick and Zane DeVilbiss followed Payne across the stripe. Benji LaCrosse, Paul Stone and Tim Ward completed the top four behind Ursetta.
Ward made his way to fourth from the 20th starting spot. Dean Abbey flew from 11th starting to second in the SportMod feature.
Last-chance races will add the final 12 Modifieds to that starting grid. Another round of $777 to win action is on tap for the SportMods as well.
Eleven states and one Canadian province are now represented in the Modified main event.
1st Modified feature – 1. Jeremy Payne, Springfield, Mo.; 2. Dustin Boney, Gower, Mo.; 3. Travis Sherfick, WaKeeney, Kan.; 4. Zane DeVilbiss, Farmington, N.M.; 5. Robert Hellebust, Minot, N.D.; 6. Tony Kinkade Jr., Pahrump; 7. Brad Pounds, Bakersfield, Calif.; 8. Russ Dickerson, Boone, Iowa; 9. Bob Moore, Sioux City, Iowa; 10. John Hansen, Brush, Colo.; 11. Joe Antonetti, Santa Cruz, Calif.; 12. Richard Papenhausen, Chico, Calif.; 13. Jared Hoefelman, Columbus, Neb.; 14. Rob Sanders, Bakersfield, Calif.; 15. Stacey Mills, Webb, Iowa; 16. Jesse Williamson, Coburg, Ore.; 17. Jeremy Frenier, Fort Morgan, Colo.; 18. Mike Mullen, Seymour, Wis.; 19. Johnny Scott, Las Cruces, N.M.; 20. Will Brack, Mead, Colo.; 21. Jason Beaulieu, Campbell River, B.C.; 22. Eddie Belec, Arvada, Colo.; 23. Mike Densberger, Lincoln, Neb.; 24. Alex Stanford, Chowchilla, Calif.; 25. Ryan Heger, Hugoton, Kan.; 26. Kevin Fitzgerald, Bakersfield, Calif.; 27. Jeremy Mills, Garner, Iowa; 28. Mark Wauge, Jacksonville, Ore.; 29. Brian Mullen, Seymour, Wis.; 30. Bradley Shelton, Fort Morgan, Colo.
2nd Modified feature – 1. Dominic Ursetta, Arvada, Colo.; 2. Benji LaCrosse, Green Bay, Wis.; 3. Paul Stone, Winton, Calif.; 4. Tim Ward, Gilbert, Ariz.; 5. Joe Cleveland, Delphos, Kan.; 6. Jimmy Reeves, Hanford, Calif.; 7. Tim Setzer, Archie, Mo.; 8. Ryan McDaniel, Olivehurst, Calif.; 9. Bobby Hogge IV, Salinas, Calif.; 10. Nick Nelson, Farmington, N.M.; 11. Spencer Wilson, Minot, N.D.; 12. Dustin Andersen, Omaha, Neb.; 13. Troy Foulger, Martinez, Calif.; 14. Cody Gearhart, Turpin, Okla.; 15. Chett Reeves, Bakersfield, Calif.; 16. Riley Simmons, Susanville, Calif.; 17. Chase Allen, Midlothian, Texas; 18. Jake Donnelly, Rigby, Idaho; 19. Ryan Ruter, Kanawha, Iowa; 20. Kevin Lisafeld, Lampman, Sask.; 21. Travis Hagen, Williston, N.D.; 22. Alan Sharpensteen, Amarillo, Texas; 23. Mitchell O'Patik, Lima, Ohio; 24. Brandon Blochlinger, Concordia, Kan.; 25. Mason Daughters, Polo, Mo.; 26. Shawn Anderson, Minot, N.D.; 27. Kellen Chadwick, Oakley, Calif.; 28. Jay Sears, Reno, Nev.; 29. Kevin Larkins, Greenwood, Neb.; 30. Chris Abelson, Sioux City, Iowa.
SportMod feature – 1. Tyler Frye, Belleville, Kan.; 2. Dean Abbey, Waco, Texas; 3. Wayne Dotson, Bakersfield, Calif.; 4. Jake Krone, Beloit, Kan.; 5. Ben Kates, Tonganoxie, Kan.; 6. Chad Dolan, Gibbon, Neb.; 7. Chuck Delp, Rock Springs, Wyo.; 8. John Piker, Bakersfield, Calif.; 9. John Reid, Loving, N.M.; 10. Matt Mueller, Stamford, Texas; 11. Darren Thomas, Atwater, Calif.; 12. Clay Money, Penokee, Kan.; 13. Kruz Griffith, Bakersfield, Calif.; 14. Varion Hutle, Underwood, N.D.; 15. Allen Montgomery, Fort Worth, Texas; 16. Gauge Smith, Roosevelt, Utah; 17. Jordan Eddleman, Farmington, N.M.; 18. Robert Elliott, Clinton, Okla.; 19. Daniel Gottschalk, Ellis, Kan.; 20. Blain Petersen, Essex, Iowa; 21. Nick Spainhoward, Bakersfield, Calif.; 22. Jerry Hoffman, Oronogo, Mo.; 23. Shawn Harker, Nebraska City, Neb.; 24. Austin Theiss, Hockley, Texas.