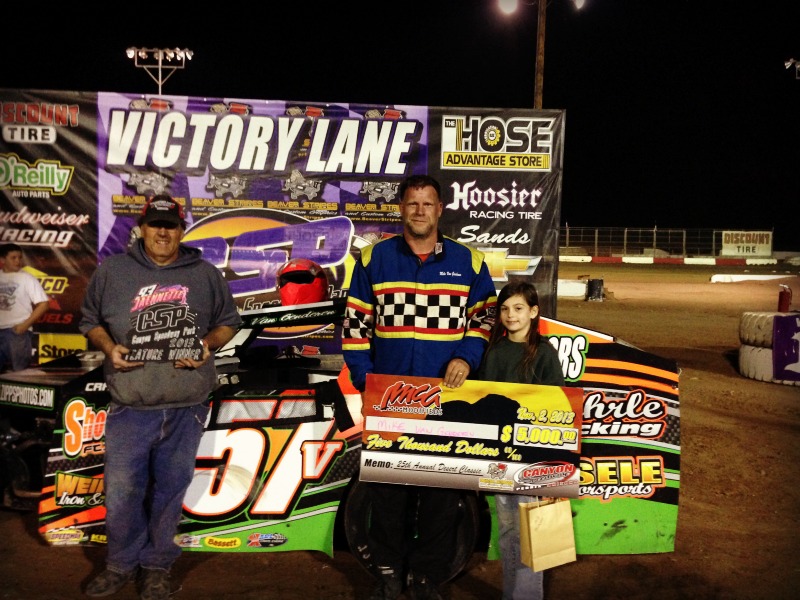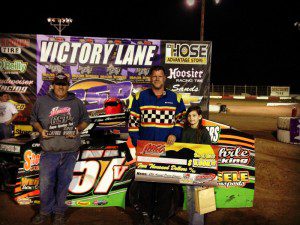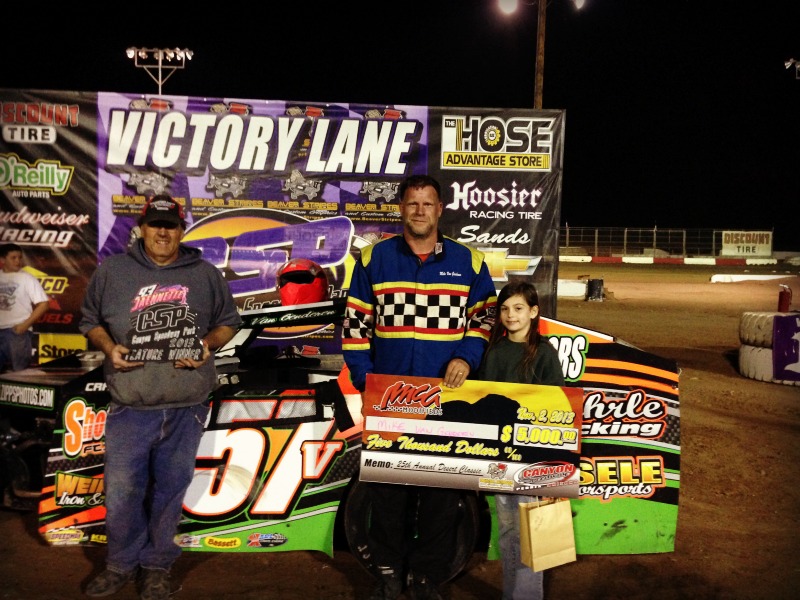 By Lonnie Wheatley
PEORIA, Ariz. (Nov. 1-2) – After making his first visit to Canyon Speedway Park, Mike Van Genderen is probably already looking forward to his second.
Van Genderen made the most of the 1,500 mile trek from Newton, Iowa, by taking the $5,000 winner's share in Saturday night's 40-lap IMCA Xtreme Motor Sports Modified main event that put the wraps on Canyon's 25th annual Desert Classic special.
The payday was Van Genderen's biggest in the open-wheeled division and put him on the ballot for the 2014 Fast Shafts All-Star Invitational. He raced from his front row outside starting position and led every circuit before taking the checkered flag.
Cautions slowed the early going but the last half of the feature stayed green. Van Genderen used the top line and led by a straightaway much of the distance before getting slowed by heavy lapped traffic in the late going.
While negotiating that traffic on the final circuit, Van Genderen send sparks flying as he got into the front stretch wall at the flag stand.
That gave the 16th starting Dustin Boney the opportunity to close, and he was on Van Genderen's back bumper before the leader pulled away heading down the final straight.
Boney had to settle for second while another Show Me stater, Jeremy Payne, captured the show position. Track champion Jason Noll and Tim Ward rounded out the top five.
Nov. 1 Results
Qualifying feature – 1. Mark Stewart; 2. Anthony Madrid; 3. Mike Van Genderen, 4. Tyler Mecl; 5. Jason Noll; 6. Jeremy Payne; 7. Bryan Schultz; 8. Justin O'Brien; 9. Jesse Sobbing; 10. Jay Foster; 11. Hunter Marriott; 12. Guy Norton; 13. Tim Ward; 14. Chris McCurdy Jr.; 15. Cody Center; 16. Keith Krenklis; 17. Dustin Boney; 18. Nate Warren; 19. Jeff Stafford; 20. Mason Daughters.
Heat winners were Van Genderen, Madrid, Krenklis, McCurdy and Mecl. "B" feature winners were Schultz and O'Brien.
Nov. 2 Results
Feature – 1. Van Genderen; 2. Boney; 3. Payne; 4. Noll; 5. Ward; 6. Stewart; 7. Mecl; 8. Sobbing; 9. O'Brien; 10. Marriott; 11. Madrid; 12. Center; 13. Daughters; 14. Norton; 15. George Fronsman; 16. Krenklis; 17. McCurdy; 18. Schultz; 19. Scott Drake; 20. Jay Foster.
Heat winners were Ward, Drake, O'Brien and Daughters. "B" feature winners were Boney and Sobbing.