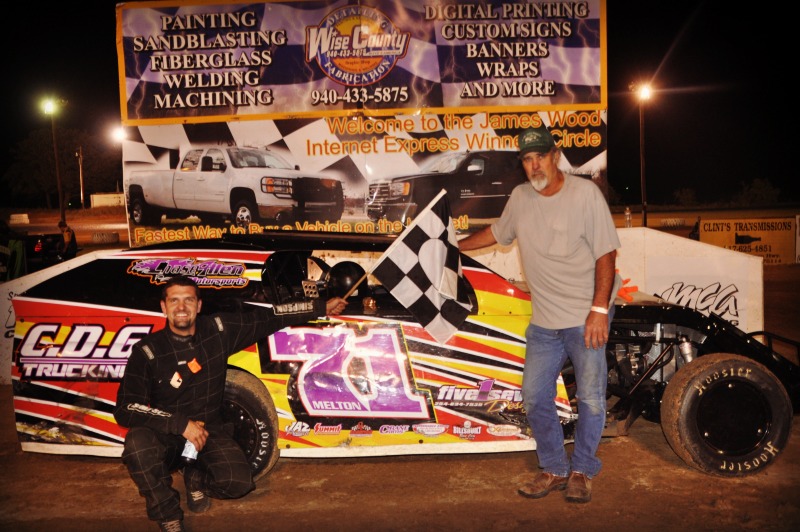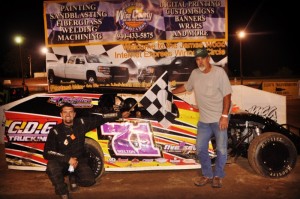 By Neal Palmer
BOYD, Texas (Oct. 12) – Chad Melton decision to change chassis paid off again Saturday at Boyd Raceway.
Melton won another October special, pocketing $2,000 for winning the Grand Nationals main event for IMCA Xtreme Motor Sports Modifieds in his new CAM Chassis.
The new Fast Shafts All-Star Invitational ballot qualifier picked the line he liked and set sail, leading the entire 25-lap feature distance. Glen Hibbard, Tommy Fain, Darryl Campbell and Charles Brewer rounded out the top five.
2013 track champions Dean Abbey and Gabe Tucker defender their Scoggin-Dickey Parts Center Southern SportMod and IMCA Sunoco Stock Car turf, respectively.
Abbey had to pass Chris Cogburn and then Brad Shirley for the lead. He was working his way through lapped traffic on the final circuit when something let go in the motor, but he was able to keep the pedal to the metal long enough to get to victory lane.
Tucker went to the front early on and left the rest of the field fighting for second. Matt Guillaume put up a strong run as well but was unable to run down the dominant Tucker. Former national champion Duain Pritchett battled his way to third.
Justin Melton quickly raced from sixth starting to the front of the non-winged IMCA Eagle Motorsports RaceSaver Sprint Car field and stayed in command to the checkers.
Jeremy Oliver had a fast car from the onset but had to overcome the challenge of Kenny Ware to get the IMCA Sunoco Hobby Stock win. Danny Baggerly was the best of the field when the checkers flew over the Mach-1 Sport Compact feature.
Feature Results
Modifieds – 1. Chad Melton; 2. Glen Hibbard; 3. Tommy Fain; 4. Darryl Campbell; 5. Charles Brewer; 6. Justin Fowler; 7. Justin Radcliff; 8. Robbie Daniels; 9. Robin Martin; 10. Aaron Benedict; 11. Ben Ketteman; 12. Nicholas Littlejohn; 13. John Gober; 14. Steven Orebaugh; 15. Jimmy Doremus; 16. William Gould; 17. Chris Elliott; 18. Jeff Emerson; 19. Charlie Harmon; 20. Varian Sisson.
Stock Cars – 1. Gabe Tucker; 2. Matt Guillaume; 3. Duain Pritchett; 4. Kevin Sustaire; 5. Randy Martin; 6. Kirk Martin; 7. Tom Earl; 8. Jeremy Carter; 9. Jeremy Montgomery; 10. Mark Adams; 11. Dennis Bissonnette; 12. Robin Martin; 13. Jay Bransom; 14. Greg Helenbrook; 15. Todd Ludwig; 16. Danny Brown; 17. Douglas Kennemer; 18. Mike Childs; 19. Michael Kaufhold; 20. Tony Anderson.
Southern SportMods – 1. Dean Abbey; 2. Chris Cogburn; 3. Brad Shirley; 4. Chase Parson; 5. Jake Upchurch; 6. Jordan Lathram; 7. Todd West; 8. Chad Jones; 9. Kevin Rutherford; 10. Allen Montgomery; 11. Jeffrey Abbey; 12. Alex Hickham; 13. Jarrett Roberts; 14. Tim McDonald; 15. James Guyton; 16. Tyler Fain; 17. Gabe Tucker; 18. James Holder; 19. Bobby Edwards; 20. Luke Fritchen.
Sprint Cars – 1. Justin Melton; 2. Kevin Ramey; 3. Chad Wilson; 4. Jeb Sessums; 5. Claud Estes; 6. D.J. Estes; 7. Jeff Day; 8. Colby Estes; 9. Logan Scherb; 10. Robert Vetter; 11. Charlie McDonald; 12. Justin Fifield; 13. John Ricketts; 14. Chipper Wood; 15. Payton Pierce; 16. Johnny Miller; 17. Steven Shebester; 18. Jason Howell; 19. Kyle Jones; 20. Steven Elliott.
Hobby Stocks – 1. Jeremy Oliver; 2. Kenny Ware; 3. Garett Rawls; 4. Dan Van Haitsma; 5. Justin Lathram; 6. John Villars; 7. April Phillips; 8. Chase Edwards; 9. Gary Brown; 10. Jon Storm.
Sport Compacts – 1. Danny Baggerly; 2. Gary Brown; 3. Steve Braver; 4. Tim Butler; 5. Robert Ferron; 6. Michael Burnside; 7. Richard Cadwallader; 8. James Lockaby; 9. Mike Kelly; 10. Willard Van Haitsma.