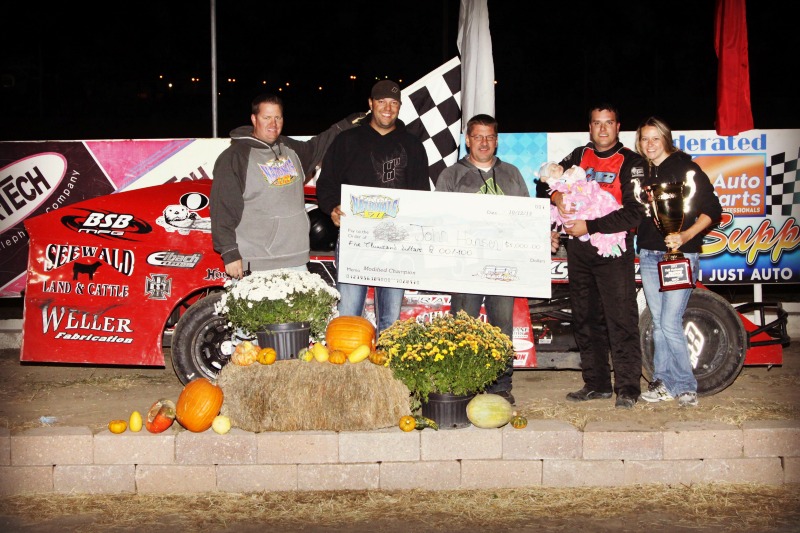 By Mike Hughes
HAYS, Kan. (Oct. 10-12) – John Hansen earned the biggest share of the weekend's $60,000-plus purse when more than 230 race teams, representing 11 states and Canada, converged on RPM Speedway for the seventh annual Fall Nationals Oct. 10-12.
Pole starter Hansen was a man on a mission in Saturday's 40-lap IMCA Xtreme Modified feature, which included four former national champions in the star-studded lineup. Scott Drake and Dominic Ursetta swapped the lead early.
Hansen took the lead on lap 14 and never looked back as he lapped half of the 24-car field en route to the win and a $5,000 check. The new Fast Shafts All-Star Invitational ballot qualifier was followed by Ursetta, Eddie Belec, Drake and Jeremy Frenier.
Mike Nichols led all 30 laps of the IMCA Sunoco Stock Car feature to capture a $3,000 paycheck. Several cautions gave the field a chance but Nichols was dialed in and held off a stellar field for the victory.
Jason Rogers chased Nichols most of the distance but had to settle for second, followed by Jeff Tubbs, Chris Adams and Josh Hudson.
The 25-lap Karl Chevrolet Northern Sport Mod feature was close early between Tyler Frye and Greg Metz. Frye led the first three laps before Metz took charge briefly. The caution waved on lap four and Frye shot past Metz on the restart and held on for his career fourth Fall Nationals championship and a $2,000 winner's check.
Metz, Clay Sellard, Daniel Gottschalk and Trenton Kleweno completed the top five.
Ron Wehling took the lead from Kyle Bond on lap two of the 20-lap IMCA Sunoco Hobby Stock feature and led the rest of the distance to pick up the victory and a $1,000 payday.
The lone caution waved on lap six. Brandon Beeter finished second, followed by Jesse VanLaningham, Jamie Songer and Eric Ross.
On Thursday, Lanny Bolton and Monte Honas swapped the Mach-1 Sport Compact point before Mitch Bolton took the lead and led the remaining distance for the win. Lanny Bolton finished second, followed by Josh Modde, Honas and Zach Olmstead.
Feature Results
Modifieds – 1. John Hansen; 2. Dominic Ursetta; 3. Eddie Belec; 4. Scott Drake; 5. Jeremy Frenier; 6. Cody Gearhart; 7. Johnny Saathoff; 8. Jesse Sobbing; 9. Dylan Sherfick; 10. David Murray Jr.; 11. Brendon Gemmill; 2. Hunter Marriott; 13. Kyle Rohleder; 14. Jason Schoenberger; 15. Regan Tafoya; 16. Jeremy Zorn; 17. Greg Gustus; 18. Jesse Taylor; 19. Mike Petersilie; 20. Jack Sartain; 21. Travis Sherfick; 22. Jordan Grabouski; 23. Matt Gilbertson; 24. Michael Wadel.
Stock Cars – 1. Mike Nichols; 2. Jason Rogers; 3. Jeff Tubbs; 4. Chris Adams; 5. Josh Hudson; 6. Nick Tubbs; 7. Lance Borgman; 8. Bruce Plumisto; 9. Mark Zorn; 10. Tyler Tipton; 11. Casey Woken; 12. B.J. Wagoner; 13. Eric Munoz; 14. Andrew Altenburg; 15. Terry Cunningham; 16. Randy Dowell; 17. Brendon Eilts; 18. Angel Munoz; 19. Elijah Zevenbergen; 20. Chris Heim; 21. Perry Misner; 22. Kyle Vanover; 23. Jordan Grabouski; 24. Arnold Williams.
Northern Sport Mods – 1. Tyler Frye; 2. Greg Metz; 3. Clay Sellard; 4. Daniel Gottschalk; 5. Trenton Kleweno; 6. Dustin Daniels; 7. Tyler Sutton; 8. Jake Krone; 9. Ben Kates; 10. Mason Daughters; 11. Jon Plowman; 12. Nick Dieter; 13. Blaine Walt; 14. Kurtis Pihl; 15. Austin Carter; 16. Zach Schultz; 17. Austin Walker; 18. Brendon Damon; 19. Bryan Herrick; 20. Cody Pancake; 21. Darick Lamberson; 22. Josh Appel; 23. Bryan Harkness; 24. Dillon Schultz.
Hobby Stocks – 1. Ron Wehling; 2. Brandon Beeter; 3. Jesse VanLaningham; 4. Jamie Songer; 5. Eric Ross; 6. Sterling Sorenson; 7. Garrett Hager; 8. Jason Fusselman; 9. Brock Beeter; 10. G.W. Fuller; 11. Kurt Hansen; 12. Cody Davis; 13. Jeromy Wagner; 14. Brian Stich; 15. Daniel Irwin; 16. Austin Davis; 17. Kyle Bond; 18. Jake Pemberton; 19. Brady Weinman; 20. Darren Unrein; 21. Russ Specht; 22. Gary Goudy Sr.; 23. Luke Pfannenstiel; 24. Mike Traskowsky.
Sport Compacts – 1. Mitch Bolton; 2. Lanny Bolton; 3. Monte Honas; 5. Zach Olmstead; 6. Kirk Pfannenstiel; 7. Madison Reed; 8. Andrew Soderlund; 9. Madison Reed; 10. Tanner Chapin; 11. Jacob Olmstead.