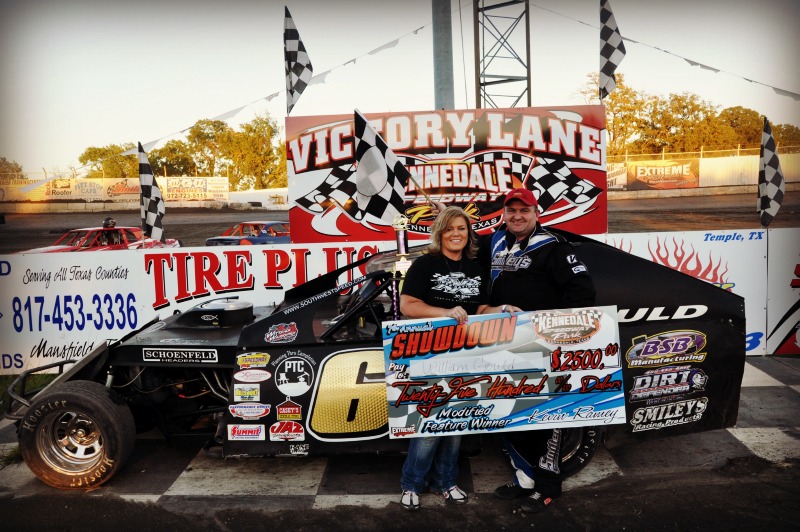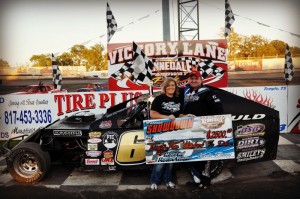 By Neal Palmer
KENNEDALE, Texas (Oct.4-6) – A great season got even better Sunday for William Gould.
The new IMCA Xtreme Motor Sports Modified national champion took the $2,500 checkers in Sunday's rescheduled Showdown at Kennedale Speedway Park. The victory put Gould on the ballot for next year's Fast Shafts All-Star Invitational.
After qualifying Friday evening with a runner-up finish behind Glen Hibbard, Gould wasted no time getting around pole starter Chase Allen on the backstretch and was in the lead when every lap after that was scored.
Hibbard started inside row two, was quickly up to second and pressured Gould lap after lap, briefly gaining the lead on lap three and pulling alongside on lap nine.
Two circuits later, Hibbard was blocked by a lapped car and was never able to get back up to Gould and make a run for the lead. Hibbard and Chase Allen had their own race going on in the closing laps in the battle for second and Allen even slapped the wall on the front stretch at one point, but never slowed in his charge at Hibbard.
Gould went on to the win with Hibbard and Allen crossing the line behind him. Tommy Fain was fourth and Jeremy Willis rounded out the top five.
Jeb Sessums and Jake Upchurch each earned $1,500 for their IMCA Eagle Motorsports RaceSaver Sprint Car and Scoggin-Dickey Parts Center Southern SportMod victories, respectively. Jay Bransom's IMCA Sunoco Stock Car checkers were good for $1,000.
Sessums failed to make the Sprint field through Friday qualifying but sped to a third row outside starting spot on Sunday.
After moved up to fourth on the first lap of the 25-lap vent, he stayed close while pole starter Chase Brewer led the field around the ¼-mile clay oval for the first nine laps. The top four cars – Brewer, John Leon Ricketts, Jeff Day and Sessums – were working their way through heavy traffic on lap 10 when a caution came out to bring things to a halt.
Following the restart, Sessums followed Day toward the front. He trailed Day before taking the lead himself on lap 14.
From that point on, Sessums held off Day and then Brewer, who was forced to settle for second. Ricketts was third, D.J. Estes fourth and Chad Wilson fifth. Estes had taken the initial green all the way back in 15th while Wilson started behind him in 17th.
Brad Shirley paced the SportMod field and took the win on Friday, then turned right around and drew the one pill to secure the pole start for the main event. Upchurch was ready for him and went to the front right out of the gate and led the entire distance.
The pair pulled away under a long green flag run and although Shirley made a few valiant efforts at Upchurch on the inside, the leader was just too fast.
A flat tire took Dean Abbey out of contention for a top five finish. Kevin Rutherford got by Shirley following a restart for second; Jason Troutman and Chad Jones rounded out the top five.
While he campaigned his own Stock Car at KSP this season, Bransom let Charlie Coleman talk him into parking his no. 29 ride and driving Coleman's no. 33c car instead.
After overcoming heat race issues on Friday, he started in the main event from the second row and battled back and forth with Kevin Sustaire behind early race leader Dennis Bissonnette.
A pileup took out Matt Guillaume and Tony Anderson and on the restart, Bransom got the jump on Sustaire and put himself solidly behind Bissonnette.
Bissonnette bobbled just enough in turn four with five to go to let Bransom slide by on the inside and then go on to win. Bissonnette, Kirk Martin, Sustaire and Doogie Hauser were next across the stripe.
The third qualifying heat race of the night was pulling out onto the track Saturday when the bottom fell out of the sky, forcing the rest of the seventh annual Showdown to be postponed to Sunday.
Feature Results
Modifieds – 1. William Gould; 2. Glen Hibbard; 3. Chase Allen; 4. Tommy Fain; 5. Jeremy Willis; 6. Ben Ketteman; 7. Demetrius Carter; 8. Chad Melton; 9. Richard Brown Jr.; 10. John Gober; 11. Matt Martin; 12. Jay Bransom; 13. Tommy Williams; 14. Darryl Campbell; 15. Marvin Skinner; 16. Jerry Frydrych; 17. Dale Sudberry; 18. Eric Winnett; 19. Justin Radcliff; 20. Don Chamblee.
Sprint Cars – 1. Jeb Sessums; 2. Chase Brewer; 3. John Leon Ricketts; 4. D.J. Estes; 5. Chad Wilson; 6. Scott Petersen; 7. Justin Fifield; 8. Logan Scherb; 9. Jeromy Hefler; 10. Robert Vetter; 11. Shane Gloeckler; 12. Jeff Day; 13. Marcus Thomas; 14. Andy Shouse; 15. Chipper Wood; 16. Martin Edwards; 17. Colby Estes; 18. Kyle Jones; 19. Claud Estes; 20. Charlie McDonald; 21. Dustin Woods; 22. Lindell Jenkins; 23. Elizabeth Richardson.
Southern SportMods – 1. Jake Upchurch; 2. Kevin Rutherford; 3. Brad Shirley; 4. Jason Troutman; 5. Chad Jones; 6. Don Painter; 7. Mark Patterson; 8. Justin Long; 9. Calvin Williams; 10. Wes Cummings; 11. Rickey Haney; 12. Allen Montgomery; 13. Cody Shoemaker; 14. Ronnie Allison; 15. Sarah Goode; 16. Gary Corbin; 17. Dean Abbey; 18. David Goode Jr.; 19. Dustin Sprouse; 20. Jeff Sustaire; 21. John Freeman; 22. Jarrett Roberts.
Stock Cars – 1. Jay Bransom; 2. Dennis Bissonnette; 3. Kirk Martin; 4. Kevin Sustaire; 5. Doogie Hauser; 6. Brandon Taylor; 7. Greg Helenbrook; 8. Mark Adams; 9. Roman Garcia; 10. Duain Pritchett; 11. Mike Childs; 12. Mike Golightly; 13. Matt Guillaume; 14. Jeremy Carter; 15. Tony Anderson; 16. Todd Ludwick; 17. Tyler Muirhead; 18. A.J. Hutton.