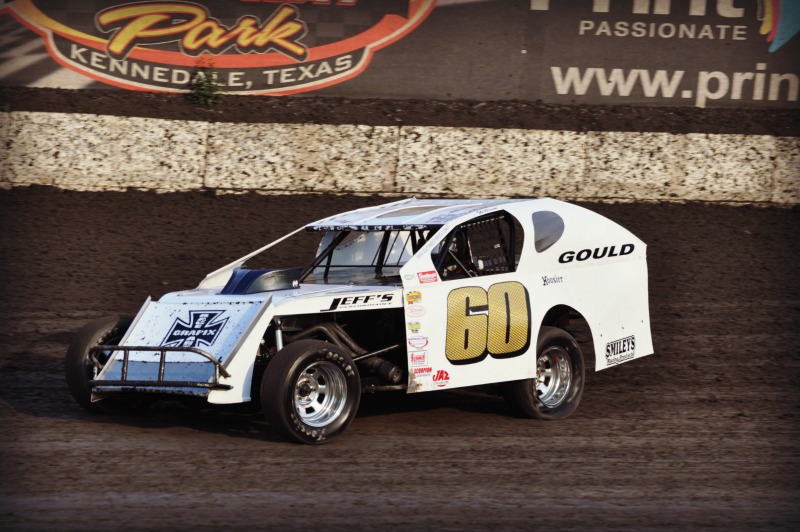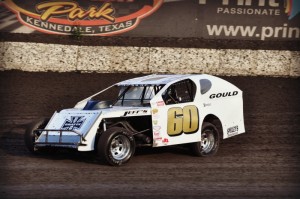 VINTON, Iowa (Oct. 8) – William Gould has won a lot of close races in his IMCA Xtreme Motor Sports Modified career, but few were as close as the one that made him a national champion.
The Calera, Okla., veteran edged rookie Jesse Sobbing of Glenwood, Iowa, by a razor-thin 1,233-1,232 margin to win the national IMCA Modified crown.
Gould was a 25-time feature winner this season, taking 24 of those checkers in his home Bills­Built South Central Region. IMCA's first national champion from the Sooner State, he got the maxi­mum possible 40 bonus points for winning the track title at Kennedale Speedway Park and the Texas Lone Star Series.
Sobbing collected 32 wins in all, with 24 of them coming in the Belleville Motorsports North Cen­tral Region. He earned 38 bonus points for track championships at Shelby County Speedway and Crawford County Speedway.
"I've raced 18 years and this was the first time for points," said Gould, who campaigned in a six-year-old homebuilt chassis and ended his campaign with a built engine from Karl Performance under the hood. "I'm proud to win the IMCA national championship and to be the first driver from Oklahoma to do it."
"When we won the Lone Star Series, we knew we'd be getting at least 20 bonus points. If we won Kennedale, we knew we'd get another 20," he continued. "About mid-July we realized we had a real shot, buckled down and concentrated on winning races. I take a lot of pride in this."
Twice the Karl Chevrolet Northern SportMod national champion, Sobbing became just the third IMCA Modified driver to win both the regional crown and rookie of the year title in the same sea­son since 1993.
This year's IMCA Speedway Motors Weekly Racing national championship class also includes John Leon Ricketts of Burleson, Texas, in the IMCA Eagle Motorsports RaceSaver Sprint Cars; Brandon Czarapata of Appleton, Wis., in the IMCA Sunoco Stock Cars; Devin Smith of Lake City, Iowa, in the IMCA Sunoco Hobby Stocks; Matthew Looft of Swea City, Iowa, in the Karl Chevrolet Northern SportMods; Gabe Tucker of Carbon, Texas, in the Scoggin-Dickey Parts Center Southern SportMods; and Ramsey Meyer of Pierce, Neb., in the Mach-1 Sport Compacts.
Czarapata won a second straight Stock Car crown; Smith also ruled the Hobby Stocks in 2011. First-time kings were Ricketts, Looft, Tucker and Meyer.
Also national rookie of the year, Ricketts prevailed in IMCA's closest national race. Tied with fel­low Burleson driver Jeb Sessums with 793 points, he got the nod by virtue of a 10-7 advantage in the number of 40-point feature wins.
Ricketts was track champion and received 15 bonus points at Mountain Creek Speedway while Sessums topped the standings for 20 bonus points at Kennedale.
A 25-time winner during the regular season, Czarapata repeated as the top driver in the Arnold Motor Supply Northern Region on the strength of 38 bonus points from track titles at Luxemburg Speedway and Shawano Speedway.
Smith totaled 40 bonus points from championships at Algona Raceway and Buena Vista Race­way and won 34 features along with the Stephenville Starter Northern Region prize. Runner-up Shannon Anderson of Urbandale, Iowa, had 36 wins along with 34 bonus points from the Iowa State Fairgrounds Speedway and Stuart Speedway.
Two points better than Norfolk, Neb.'s Kyle Prauner, Looft won 26 Northern SportMod features. An addition to the trophy case may be in order as he makes room for championship plaques from Arlington Raceway, Fairmont Raceway, Redwood Speedway and Clay County Fairgrounds, as well as the Redline Racing Parts North Star Series.
Tucker won 22 Southern SportMod events, plus Abilene Speedway track and Southwest Racing Specialties Lone Star Series crowns.
Following brother Cameron as the Sport Compact national champion, Meyer raced to 27 feature wins and titles at Albion Speedway, Riviera Raceway, Stuart Raceway and U.S. 30 Speedway.
Modified regional champions were Zane DeVilbiss of Farmington, N.M., for the fourth straight sea­son in the Larry Shaw Racing Western Region and first-timers Gould, Sobbing, Jeremy Frenier of Fort Morgan, Colo., in the Jet Racing Central Region and Chris Fleming of Union Springs, N.Y., in the Dirt Works Eastern Region.
A 20-time feature winner, DeVilbiss was track champion at Desert Thunder Raceway and Monte­zuma County Fairgrounds Speedway. Frenier won 11 features and the Precise Racing BST Se­ries crown. Fleming notched 14 checkers and the Skyline Raceway banner.
The first driver to double as national champion and IMCA Speedway Motors Super Nationals fueled by Casey's champion since Jeff Anderson in 1999, Czarapata bested Arnold Motor Supply Southern Region titleist Matt Guillaume of Haslet, Texas, by eight points.
Guillaume won 26 features, plus the Kennedale track and Wild Child Race Cars Lone Star Series crowns.
Andy Roller of Waco, Texas, is champion of the Stephenville Starter Southern Region for the Hob­bies. Tops in points at Texas Thunder Speedway, he was an 18-time feature winner.
Joining Sobbing and Ricketts as national rookies of the year were Tristan Carman of Killeen, Texas, Stock Cars; Kenny Champ of Clarinda, Iowa, Hobby Stocks; Matt Webb of Des Moines, Iowa, Northern SportMods; Alexander Hickham of Conroe, Texas, Southern SportMods; and Shawn Cooney of Des Moines, Iowa, Sport Compacts.
Carman, also the top rookie in the Southern Region, was a five-time winner. Champ collected Northern Region rookie honors along with 15 feature wins.
Webb won four times, Hickham topped three features while Cooney made his way to victory lane a dozen times.
Modified regional rookies of the year were Jerry Crowley of Fernley, Nev., in the Western; Doug Easterling of Rule, Texas, in the South Central; Colton Osborn of Lexington, Neb., in the Central; and Craig Ward of Owego, N.Y., in the Eastern.
Osborn had three wins, Easterling two and Ward one.
Scotty Pippert of Elberon, Iowa, won four times and was rookie of the year in the Northern Region for Stock Cars. Chad Reedy of Waco, Texas, paced the point race for Hobby Stocks in the South­ern Region.
Final point races for those seven divisions were held Sept. 29. National, regional, state and local point standings become official on Oct. 28.
Justin Kay of Wheatland, Iowa, was national champion and Randy Foote of Stanton, Iowa, was rookie of the year in the Late Models. The point season for that division concluded Aug. 25.
All champions and rookies of the year will be honored during the national IMCA awards banquet Saturday, Nov. 30 in Lincoln, Neb.
Jason Pike of Pahrump, Nev., topped overall point standings for the West Coast Super Stocks. IMCA handled administrative chores for that class, which ran in California and Nevada.