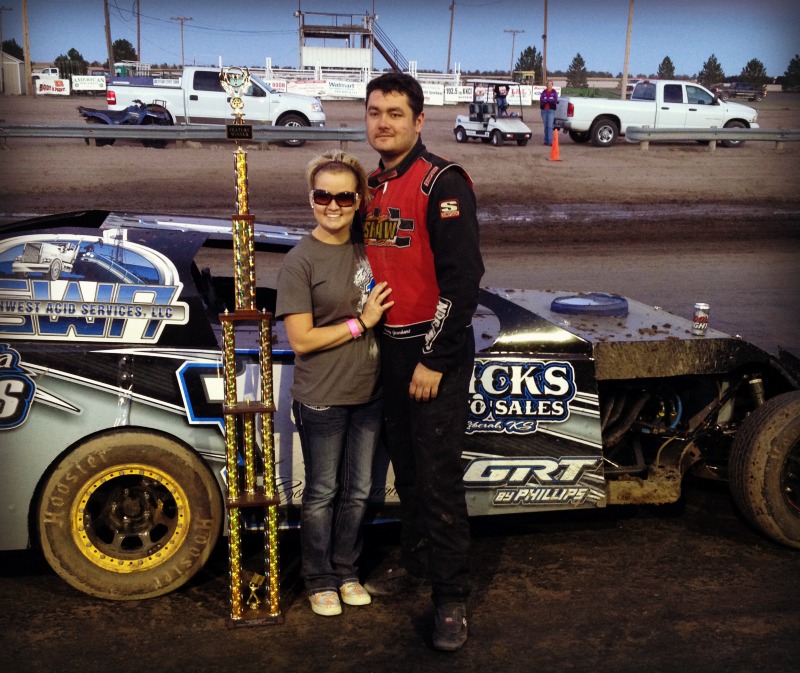 GOODLAND, Kan. (Sept. 28-29) – Jeremy Frenier wrapped up a series championship and Cody Gearhart raced his way onto the Fast Shafts All-Star Invitational ballot by winning IMCA Xtreme Motor Sports Modified features at Sherman County Speedway's Flatlander special.
Frenier's fourth 2013 tour win came on Saturday at Goodland and sealed the deal on the Precise Racing Blood, Sweat and Tears Series crown. Gearhart paced the main event on Sunday.
Both features paid $1,500 to win. Eddie Belec ran second each night and split top two-day point bonus money with Frenier.
Originally fourth on Saturday's starting grid, Frenier moved up to the front of the outside row for the restart following a multi-car tangle on the initial green.
He led all 25 laps, following the lower line to his 11th win of the season and taking the checkers five car lengths ahead of Belec. Will Brack, Ricky Alvarado and the 24th starting Gearhart completed the top five.
Gearhart helped himself by drawing the outside pole on Sunday. Running with lapped traffic, his sizable lead was erased by a caution with five to go but Gearhart hung on for the flag to flag victory.
Belec, Frenier, Scott Drake and Nate Moore were next across the stripe.
Nick Tubbs and Jeff Tubbs topped IMCA Sunoco Stock Car features while Perry Misner bested Lloyd Meeske in the race for the Chubby Chassis BST Series crown.
Nick Tubbs started fifth on Saturday, went to the top and got the lead after a couple early cautions, then pulled away while Justin Bussell and Jeff Tubbs tussled behind him. After a restart with four to go, he beat Bussell to finish by a car length.
A car length was also the margin Sunday for Jeff Tubbs, who had chased long-time leader Tyler Tipton most of the 20-lapper. Nick Tubbs was third.
The Tubbs brothers tied for top points and split the bonus; Jeff Tubbs had run second in three straight Flatlander features before Saturday.
Misner came into the weekend with a 10 point edge in the standings over Meeske. He finished 10th on Saturday and sixth on Sunday. Meeske ran fifth on opening night and eighth in the finale.
Richard Boon and Tyrel Smith were the IMCA Sunoco Hobby Stock feature winners while Jeromy Wagner finished second both nights and earned the top points bonus. Dustin Daniels won both Karl Chevrolet Northern SportMod mains and pocketed the bonus for that division.
The Flatlander had originally been scheduled as a Friday-Saturday show but was bumped back a day following inclement weather on opening night.
Sept. 28 Feature Results
Modifieds – 1. Jeremy Frenier; 2. Eddie Belec; 3. Will Brack; 4. Ricky Alvarado; 5. Cody Gearhart; 6. Brady Coen; 7. Darren DeLoach; 8. Ronnie Wallace; 9. Jason Haug; 10. Dewayne Dechant; 11. Ronnie Hill; 12. Adam Morris; 13. Nate Moore; 14. Cole Hodges; 15. Wheat Lippelmann; 16. Don Geist; 17. Jarod Baylie; 18. Andrew Granzella; 19. Kyle Rohleder; 20. Danny Concelman; 21. Garrett Sporhase; 22. David Murray Jr.; 23. Beau Speicher; 24. Scott Drake.
Stock Cars – 1. Nick Tubbs; 2. Justin Bussell; 3. Jeff Tubbs; 4. B.J. Wagoner; 5. Lloyd Meeske; 6. Tyler Tipton; 7. Jason Davis; 8. Mark Zorn; 9. Jerry Whiting; 10. Perry Misner; 11. Bruce Plumisto; 12. Casey Woken; 13. Wheat Lippelmann; 14. Allen Snethen; 15. Mike Kennedy; 16. Mike Meyer; 17. Tony Walker; 18. Derrick Braudaway; 19. Rich Wadel; 20. Walt Coble; 21. Cody Williams; 22. Ondre Rexford.
Hobby Stocks – 1. Richard Boon; 2. Jeremy Wagoner; 3. Eric Ross; 4. Austin Tammen; 5. Colten Pfeifer; 6. Jake Blackhart; 7. Austin Davis; 8. Michael Brunswig; 9. David Plumisto; 10. Curt Kennedy; 11. Gary Pancake; 12. Colt Gibbs; 13. Jim Moore; 14. Michael Johnson; 15. Emanuel Young; 16. Tyrel Smith; 17. Joey Snethen; 18. Marshall Carson.
SportMods – 1. Dustin Daniels; 2. Clay Sellard; 3. Bryan Harkness; 4. Ryan Wark; 5. Jacob Adler; 6. Dan Lauer; 7. Ryan Moser; 8. Jacob Fehler; 9. Bryan Herrick; 10. C.J. Pfannenstiel; 11. Raymond Dechant; 12. Lance Brandt; 13. Ethan Zweygardt; 14. Cody Pancake; 15. Henry Henderson; 16. Trevor Geist; 17. Cody DeWester; 18. Darren Crouch.
Sept. 29 Feature Results
Modifieds – 1. Gearhart; 2. Belec; 3. Frenier; 4. Drake; 5. Moore; 6. Hodges; 7. Jessie Taylor; 8. Concelman; 9. DeLoach; 10. Morris; 11. Rohleder; 12. Coen; 13. Alvarado; 14. Dechant; 15. Haug; 16. Todd Schwarz; 17. Hill; 18. Lippelmann; 19. Matt Ratzlaff; 20. Dave Pedersen; 21. Keith Stegman; 22. Jason Brees; 23. Greg Sharp; 24. Angie Hayes.
Stock Cars – 1. Jeff Tubbs; 2. Tipton; 3. Nick Tubbs; 4. Woken; 5. Bussell; 6. Misner; 7. Lippelmann; 8. Meeske; 9. Wadel; 10. Whiting; 11. Snethen; 12. Braudaway; 13. Plumisto; 14. Wagoner; 15. Coble; 16. Kennedy; 17. Williams.
Hobby Stocks ­– 1. Smith; 2. Wagoner; 3. Ross; 4. Brunswig; 5. Plumisto; 6. Tammen; 7. Davis; 8. Pancake; 9. Gibbs; 10. Moore; 11. Blackhart; 12. Johnson; 13. Snethen; 14. Boon; 15. Carson; 16. Kennedy.
SportMods – 1. Daniels; 2. Sellard; 3. Adler; 4. Lauer; 5. Herrick; 6. Moser; 7. Henderson; 8. Wark; 9. Daniel Gottschalk; 10. Brandt; 11. Dechant; 12. Pfannenstiel; 13. Fehler; 14. Zweygardt; 15. Pancake; 16. Harkness; 17. Crouch.