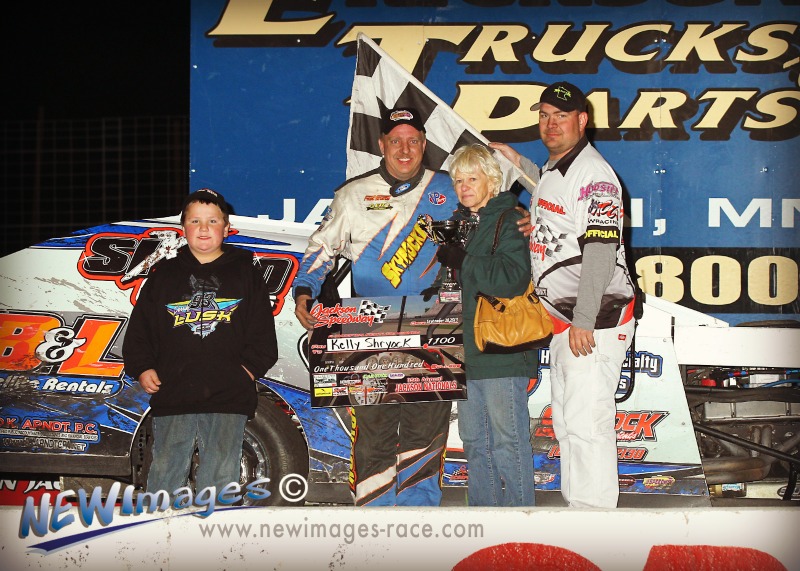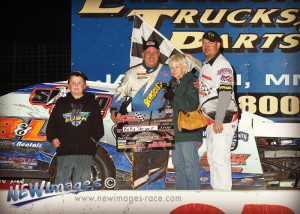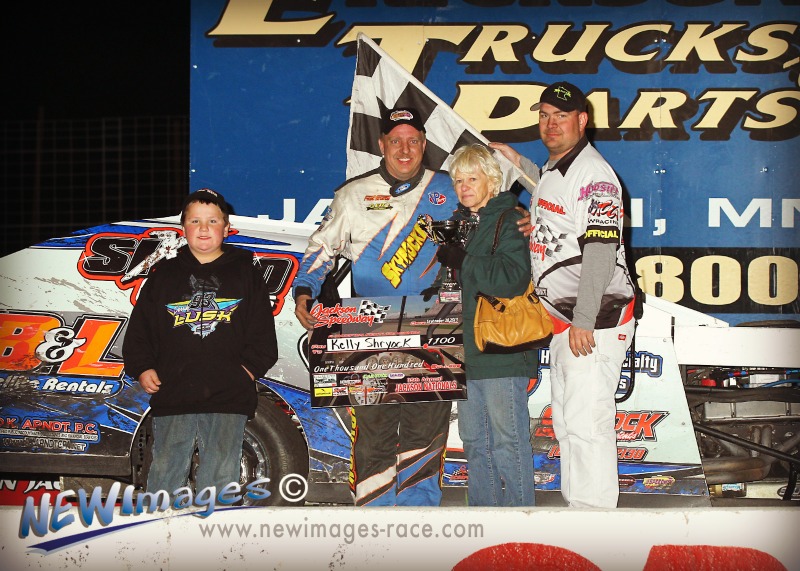 Wins by Larson, Shryock headline Jackson Nationals
JACKSON, Minn. (Sept. 28) ­– Dustin Larson was the big winner dollar-wise Saturday at Jackson Speedway while Kelly Shryock's run to the checkers put him on the ballot for one of IMCA's highest profile races.
The two joined Cory Probst, Matt Looft and Megan Lappegard as IMCA winners at the 35th annual Jackson Nationals.
Larson earned $1,500 for his IMCA Sunoco Stock Car victory, part of the Doug Cellan Memorial, while $1,100 checks went to Shryock in the IMCA Xtreme Motor Sports Modifieds, Probst in the IMCA Sunoco Hobby Stocks and Looft in the Karl Chevrolet Northern SportMods.
Lappegard's Mach-1 Sport Compact checkers were good for $500.
Larson drew the pole start and stayed in front all 20 laps in the Stock Car main. He made the most of the middle line in outrunning Roger Verdoorn to the checkers for his 17th victory of the season.
Jim Larson, Ken Tietz and Andy Altenburg were next across the stripe.
Shryock didn't get to the front until the 20th and final circuit in the Modified main.
He'd been part of the pursuit behind Roger Nielsen. A caution had erased his move past Mark Noble and into second with six to go before he rallied to catch Tad Reutzel coming out of the first set of turns and win the dash to the checkers.
"It was an exciting race," the first-time Fast Shafts All-Star Invitational ballot qualifier said. "There were a lot of good cars and any one of them could have won it."
Reutzel, Josh Meyer, Clayton Christensen and Greg Jacobsen completed the top five.
Three early cautions stymied the start of the Hobby Stock feature. Probst led start to finish, taking the checkers comfortably ahead of Cory Gansen and gaining some atonement for a $1,000 to win race earlier this season at Redwood Speedway he'd been leading but fell out of the running with the white flag out and a flat tire.
Malik Sampson, Jeremy Wagner and Justin Luinenburg were next across the stripe.
Looft needed four laps to take the lead from his outside row two starting spot in the SportMod main. A green, white, checkered finish made it a bit hairy end as Jason Fisher kept the pressure on all the way to the end.
Scored next were Randy Winter, Nick Dieter and Carter Shumski. The win at Jackson was the second of what turned out to be three victories over the weekend for Looft.
The fastest in a 21-car field, Lappegard started outside the front row and led every lap in a time-shortened contest. Her 12th victory of the season came ahead of Cory Flanigan, Kaytee Mawson, Ryan Bryant and Terry Blowers.
Feature Results
Stock Cars – 1. Dustin Larson; 2. Roger Verdoorn; 3. Jim Larson; 4. Ken Tietz; 5. Andy Altenburg; 6. Jake Masters; 7. James Richert; 8. Dean Nething; 9. Dan Mackenthun; 10. Rich Gregoire; 11. Derek Green; 12. Max Hoffer; 13. Mathew Lux; 14. Luke Sathoff; 15. Jason Mickelson; 16. Gary Mattison; 17. Bob Rebstock; 18. Scott Knudson; 19. Dan Dhaene; 20. Todd Brockman; 21. Chris Palsrok; 22. Chris Meyer; 23. Elijah Zevenbergen; 24. Brent Reierson.
Modifieds – 1. Kelly Shryock; 2. Tad Reutzel; 3. Josh Meyer; 4. Clayton Christensen; 5. Greg Jacobsen; 6. Roger Nielsen; 7. Mark Noble; 8. Jim Horejsi; 9. Austin Lucas; 10. Josh Rogotzke; 11. Jeff Larson; 12. Brandon Beckendorf; 13. Dwain Hanson; 14. Dan Menk; 15. Randy Klien; 16. Warren VanWesten; 17. Nyle Norgquist; 18. Curt Lund; 19. Brett Meyer; 20. Mark DeVary.
Hobby Stocks – 1. Cory Probst; 2. Cory Gansen; 3. Malik Sampson; 4. Jeremy Wagner; 5. Justin Luinenburg; 6. Brandon Nielsen; 7. Drew Barglof; 8. Jeff Senne; 9. Guy Kimpton; 10. Darin Johnsen; 11. Dustin Smith; 12. Jesse Totten; 13. Lee Fetchenheir; 14. Kevin LaTour; 15. Shane Harazin; 16. Chanse Hollatz; 17. John Briggs; 18. Merle Pattison; 19. Justin Nehring; 20. Jay Sidles; 21. David Miller; 22. Alan Stammer; 23. Doug Wickman; 24. Weston Koep.
Northern SportMods – 1. Matt Looft; 2. Jason Fisher; 3. Randy Winter; 4. Nick Dieter; 5. Carter Shumski; 6. Adam Ecker; 7. Jason Andrews; 8. Kyle Steuber; 9. Troy Rink; 10. Bobby Egeland; 11. Jeff Carter; 12. Lyle Sathoff; 13. Darin Roepke; 14. Ben Chukuske; 15. Eric Kinnetz; 16. Mark Garver; 17. Matt Marrow; 18. Tim Rupp; 19. Tim Bagerson; 20. Nathan Chukuske; 21. Dan Paplow; 22. Danny Myrvold; 23. Tom Malchow; 24. Nick Johansen.
Sport Compacts – 1. Megan Lappegard; 2. Cory Flanigan; 3. Kaytee Mawson; 4. Ryan Bryant; 5. Terry Blowers; 6. Cory Peters; 7. Dusty Seachris; 8. Jay DeVries; 9. Matt Engesser; 10. Jason Bolte; 11. Blaney Markman; 12. Tim Doocy; 13. Jon Joehnck; 14. Dalton Lewis; 15. Kyle Hansen; 16. Dan Johnson; 17. Nikkya Betz; 18. Tony Salmon; 19. Neil Forsberg; 20. Stephanie Forsberg; 21. Justin Veloz.