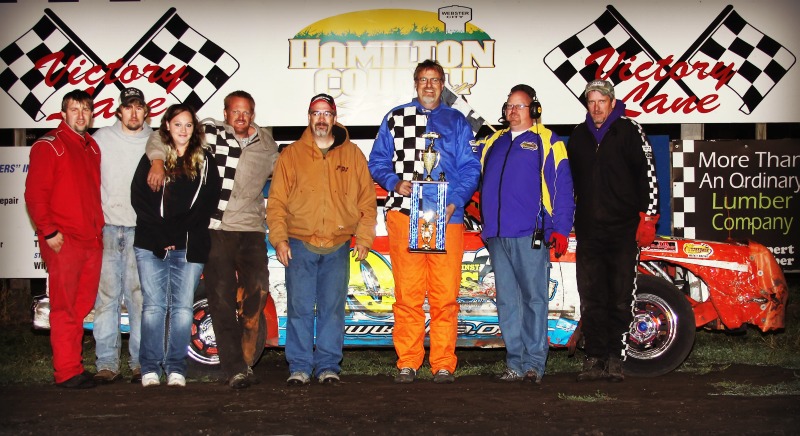 By Ryan Bergeson
WEBSTER CITY, Iowa (Sept. 28) – Richie Gustin took home the biggest check while Randy Embrey reached a big career win mark Saturday at Hamilton County Speedway's inaugural Dave Hubbard Me­morial.
Gustin capitalized on his pole start and led all 20 laps of the IMCA Xtreme Motor Sports Modified main event, earning $1,500 for his efforts. Ryan Ruter raced to second from the ninth starting posi­tion but could not reel in Gustin.
Tyler Droste raced to a third place finish from the sixth row and Jason Murray finished fourth from the fifth row. Gustin was already on the ballot for the 2014 Fast Shafts All-Star Invitational.
Charging to the front of the field from his fifth row start, Embrey won for the 100th time in his IMCA Sunoco Hobby Stock career, earning $750. David Rieks, Bill Bonnett and John Watson finished out the top four.
Continuing his torrid September, Carter VanDenBerg added the $1,000 Karl Chevrolet Northern SportMod checkers to his resume.
Matt Lettow and VanDenBerg battled up front for several laps before VanDenBerg got the upper hand. Curtis Van Der Wal cruised to the second position but could not reel in the leader. Vanden­berg pocketed the winning prize followed by Van Der Wal, Brett Lowry and Matt Hoeft.
Merv Chandler powered to the front of the field in the Mach-1 Sport Compact feature. He domi­nated a 13-car field and was first to the $200 checkered flag, followed by John Whalen, Joseph DeBoer and Nate Evans.
In all, 184 drivers packed the pits at Hamilton County for the final night of racing this season and thanks to numerous and generous donations from sponsors, the purse for the event totaled nearly $40,000.
Former speedway regular Dave Hubbard, who died last spring, was remembered. Todd Cooney's IMCA Late Model featured a paint scheme to honor "Racer 5." The door skins, quarter panels and roof were auctioned off during intermission and all proceeds went to the Hubbard family.
Feature Results
Modifieds – 1. Richie Gustin; 2. Ryan Ruter; 3. Tyler Droste; 4. Jacob Murray; 5. Mark Elliott; 6. Cayden Carter; 7. Ronn Lauritzen; 8. Greg Elliott; 9. Randy Havlik; 10. Levi Nielsen; 11. Scott Hogan; 12. Dakota Hayden; 13. Scott Williams; 14. Mark Schulte; 15. David Brown; 16. Bill Davis Jr.; 17. Russ Dickerson; 18. Shane Monson; 19. Devin Havlik; 20. Jim Cole; 21. Jeff Waterman; 22. Jimmy Gustin; 23. Scott Olson; 24. Zach Less.
Hobby Stocks – 1. Randy Embrey; 2. David Rieks; 3. Bill Bonnett; 4. John Watson; 5. Austin Wolfgram; 6. Ty Griffith; 7. Craig Graham; 8. Cody Nielsen; 9. Mike Hughes; 10. Matt Mundt; 11. August Bach; 12. Jeremy Morriss; 13. Cory Roe; 14. Dustin Tapp; 15. Nate Bonin; 16. Matt White; 17. T.J. Mortenson; 18. Andrew Burg; 19. Seth Janssen; 20. Ruben Stanbrough; 21. Shaun Wirtz; 22. Adam Strunk; 23. Myles Michehl; 24. Jacob Keiser.
Northern SportMods – 1. Carter VanDenBerg; 2. Curtis Van Der Wal; 3. Brett Lowry; 4. Matt Hoeft; 5. Matt Lettow; 6. Jared VanDeest; 7. Bob Sutherland; 8. Jeremy Embrey; 9. Sam Wieben; 10. Nick West; 11. Nate Hughes; 12. Duane Van Deest; 13. Tony Johnson; 14. Bill Hildreth; 15. Coty Albers; 16. Paul Price; 17. Tim Judd; 18. Taylor Musselman; 19. Nick Roberts; 20. Johna­than Logue; 21. Nick Meyer; 22. Brad Iverson; 23. Brandon Leeman; 24. Jerid Ratzke.
Sport Compacts – 1. Merv Chandler; 2. John Whalen; 3. Joseph DeBoer; 4. Nate Evans; 5. Duane Ferguson; 6. Adam Strunk; 7. Dustin Haggard; 8. Tommy Beekman; 9. Adam Gates; 10. Kalan Guthrie; 11. Mike Nehring; 12. Cody Cleghorn; 13. Stephanie Nielson.