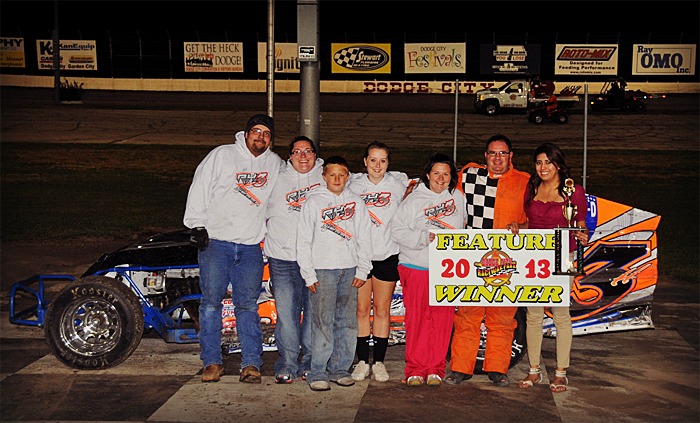 By Lonnie Wheatley
DODGE CITY, Kan. (Sept.) – Zach Blurton and Ryan Heger were among those scoring victory honors as 124 cars filled the pit area Saturday night for the Inaugural Jerry Soderberg Memorial Championship event that closed out the season at Dodge City Raceway Park.
While Blurton took URSS Sprint Car honors after apparent winner Taylor Velasquez weighed in light at the scales and Heger topped the season finale in IMCA Xtreme Motor Sports Modifieds for the second year in a row, Josh Appel took the win in United Wireless IMCA SportMods, Ron Hartman rallied from the tail to top the IMCA Sunoco Stock Cars, Dan Rogers bested the Thunder Cars and James Phelps won the Hornet finale.
Heger emerged from a three-way shootout with Cole Traugott and Van Gemmill over the final circuits for his second win in season finale action in as many years.
While Heger worked his way up from the 22nd starting position after heat race problems, Brad Keller and Jack Kirchoff paced the early circuits before Traugott surged into the lead on the 12th round in his bid for a third consecutive win to finish out the Dodge City season.
Heger and the elder Gemmill had other ideas though, with Heger taking the checkered flag in the 20-lapper ahead of Gemmill. Beau Davis worked up to third in the final laps, Brendon Gemmill rebounded from mid-race issues to snare fourth with Traugott shuffled back to fifth in the final circuits. Austin Allen crossed the stripe sixth to put the finishing touches on his championship season.
In similar fashion, Appel emerged from a multi-car battle over the last half of the race to post his first SportMod win of the year.
Brian May paced the initial handful of rounds of the 20-lapper before Jeff Kaup surged into the lead. Trent Kleweno entered the mix at the midway point and held a handful of rounds before Appel battled into the lead for keeps on the 16th lap.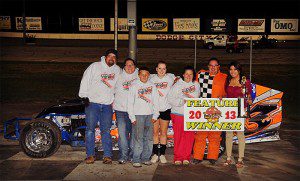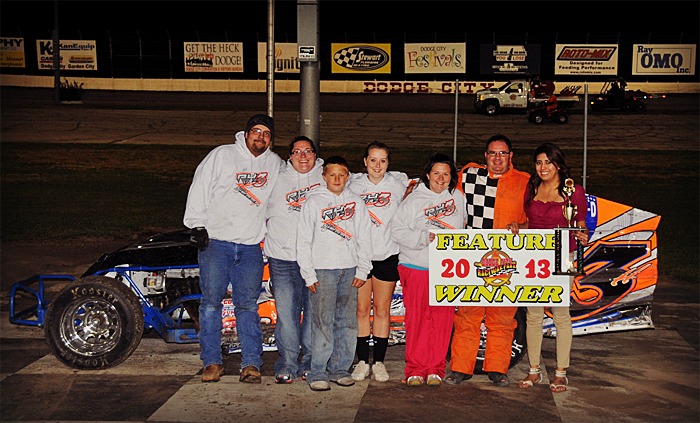 Appel took the win ahead of Kleweno, with Kaup securing the title with his third place finish. Jared Baird and Mike Appel rounded out the top five.
In Stock Car action, Hartman raced from 17th to take his first win of the season at Dodge City.
Michael Pepper raced into the lead five laps into the 20-lapper before being swarmed by a host of challengers, with Hartman emerging with the lead on the 13th lap and then surviving some late challenges for the win ahead of Angel Munoz, Randy Dowell, Pepper and Justin Lewis. Billy Phelps finished off his championship season with a seventh-place finish.