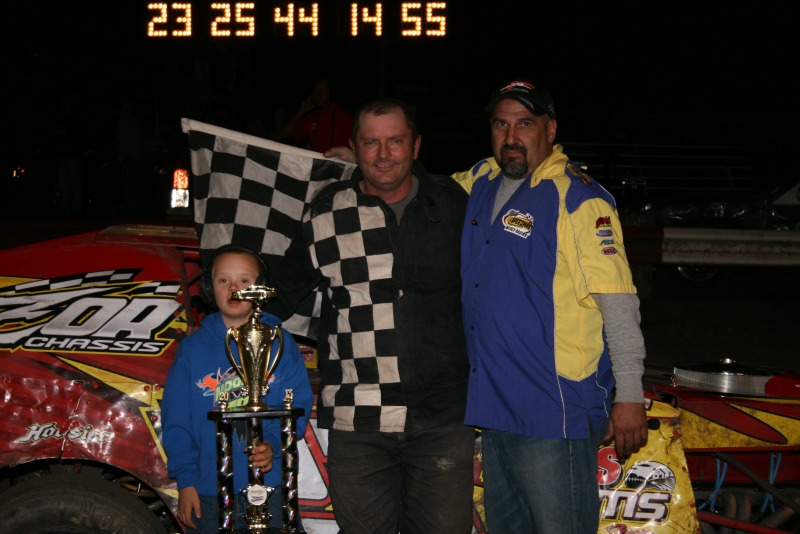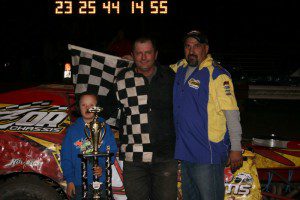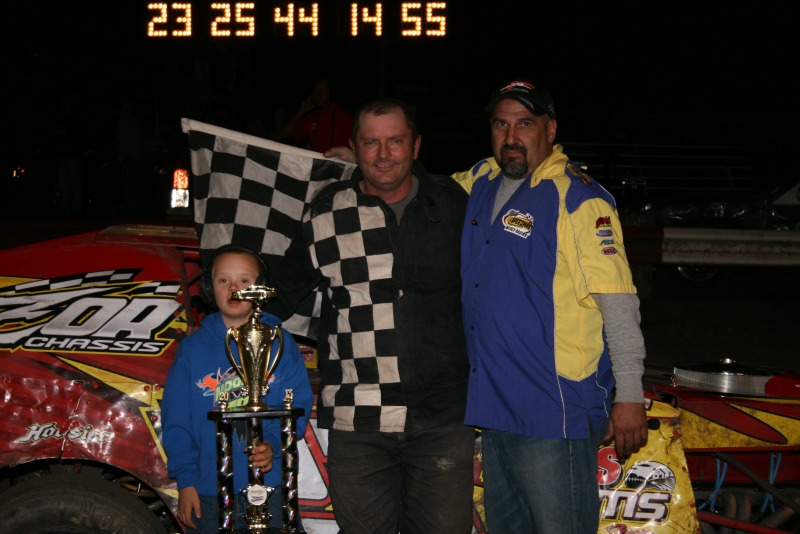 JEFFERSON, S.D. (Sept. 21) – As the season ended at Raceway Park on Saturday night, Jim Thies was the big winner of the $1,000-to-win WinnaVegas South Dakota Fall Nationals.
In the Professional Concrete IMCA Modified main event, 2013 track champion Thies got to the front in the early laps and held off Ricky Stephan and Jason Schneiders for the top prize. The win qualified Thies for the 2014 Fast Shafts All-Star Invitational ballot.
The Casey's General Stores IMCA Stock Car division saw Jason Ward atop the field once again, taking the win over Aaron Cain and Chad Bruns.
The Skyline Casino IMCA SportMod feature went to Todd Boulware, who held off a late charge from Karl Brewer and Jeff TenEyck to cap his track championship season.
The Frederick Welding IMCA Hobby Stocks saw action from start to finish with Dave Riley coming out on top, followed by Paul Menard and Justin Regneres.
The KISS 107FM IMCA Sport Compact feature came down to a green, white, checkered finish with Joelle Gustin passing 2013 points champion Cody Thompson on the final restart to take the win. Behind Gustin and Thompson, Brody Spreng rounded out the top three.
WinnaVegas Casino Resort was the event sponsor.
That wraps up the racing action at Raceway Park for 2013, but the annual salute to champions banquet is coming December 7 at the WinnaVegas Casino Resort.
For additional information, log on at www.racewayparkinc.com, follow Raceway Park on Facebook or call the speedway office at (712) 560-7245.
Feature Results
Modified – 1. Jim Thies; 2. Ricky Stephan; 3. Jason Schneiders; 4. Matt Bonine; 5. Jim Cole; 6. Jay Goosmann; 7. Chris Mills; 8. Bob Moore; 9. Shawn Bearce; 10. Sean Barragan; 11. Jim Mathieson; 12. Kirk Beatty; 13. Chad TenNaple.
Northern SportMod – 1. Todd Boulware; 2. Karl Brewer; 3. Jeff TenEyck; 4. Darin Roepke; 5. Rusty Montagne; 6. Brian Konz; 7. Aaron Plum; 8. Josh Blom; 9. Chance Bracht; 10. Kaleb Kennedy; 11. Greg Taylor.
Stock Car – 1. Jason Ward; 2. Aaron Cain; 3. Chad Bruns; 4. Les Lundquist; 5. Ben Walding; 6. Roger VerDoorn; 7. Bob Daniels; 8. Chad Allen; 9. Corey Cable; 10. Casey Jones; 11. Mike Denney; 12. Aaron Guillaume; 13. Rich Pederson; 14. Joe Smith.
Hobby Stock – 1. Dave Riley; 2. Paul Menard; 3. Justin Regnerus; 4. Dave Miller; 5. Josh Ruschmann; 6. John Cain; 7. Aaron Shearn; 8. Kyle Davis; 9. Tony Fetterman; 10. Lenny Tucker; 11. Zach Bales; 12. Zack Ankrum; 13. Rick Wynn; 14. Jake McClure; 15. Carl Monroe; 16. Andy Hoffman; 17. Chad Long; 18. Allen Hesse; 19. Derek Husted.
Sport Compact – 1. Joelle Gustin; 2. Cody Thompson; 3. Brody Spreng; 4. Tyler Thompson; 5. Tony Kerger; 6. Mark Holmes; 7. Don Tank; 8. Mark Dorcey; 9. Delles Williams; 10. Gabe Barclay; 11. Shannon Mahlberg; 12. Rick Uhl; 13. Deb Bracht; 14. Drew Johnson; 15. Neal Reynolds; 16. Randy Cass; 17. Travis Deiterman; 18. Jayme Mohr; 19. Caine Mahlberg.