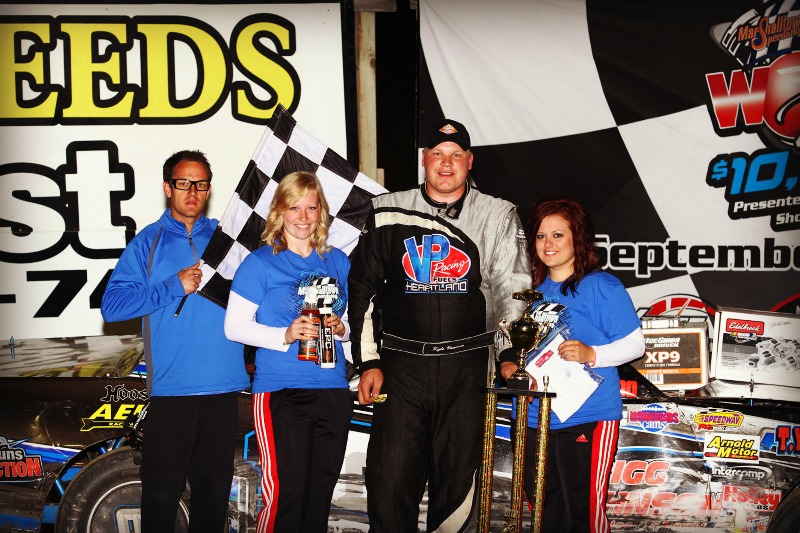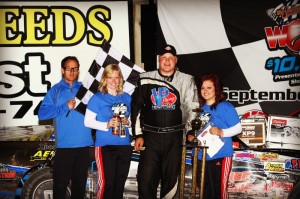 By Jeremy Fox
MARSHALLTOWN, Iowa (Sept. 20-21) – Six sanctioned features resulted in as many different winners at Marshalltown Speedway's World Nationals special.
Friday victories went to Donavon Smith in the IMCA Sunoco Stock Cars, Carter VanDenBerg in the Karl Chevrolet Northern SportMods and Jamie Songer in the IMCA Sunoco Hobby Stocks.
Saturday checkers flew for Kyle Vanover in the Stock Cars, Tony Dunker in the Northern SportMods and Austin Luellen in the Hobbies.
Both Stock Car and both SportMod features paid $1,000 to win. The Hobby Stock features paid $500.
In the opening night Stock Car feature, it was Todd Reitzler grabbing the lead right after the first lap was scored. Robert Stofer took over until lap four, when Smith worked his way from ninth to take the front spot away.
Smith checked out from that point and took the win over Jordan Grabouski, Brian Irvine, Vanover and Damon Murty.
Track champion Eric Elliott set the early pace for the SportMod feature with plenty of two- and three-wide racing behind him.
VanDenBerg drove by Elliott on lap five, then ran away from from the rest of the field until the caution waived on lap 16 for debris on the track. Several cars got together in turn two on the ensuing restart.
VanDenBerg tried to pull away again, only to see the yellow fly two more times and force a green, white, checkered finish.
On the final restart, VanDenBerg had to battle with Tim Current and coming to the checkered those two made contact on the exit of turn four.
VanDenBerg took the win with Current coming across in second. However in post-race tech Current was disqualified for illegal tires. Travis Peterson was then credited with second, Doug Smith started 21st and found his way to third place while Brian Efkamp and North Dakota's Justin Medler rounded out the top five.
Eric Stanton and Devin Smith both did time at the front of the Hobby Stock field before Songer took over just before the caution on lap 13. Songer held on to win with Stanton in the runner-up spot. John Watson worked his way from 11th to third, Benji Irvine finished fourth while Smith fell back to fifth spot with shock absorber issues.
The Saturday Stock Car ran 20 laps green to checkered. Murty led early while Vanover got by Grabouski for second and set his sights on Murty.
Vanover took over the front spot on lap six and led to the finish. Murty, John Heinz, Donavon Smith and Andy Altenburg round out the top five.
Geoff Olson and Matt Lettow started on the front row in the SportMod feature. Olson led the first 12 laps but as he started to encounter lapped traffic, it allowed Dunker to catch up and move into first.
Dunker and Olson battled it out until the caution came out on lap 17. Dunker held off challenges from Olson, Lettow and in the end Doug Smith to take the win. Smith came home in second after starting 11th, Lettow was third, Olson was fourth and VanDenBerg was fifth.
Before a single lap was completed in the Hobby Stock feature, the caution waived for debris in turn four after several cars got together on the start. Luellen leaped to the lead and the only things that slowed him down were cautions on laps seven and 11.
He took the win over Songer, Watson, Stanton and Bill Bonnett.
Sept. 20 Feature Results
Stock Cars – 1. Donavon Smith; 2. Jordan Grabouski; 3. Brian Irvine; 4. Kyle Vanover; 5. Damon Murty; 6. Jay Schmidt; 7. Jarod Weepie; 8. Steve Meyer; 9. Robert Stofer; 10. Derek Reimer; 11. Todd Reitzler; 12. Andy Altenburg; 13. Derek Green; 14. Randy Brands; 15. Scott Pippert; 16. Blake Cole; 17. Ryan Leeman; 18. Justin Jacobsen; 19. Lonnie Hodges; 20. John Heinz; 21. Trent Murphy; 22. Eric Knutson; 23. Robbie Merkley; 24. Curt Hook.
Northern SportMods – 1. Carter VanDenBerg; 2. Travis Peterson; 3. Doug Smith; 4. Brian Efkamp; 5. Justin Medler; 6. Geoff Olson; 7. Jared Hansen; 8. Cory Rose; 9. Rod McDonald; 10. Darik Fox; 11. Matt Webb; 12. Nick Meyer; 13. Brandon Williams; 14. Joel Rust; 15. Matt Lettow; 16. Creston Williams; 17. Eric Elliott; 18. Tony Dunker; 19. Brett Lowry; 20. Nate Whitehurst; 21. Richie Gustin Jr.; 22. Ben Kates; 23. Austin Kaplan; 24. Tim Current.
Hobby Stocks – 1. Jamie Songer; 2. Eric Stanton; 3. John Watson; 4. Benji Irvine; 5. Devin Smith; 6. Garrett Eilander; 7. Nathan Ballard; 8. Ty Griffith; 9. Scott Durlin; 10. August Bach; 11. Dustin Lynch; 12. Austin Luellen; 13. Gary Pfantz; 14. Jason Cox; 15. Riley Songer; 16. Brice Udelhoven; 17. Randy Embrey; 18. Jason Kohl; 19. Eugene Nicklas; 20. David Rieks; 21. Jason See; 22. BIl Bonnett; 23. Dustin Graham; 24. Dustin Elliott.
Sept. 21 Feature Results
Stock Cars – 1. Vanover; 2. Murty; 3. Heinz; 4. Smith; 5. Murphy; 6. Altenburg; 7. Irvine; 8. Grabouski; 9. Jacbobsen; 10. Meyer; 11. Kevin Rose; 12. Green; 13. Eric Rempel; 14. Brands; 15. Pippert; 16. Roger Ciesielski; 17. Phil Holtz; 18. Cole; 19. Mike Galli; 20. Aaron Matthias; 21. Mark Schuenemann; 22. Russell Damme Jr.; 23. Chris Adams; 24. Schmidt.
Northern SportMods – 1. Dunker: 2. Smith; 3. Lettow; 4. Olson; 5. VanDenBerg; 6. Lowry; 7. Rust; 8. Jayme Duinink; 9. Sam Wieben; 10. Efkamp; 11. Brandon Brinton; 12. Rose; 13. Jon Schultz; 14. Johnathan Logue; 15. Coty Albers; 16. Kevin Hurst; 17. Mike Dauphinais; 18. McDonald; 19. Ben Kraus; 20. Logan Anderson; 21. Peterson; 22. Kates; 23. Brad Iverson; 24. Paul Nagle.
Hobby Stocks – 1. Luellen; 2. Jamie Songer; 3. Watson; 4. Stanton; 5. Bonnett; 6. Andrew Burg; 7. Irvine; 8. Justin Lichty; 9. Troy Phillips; 10. Pfantz; 11. Durlin; 12. Eilander; 13. Tim Barber; 14. Lynch; 15. Udelhoven; 16. Elliott; 17. Randy Byely; 18. Jesse Hopkins; 19. Jacob Keiser; 20. Josh Fredrickson; 21. See; 22. Riley Songer; 23. Nate Bonin; 24. Ty Griffith.