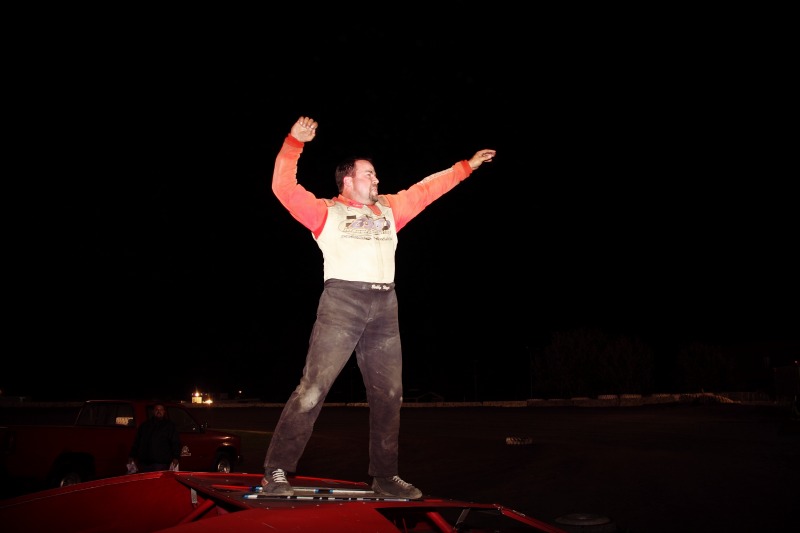 WATSONVILLE, Calif. (Sept. 20-21) – Maybe it was the effort from holding off Ryan McDaniel and Jeff Taylor that had Bobby Hogge IV breathless at the end of Ocean Speedway's Pat Pettit Memorial Shootout.
Or maybe it was the rooftop celebration that followed Hogge's $15,003 win Saturday evening at Watsonville, in the top-paying event for IMCA Xtreme Motor Sports Modifieds.
The victory produced the career best payday for Hogge, who had to keep McDaniel and Taylor at bay in a green, white, checkered finish to the 50-lap main event.
"I don't know if I took a breath after the last caution," he said. "I didn't know if it was going to give them an opportunity or me time to make a mistake. I just told myself I needed to race like I had the last 20 laps and I'd be OK."
After a rough opening night, Taylor raced his way into contention after winning his "B" feature. Brad Pounds, another "B" winner, and Bryan Burnes completed the top five.
Randy McDaniel and Brian Cass enjoyed brief stints at the front of the 25-car field before Richard Papenhausen settled in for a long run in the lead.
Hogge had finished fifth in the Friday qualifier and watched the 10th starting Ryan McDaniel drive by on the way to the second spot in pursuit of Papenhausen.
"We were a fifth place car on Friday night. The track was hammer down and smooth, and everyone was fast," Hogge said. "We watched hot laps on Saturday and made some good decisions with setup. I don't think I could have had a better car on Saturday."
Moving up a line, Hogge caught McDaniel for second and then Papenhausen for the front spot on lap 27.
Mechanical issues sidelined Papenhausen four laps later. The race stayed green to lap 48 and that's when the fans at Ocean and viewing the XSAN broadcast really got their money's worth.
"I knew Ryan was right there and I knew Taylor would be coming," Hogge said. "I just made sure I had a good restart. The last lap I kind of slowed up and made sure I didn't miss any of my marks. It was definitely an awesome show for the fans."
"We're not a highly sponsored team," added Hogge, who drives the Joe Glade Enterprises-owned GRT Modified, "so this was definitely a big win for us."
Seventy cars vied in the third annual event, which paid a minimum of $503 to start. Hogge had won the Five Star Grafix Clash at Santa Maria Speedway in August and was already on the ballot for the 2014 Fast Shafts All-Star Invitational.
"It still hasn't set in. I'm getting butterflies – it's still like 'Wow,'" he admitted. "The only other time I've stood on the roof of my car was in 2001 when I won my qualifier and finished third at Super Nationals."
Karl Chevrolet Northern SportMod feature winners were Kyle Wilson on Friday and Nick Spainhoward on Saturday.
Sept. 20 Results
1st heat (top 2) – 1. Ryan McDaniel; 2. Cody Burke; 3. Jim Pettit II. 2nd heat – 1. Bryan Burnes; 2. Randy McDaniel; 3. Jeff Decker. 3rd heat – 1. Bobby Hogge IV; 2. Austin Burke; 3. Troy Foulger. 4th heat – 1. Michael Dalton; 2. Brian Cass; 3. Scott Busby. 5th heat – 1. Joe Antonetti; 2. Nick DeCarlo; 3. Alex Stanford. 6th heat – 1. Nick Silva; 2. Andy Obertello; 3. Jeff Streeter. 7th heat – 1. Ryan Lauer; 2. Richard Papenhausen; 3. Tim Clark Sr.
Pettit set fast time.
Qualifying feature – 1. Randy McDaniel; 2. Cass; 3. Austin Burke; 4. Papenhausen; 5. Hogge; 6. DeCarlo; 7. Silva; 8. Cody Burke; 9. Lauer; 10. Ryan McDaniel; 11. Obertello; 12. Burnes; 13. Antonetti; 14. Dalton.
Sept. 21 Results
1st "B" feature (top two) – 1. Stanford; 2. Kellen Chadwick; 3. Danny Lauer. 2nd "B" feature – 1. Jeff Taylor; 2. Darrell Hughes II; 3. Streeter. 3rd "B" feature – 1. Foulger; 2. Aaron Crowell; 3. Clark. 4th "B" feature – 1. Brad Pounds; 2. Paul Stone; 3. Duane Cleveland.
1st last chance qualifier – 1. Jesse Williamson. 2nd last chance qualifier – 1. Clark.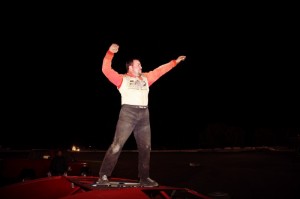 Feature – 1. Hogge; 2. Ryan McDaniel; 3. Taylor; 4. Pounds; 5. Burnes; 6. DeCarlo; 7. Obertello; 8. Clark; 9. Williamson; 10. Chadwick; 11. Stone; 12. Foulger; 13. Cass; 14. Austin Burke; 15. Dalton; 16. Silva; 17. Ryan Lauer; 18. Pettit; 19. Hughes; 20. Cody Burke; 21. Stanford; 22. Papenhausen; 23. Randy McDaniel; 24. Crowell; 25. Antonetti.