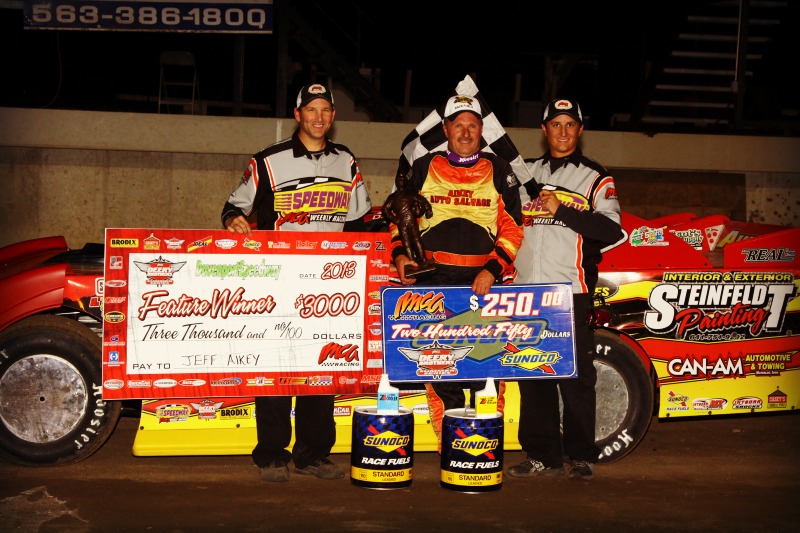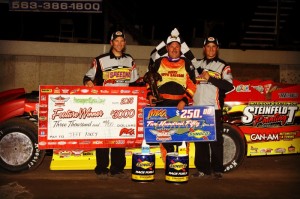 DAVENPORT, Iowa (Sept. 21) – Jeff Aikey raced to his tour-career leading 61st feature win and Brian Harris clinched his career first Deery Brothers Summer Series championship Saturday night at Davenport Speedway.
Aikey passed Justin Kay with eight circuits to go in the 40-lapper, then ran away from the rest of the field enroute to the $3,000 checkers.
The seven-time IMCA Late Model tour king also went home with the $250 Sunoco Race Fuels feature qualifier drawing prize and another $99 check from Ideal Ready Mix for perfect series attendance.
Kay was runner-up to Aikey in the finale and to Harris in the point standings by 25 markers. Harris redrew 12th and fell back in the pack before driving all the way back to third. He'll be rewarded for his season-long efforts with a $5,000 share of the series point fund during the IMCA national awards banquet in November.
Andy Eckrich and Jason Rauen completed the top five at Davenport.
Dan Shelliam took charge from outside the front row and led the first nine times around the half-mile oval. Pole starter Kay was in front when the 10th circuit was scored and then quickly into lapped traffic, with Rob Toland, Kay and Eckrich following.
The only caution of the contest came out on lap 17. Not long after the race went back to green, the seventh-starting Aikey found himself in second while Rauen, winner of the second "B" feature, cracked the top five.
Kay had Aikey on his tail when the two caught up with the back of the field again on lap 30. When Kay got caught behind the slower line, Aikey went to the high side of the track and into the lead.
He'd stretch that advantage out while Kay continued to run well ahead of Harris, who'd worked back up 15 spots to third and then outran Eckrich and Rauen.
Hard charger Tommy Elston was a plus 12 positions on the night to finish ninth. Harris and Rauen both advanced nine spots.
Harris led all drivers with five feature wins, including a record-tying four in a row, in 16 events this season. Aikey topped three of the last five features and now owns six career victories at Davenport.
Kay was also a three-time series winner this year. Darrel DeFrance extended his perfect attendance streak through the 27th annual series, finishing 17th in his 420th tour consecutive event.
Feature results – 1. Jeff Aikey, Cedar Falls; 2. Justin Kay, Wheatland; 3. Brian Harris, Davenport; 4. Andy Eckrich, Oxford; 5. Jason Rauen, Farley; 6. Joel Callahan, Dubuque; 7. Denny Eckrich, Tiffin; 8. Rob Toland, Colona, Ill.; 9. Tommy Elston, Keokuk; 10. Nick Marolf, Moscow; 11. Jay Johnson, West Burlington; 12. Brunson Behning, Calamus; 13. Ray Guss Jr., Milan, Ill.; 14. Rob Moss, Iowa City; 15. Ryan Dolan, Lisbon; 16. Ron Boyse, Kalona; 17. Darrel DeFrance, Marshalltown; 18. Dan Shelliam, Hazel Green, Wis.; 19. Kyle Hinrichs, Swisher; 20. Jon Poll, Delmar; 21. Chad Simpson, Mount Vernon; 22. Nate Beuseling, Silvis, Ill.; 23. Spencer Diercks, Bettendorf; 24. Matt Ryan, Davenport.
1st heat (top three) – 1. Kay; 2. Toland; 3. Aikey; 4. Beuseling; 5. DeFrance; 6. Dolan; 7. Hinrichs; 8. Mel Abels, Freeport, Ill.; 9. Mike Murphy Jr., Colona, Ill.
2nd heat – 1. Shelliam; 2. Andy Eckrich; 3. Harris; 4. Simpson; 5. Terry Neal, Ely; 6. Ryan; 7. Mike Zemo Jr., Davenport; 8. Stephan Kammerer, Blue Grass; 9. Chuck Hanna, Port Byron, Ill.
3rd heat – 1. Callahan; 2. Poll; 3. Johnson; 4. Joe Ross, Thomsen, Ill.; 5. Behning; 6. Boyse; 7. Elston; 8. Greg Kastli, Waterloo; 9. Marty Diercks, Bettendorf.
4th heat – 1. Guss; 2. Denny Eckrich; 3. Marolf; 4. Rauen; 5. Moss; 6. Spencer Diercks; 7. Mike Guldenpfennig, Muscatine; 8. Curt Schroeder, Ames.
1st B" feature (top four) – 1. Simpson; 2. DeFrance; 3. Hinrichs; 4. Dolan; 5. Beuseling; 6. Zemo; 7. Ryan; 8. Kammerer; 9. Hanna; 10. Abels; 11. Neal; 12. Murphy.
2nd "B" feature – 1. Rauen; 2. Moss; 3. Behning; 4. Spencer Diercks; 5. Ross; 6. Elston; 7. Boyse; 8. Kastli; 9. Schroeder; 10. Marty Diercks; 11. Guldenpfennig.
Hard charger – Elston. Provisionals – Beuseling, Ryan and Boyse.