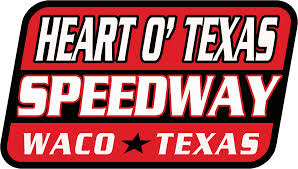 WACO, Texas (Sept. 13) – With only one race left in the 2013 season, point races tightened up in several classes Friday night at the Heart O' Texas Speedway.
Jason Batt used his second place finish in the IMCA Sunoco Stock Car feature to take the lead by one point over Charles Cosper in the championship battle. Zach Riley won the feature and Tristan Carmen raced to third. Cosper finished in sixth.
The IMCA Sunoco Hobby Stock feature was won by Jeremy Oliver. Garrett Rawls took second, and point leader Cody Frank, finished third to maintain a narrow four point margin at the top of the standings.
Brothers Kevin and T.J. Green stayed first and second in points after finishing second and third, respectively, in the Scoggin-Dickey Parts Center Southern SportMod feature won by Chris Cogburn. Cogburn is third in points.
Keith White, Ben Ketteman, and Keith Green were the top three in the IMCA Xtreme Motor Sports Modified feature.
Andrew Richards kept his Bomber class lead to three points with a fourth place finish. Kevin Smith won the race, and Ryan Hopkins, second in points, was runner-up. Robert took was third.
The junior mini stock class has a three point difference between leader Preston Jacobs, and runner-up Dakota Collier. Jacobs ran third in the feature and Collier took second in the race won by Hayden Wade. Taylor Florio, third in points, also ran third in the race.
David Khoury, Bobby Mercer, Jr. and Benji Kirkpatrick led the street stocks to the checkered flag. Khoury is the point leader.
David Ballard, John Fikes, and Larry Underwood were one, two and three in the Texas Twister class. Ballard is the point leader.
No races are scheduled for Friday, Sept. 20. The final point night to determine track championships will be Friday, Sept. 27. Gates open at 6 p.m. and races begin at 8 p.m.