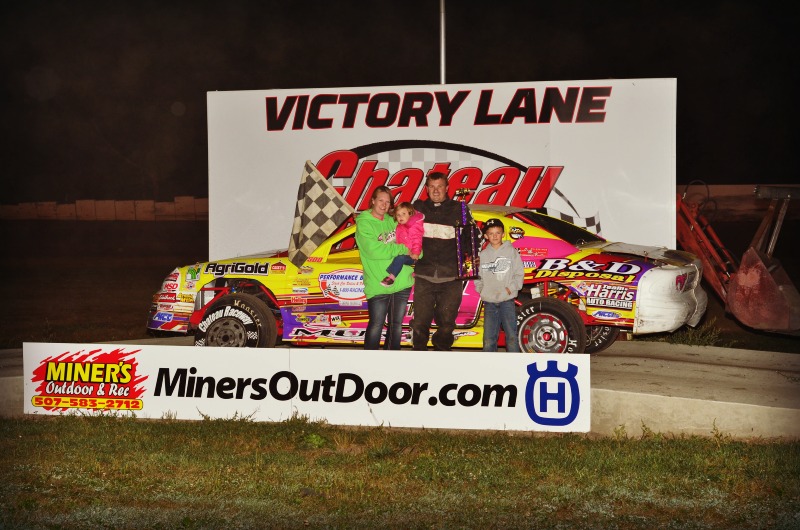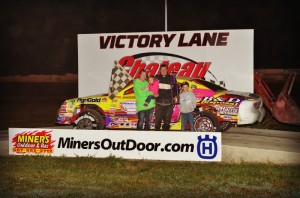 By Ryan Clark
LANSING, Minn. (Sept. 13) – Damon Murty took advantage of a late restart to drive to victory in Friday's Border War special for IMCA Sunoco Stock Cars at Chateau Raceway.
Murty, who started seventh, raced the low side into third place six laps into the event before a caution slowed action.
After working his way through traffic racing the low groove, Murty restarted on the outside of row two following the final stoppage just past the midway point of the 20-lapper.
He shot to the inside of race-long leader Scott Pippert when the frontrunner pushed entering turns one and two after the green flag was displayed.
Murty escaped down the back stretch with the lead and then paced the field for the remainder of the event to earn the $1,000 payday.
The event was originally billed as the Spring Challenge, but was rescheduled numerous times throughout the season due to inclement weather.
Feature results – 1. Damon Murty; 2. Lynn Panos; 3. Shay Curtin; 4. Andy Altenburg; 5. Chad Palmer; 6. Dan Mackenthun; 7. Jeff McCollum; 8. Ryan Goergen; 9. Scott Pippert; 10. Chris Adams; 11. Heath Tulp; 12. Travis Shipman; 13. David Moriarty; 14. Blake Cole; 15. Austin Curtin; 16. Kellie Schmit; 17. Brandon Vogt; 18. Mike Jergens; 19. Chris Wiltse; 20. Kevin Vogt; 21. Larry Portis.
30