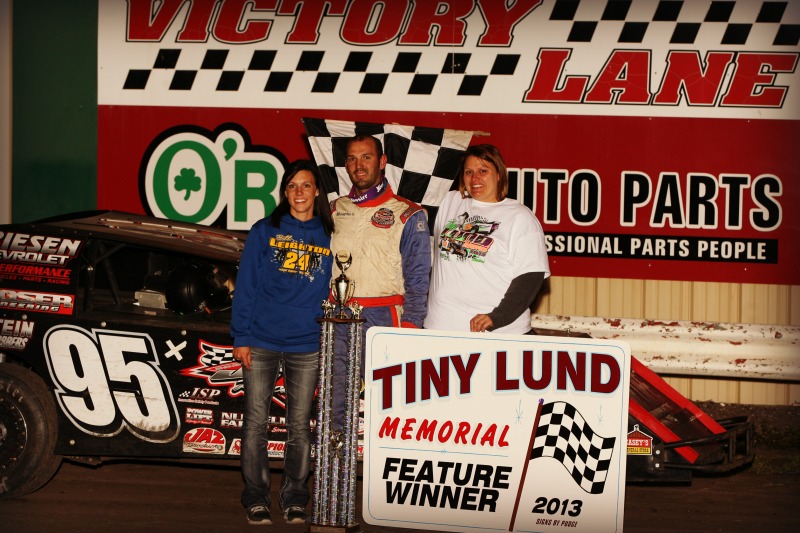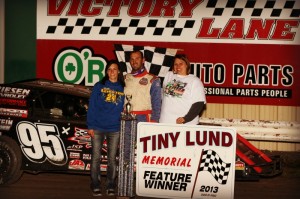 By Ryan Clark
HARLAN, Iowa (Sept. 13-14) – Different driver, same result.
That's the story for Dylan Smith's IMCA Xtreme Motor Sports Modified.
Just one week after Smith raced his way to victory in the 31st annual IMCA Speedway Motors Super Nationals fueled by Casey's, Smith loaned his car to Bill Leighton for the Tiny Lund Memorial at Shelby County Speedway.
Leighton started inside of row two, which was also to the inside of Smith, who was driving a different car for the 22nd annual event.
Smith took the lead a handful of laps into the 30-lapper while Leighton ran back in fourth and fifth until the caution flag waved at the midway point.
Leighton went to work on the high side when racing resumed and started to challenge Smith before caution slowed action one more time with six laps to go.
Again working the top groove, Leighton pulled even with Smith as the two ran side-by-side over the final laps. Leighton raced the top side to victory a couple car-lengths ahead of Smith.
The $3,000 victory put him on the ballot for the 2014 Fast Shafts All-Star Invitational.
Mike Nichols drove to his fourth Tiny Lund title in the IMCA Sunoco Stock Car division.
The winner in 1996, 2004 and 2012, Nichols started inside of row three and ran much of the 25-lapper last in a five-car breakaway at the front of the pack.
Nichols started his charge to the front following a lap 15 caution when he was the lone front-runner working off the bottom groove. Racing one lane above his competitors, Nichols worked past Donavon Smith and Lance Borgman for third a short time later.
Another restart in the waning laps allowed Nichols to work to the outside of Keith Knop before pulling alongside leader Bill Osbahr. Nichols inched ahead of Osbahr at the line when the caution flag waved a final time with two to go. On the restart, Nichols pulled away from the pack to score the win.
From his pole position start, Doug Smith led all 25 laps on his way to victory in the Karl Chevrolet Northern SportMods.
Smith was pestered by Tim Rupp throughout the event and lost the lead to Rupp when the leaders encountered lapped traffic with seven laps to go.
A caution at the same time negated the pass and returned Smith to the point for the restart. When racing resumed, Smith drove away from the pack to score the win.
After winning the pole dash from a 12th place start on Friday, IMCA Sunoco Hobby Stock driver Shannon Anderson survived a handful of cautions to win that division's 20-lapper Saturday night.
Anderson ran the low side while Dusty Van Horn raced the top groove to second. Despite numerous cautions that kept the field bunched together, Anderson survived to take the win by a comfortable 10 car-length margin.
Both the Stock Car and Northern SportMod features paid $2,000 to win. Anderson's checkers were good for $1,000.
Feature Results
Modifieds – 1. Bill Leighton; 2. Dylan Smith; 3. Luke Wanninger; 4. Tim Ward; 5. Jared Hoefelman; 6. Jesse Sobbing; 7. Travis Dickes; 8. Ricky Stephan; 9. Hunter Marriott; 10. Bub Lerette; 11. Chis Abelson; 12. Bob Moore; 13. Brian Foote; 14. Dustin Andersen; 15. Brandon Monson; 16. Taimon Wehr; 17. Kevin Larkins; 18. Jesse Dennis; 19. Travis Hatcher; 20. Andy Miller; 21. Jacob Murray; 22. Dale Ransom; 23. Jeff Stephens; 24. Mike Johnson; 25. Kyle Wahlert; 26. Ryan Webb.
Stock Cars – 1. Mike Nichols; 2. Bill Osbahr; 3. Keith Knop; 4. Lance Borgman; 5. Donavon Smith; 6. J.J. Baumli; 7. Allan Schmidt; 8. Chris Ullrich; 9. Marcus Hansen; 10. Joe Zadina; 11. Clay Mercer; 12. Todd Mabbit; 13. Tony Ritterbush; 14. Jason Rold; 15. Jeff Anderson; 16. Dale Woodard; 17. Ryan Harris; 18. Bryan Snell; 19. Nick Steier; 20. Justin Bromert; 21. Mike Stapleton; 22. Jim Hendricks; 23. Brian Blessington; 24. Nick Hermsen; 25. Bob Staiert.
Hobby Stocks – 1. Shannon Anderson; 2. Dusty Van Horn; 3. Chuck Madden Jr.; 4. Corey Madden; 5. Devin Smith; 6. Jason Kohl; 7. Jeremy Auten; 8. Craig Graham; 9. Ty Griffith; 10. Jason Fusselman; 11. Cory Roe; 12. Jeff Fink; 13. Tom Myers; 14. Dave Riley; 15. Shane Schneider; 16. Kurt Hansen; 17. Donnie Gustoff; 18. Willie Ransom; 19. Jesse Totten; 20. Cody Gustoff; 21. Derek Husted; 22. Sterling Sorensen; 23. Rick Bradley; 24. Kevin Bruck; 25. August Bach.
Northern SportMods – 1. Doug Smith; 2. Tim Rupp; 3. Cody Olsen; 4. Kyle Prauner; 5. Jared Hansen; 6. Dennis Cook; 7. Mick King; 8. Matt Webb; 9. Karl Brewer; 10. Glenn Gladson Jr.; 11. Randy Archer; 12. Carter VanDenBerg; 13. Rusty Montagne; 14. Joshua Sink; 15. Todd Boulware; 16. Tyler Ringle; 17. A.J. Johnson; 18. Allan Hopp; 19. Jerod Weston; 20. Matt Herring; 21. Dan Kline; 22. Dylan Petersen; 23. Brian Efkamp; 24. Austin Kaplan; 25. Max Harder; 26. Jim Lampe.