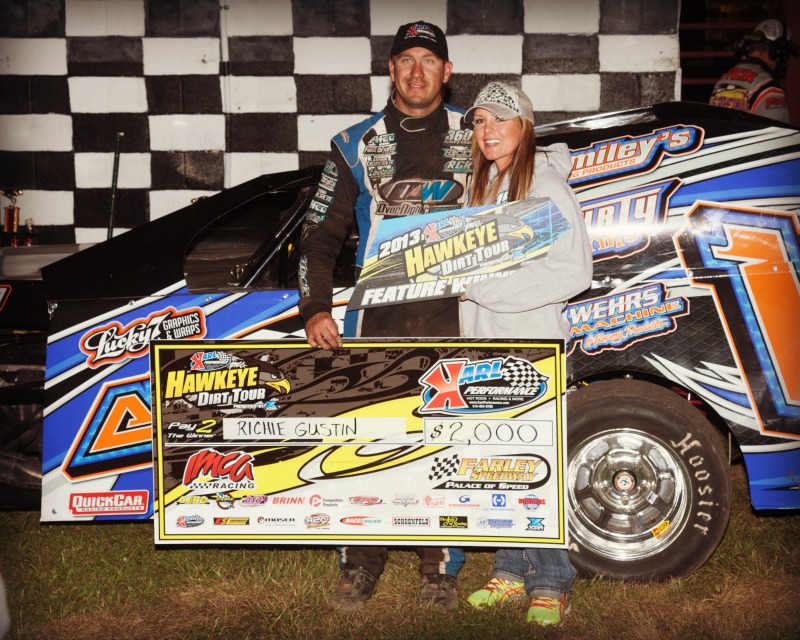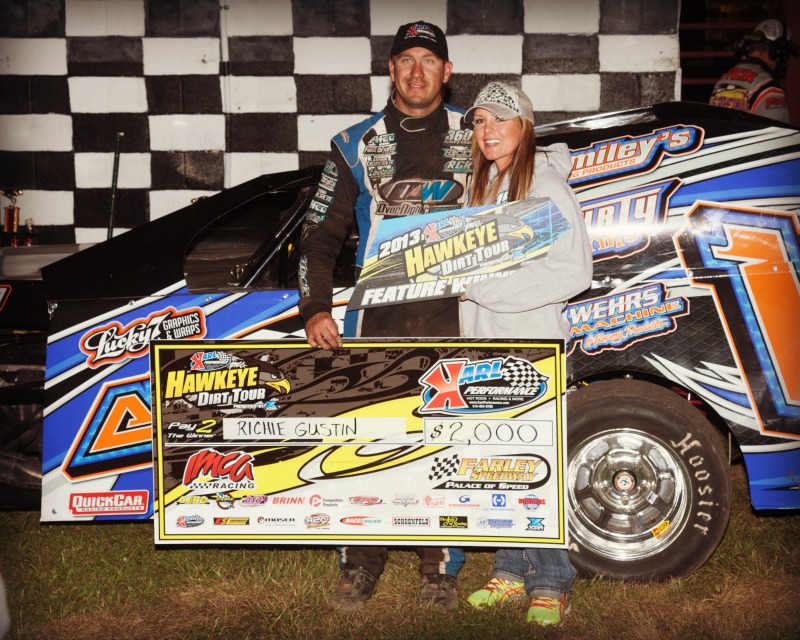 FARLEY, Iowa (Sept. 14) – Richie Gustin celebrated a $2,000 feature win and Ronn Lauritzen celebrated a series championship Saturday night at Farley Speedway.
Gustin led the last 28 of 30 laps in topping the Karl Performance Hawkeye Dirt Tour presented by XSAN main event for IMCA Xtreme Motor Sports Modifieds, outdistancing Mitch Morris and Kurt Kile in the Yankee Dirt Track Classic dash to the checkers.
Lauritzen, meanwhile finished fourth to win the series championship. Point standings are based on drivers' best eight finishes over the course of the 11-race series and Lauritzen rallied to edge Mike Van Genderen by two markers for the crown.
Pole starter Steve Stewart led the first two laps before Gustin pulled alongside and was scored first across the line on the third circuit.
As Gustin began putting some distance on his competition, Morris and Kile dueled over third and Lauritzen worked his way from 12th to challenge Jeff Waterman for fifth.
The only two cautions of the night flew at midway. Gustin resumed his big advantage up front before Morris got by Stewart for the runner-up spot.
Kile, Lauritzen and Matt Gansen also caught up with Stewart before the finish.
The victory by Gustin puts him on the ballot for the 2014 Fast Shafts All-Star Invitational. He's now the HDT career wins leader with six wins. Lauritzen earns a $1,000 share of the $4,000 point fund to be paid to top 10 drivers in final standings for the series.
Forty IMCA Modifieds vied Saturday at the Yankee.
Feature results – 1. Richie Gustin, Gilman; 2. Mitch Morris, Eldridge; 3. Kurt Kile, Nichols; 4. Ronn Lauritzen, Jesup; 5. Matt Gansen, Zwingle; 6. Steve Stewart, Burlington; 7. Jerry Luloff, Independence; 8. Cayden Carter, Oskaloosa; 9. Mark Schulte, Delhi; 10. Jason Schueller, Dubuque; 11. Jason Wolla, Ray, N.D.; 12. Jeff Waterman, Quincy, Ill.; 13. Mark Elliott, Webster City; 14. Shawn Ryan, Waterloo; 15. Kelly Shryock, Fertile; 16. Mike Van Genderen, Newton; 17. Eric Barnes, Colona, Ill.; 18. Troy Cordes, Dunkerton; 19. Scott Hogan, Vinton; 20. Jerry King, Waterloo; 21. Keith Pittman, Waterloo; 22. Bob Moyer, Dubuque; 23. Dakota Hayden, Wilton; 24. Ron Barker, Dubuque.
1st heat (top four) – 1. Schueller; 2. Lauritzen; 3. Gustin; 4. Pittman; 5. Cordes; 6. Jason Roth, Hazel Green, Wis.; 7. David McClain, Potosi, Wis.; 8. Wolla; 9. Dennis Betzer, Central City; 10. Pete Bonin, Belmont, Wis.
2nd heat – 1. Elliott; 2. Stewart; 3. Hogan; 4. Luloff; 5. Barker; 6. Chris Horn, Cedar Rapids; 7. Carter; 8. John Gartner, Bismarck, N.D.; 9. Steve Vannatta, Platteville, Wis.; 10. Shaun Slaughter, Iowa City.
3rd heat – 1. Waterman; 2. Van Genderen; 3. Moyer; 4. King; 5. Shryock; 6. Kenny Kostenbader, Freeport, Ill.; 7. Tyler Madigan, Peosta; 8. Jeremy Gengler, Lancaster, Wis.; 9. Dugan Thye, Burlington; 10. John Campbell, Dubuque;
4th heat – 1. Gansen; 2. Morris; 3. Kile; 4. Hayden; 5. Schulte; 6. Ryan; 7. Barnes; 8. Zach Less, Hopkinton; 9. Tony Olson, Cedar Rapids; 10. Corey Cullen, Cuba City, Wis.
1st "B" feature (top three) – 1. Cordes; 2. Shryock 3. Wolla; 4. Roth; 5. Kostenbader; 6. McClain; 7. Gengler; 8. Madigan; 9. Thye; 10. Bonin; 11. Campbell; 12. Betzer
2nd "B" feature – 1. Carter; 2. Schulte; 3. Barnes; 4. Ryan; 5. Barker; 6. Gartner; 7. Less; 8. Vannatta; 9. Horn; 10. Slaughter; 11. Olson; 12. Cullen.
Provisionals – Ryan and Barker.