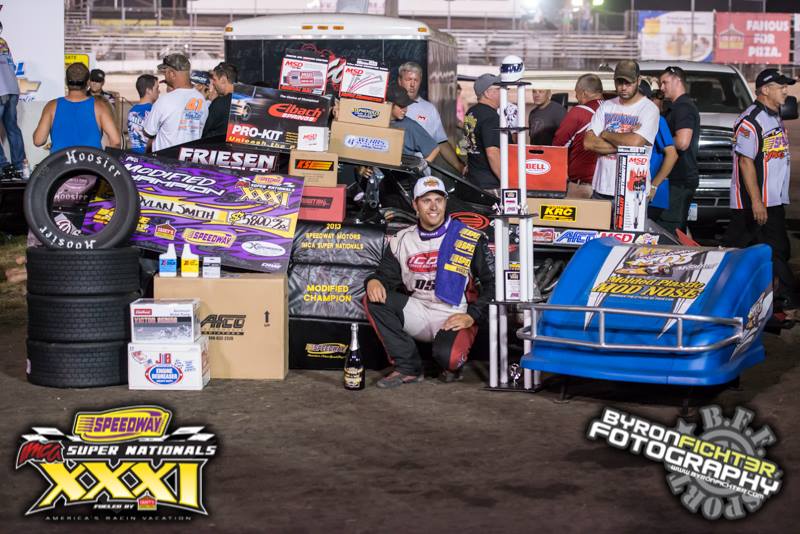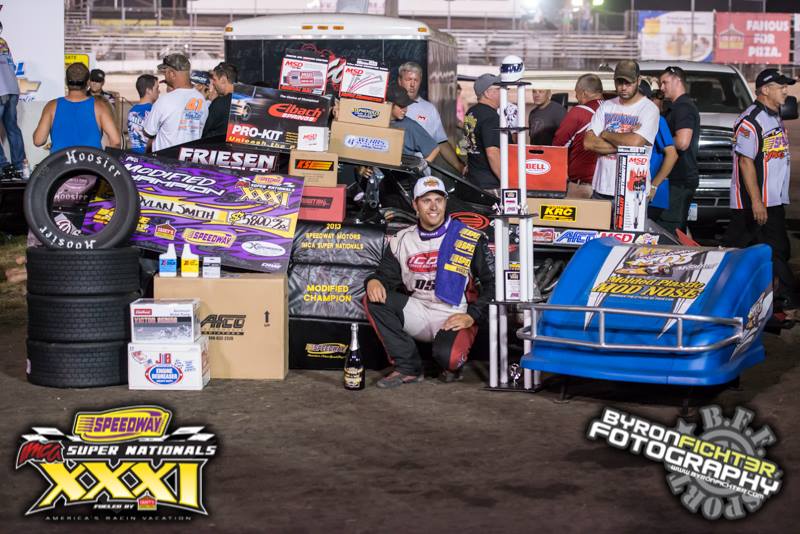 BOONE, Iowa (Sept. 7) – Dylan Smith heads the list of first-time champions crowned Saturday night at the IMCA Speedway Motors Super Nationals fueled by Casey's.
Smith led the last 10 circuits in winning the Modified main event at Boone Speedway. Restarts erased each of Chris Mills' big leads and helped open the door for Smith, who then had to hold off Jon Snyder following a late restart.
"I knew if we could stay in the top four we'd have a shot at it in the end," said Smith, who earned $5,800 for his efforts, including a $3,800 Speedway Motors Weekly Racing bonus. "I really didn't want to see that yellow come with two laps to go but it all worked out."
Keith White and Shawn Kilgore completed the top four. Kilgore had started 15th.
Joining Smith on stage for the traditional Saturday champions' photo were Brandon Czarapata, Stock Cars; Brandon Pruitt, Hobby Stocks; and Carter VanDenberg, Northern SportMods.
Mike Nichols had checked out on everybody before the first caution came 20 laps into the 30-lap Stock Car main. Czarapata slipped past on the ensuing restart, bringing Brian Irvine along.
Irvine got loose in the second set of turns following a late restart. Jay Schmidt, 18th starting Damon Murty and Kyle Vanover rounded out the top four.
Runner-up in 2011 and 2012, Pruitt led the distance in the Hobby show despite the best efforts of Chris Luloff and David Rieks.
Luloff, Rieks and Bill Bonnett ended 2-3-4.
VanDenBerg led all 30 circuits in the SportMod main. Doug Smith ran second most of the way and finished in that position; Clint Luellen gained third for good with four laps left and Brett Lowry was fourth.
Dustin Smith topped the Harris Auto Racing Race of Champions for Modifieds right after brother Donavon repeated as winner of the Sunoco Face Fuels Race of Champions for Stock Cars.
Randy Embrey was the Karl Chevrolet Hobby Stock Race of Champions king and Bobby Anders bested the Karl Chevrolet Northern SportMod Race of Champions for Northern SportMods, leading all 10 circuits despite a deflating front left tire.
Drivers from 25 states competed at the 31st annual event and Canadian competitors Kody Scholpp and Aaron Turnbull put the International were seventh and ninth, respectively, in the Modified dance.
Mike Jergens did double duty, finishing 11th in the Stock Car feature and 33rd in the Modified go.