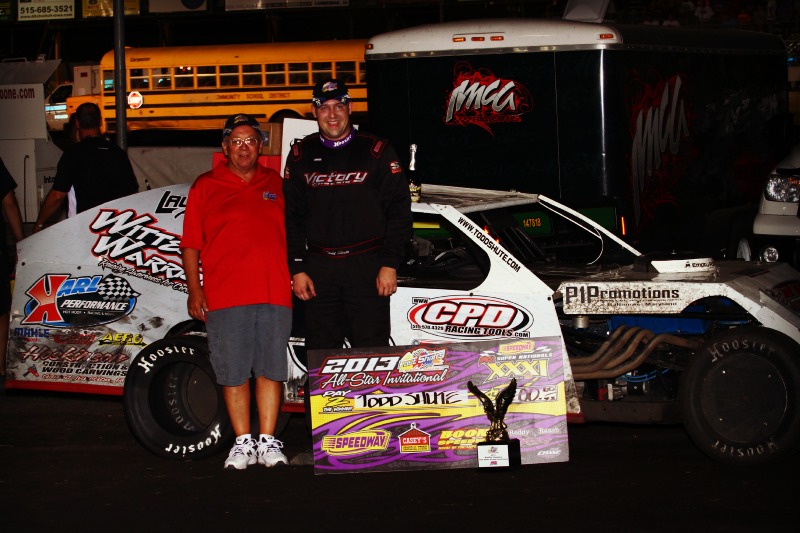 BOONE, Iowa (Sept. 6) – The closest finish in the 10-year history of the Fast Shafts All-Star Invita­tional deserved a "10."
Todd Shute was the winner of the Friday special at Boone Speedway, racing from 14th starting to beat Chris Abelson by less than a car length in the 30-lapper.
"This ranks right up there," said Shute, Modified champion at the 2007 IMCA Speedway Motors Super Nationals fueled by Casey's. "There weren't any sob sisters in this race. Everybody de­served to be here."
The 30 All-Star drivers hailed from a dozen states and Canada. All had sanctioned wins of $1,000 or more in the past year, or 2012 regional or state championships to their credit.
Abelson, the 2011 race winner, Dylan Smith, William Gould and Jeff Taylor rounded out the top five. Shute's victory was good for $1,100, including $100 in lap money, and put him on the ballot for the 2014 Invitational.
Jeremy Mills led the first 15 laps, making the high side work after starting outside the front row. A yellow flag erased his big lead on lap eight; Jimmy Gustin went off the track in turn three on lap 11 to bring out the red flag and the final stoppage of the night.
Gould passed Brad Pounds for second on the ensuing restart and inherited the lead when Mills exited on lap 17.
Shute ran second the next nine times around the oval. He led Abelson across the stripe on laps 26 and 27 as Gould got shuffled back to third. Abelson was scored first on the 28th lap but couldn't keep Shute from fighting back to the front.
"We worked really hard to win this race," Shute said. "We've had a good car and I knew I was capable of winning this race. I just needed to keep the tires on it."
Feature results – 1. Todd Shute, Des Moines; 2. Chris Abelson, Sioux City; 3. Dylan Smith, Osce­ola, Neb.; 4. William Gould, Calera, Okla.; 5. Jeff Taylor, Cave City, Ark.; 6. Keith White, Lit­tle River Academy, Texas; 7. Tim Ward, Gilbert, Ariz.; 8. Ryan McDaniel, Olivehurst, Calif.; 9. Jesse Sobbing, Glenwood; 10. Dustin Smith, Lake City; 11. Ronn Lauritzen, Jesup; 12. Aaron Turnbull, Estevan, Sask.; 13. Kyle Strickler, Mooresville, N.C.; 14. Mark Elliott, Webster City; 15. Kevin Stoa, Clear Lake; 16. Jay Noteboom, Hinton; 17. Justen Yeager, Green River, Wyo.; 18. Troy Cordes, Dunkerton; 19. Brandon Blochlinger, Concordia, Kan.; 20. Joren Boyce, Minot, N.D.; 21. Brad Pounds, Bakersfield, Calif.; 22. Jeremy Mills, Garner; 23. Kevan Cook, Constantia, N.Y.; 24. Gary Roberts, Afton, N.Y.; 25. Darin Duffy, Urbana; 26. Ryan Watnem, Humboldt; 27. Jimmy Gustin, Marshalltown; 28. Ricky Thornton Jr., Chandler, Ariz.; 29. Chris Fleming, Union Springs, N.Y.; 30. Josh McGaha, Abilene, Texas.