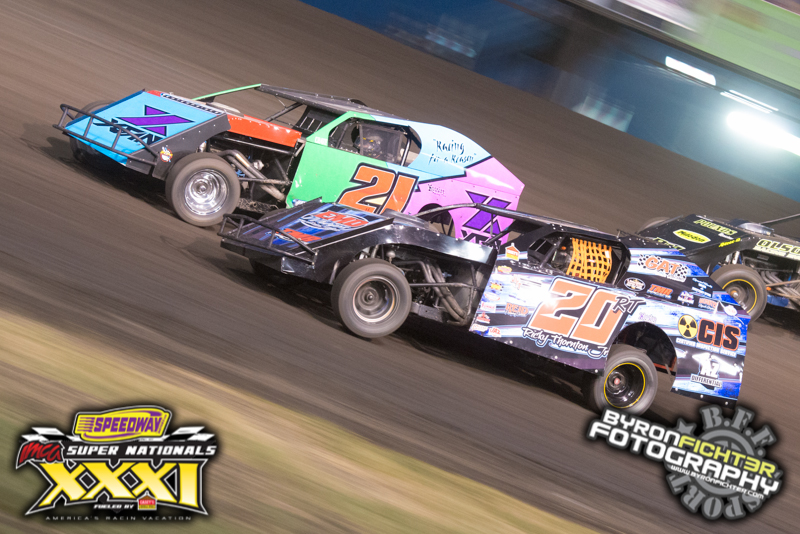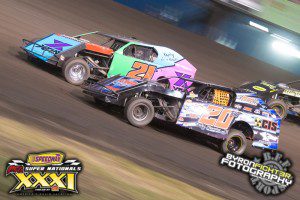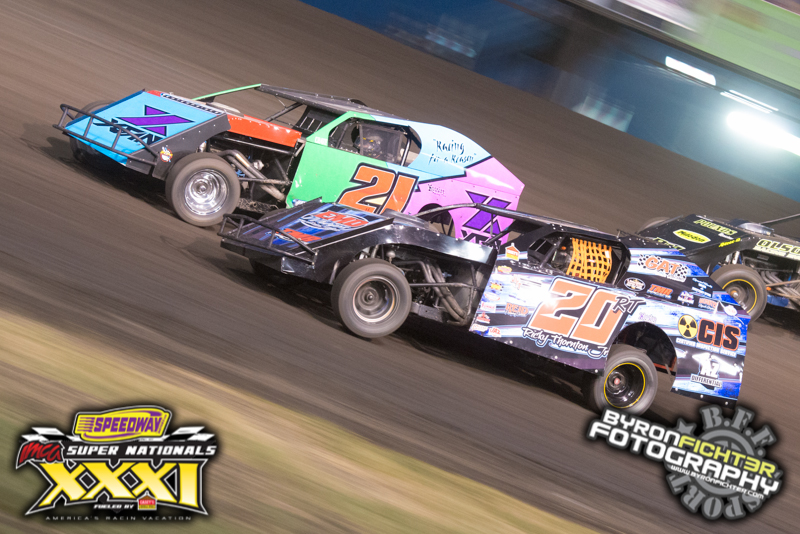 BOONE, Iowa (Sept. 4) – Two first-time visitors to the IMCA Speedway Motors Super Nationals fueled by Casey's were first to the checkers in their Modified qualifying features Wednesday night at Boone Speedway.
Ricky Thornton Jr. made the trip from Arizona and led all 25 laps of the first race, winning ahead of Keith White, Johnny Saathoff and Jesse Sobbing. Allen, from Texas, took the lead on the 14th circuit in the nightcap. He beat 14th starting Chris Abelson, Adam Larson and 15th starting Mike Jergens across the stripe.
Top four finishers from each qualifier will line up on the inside row of Saturday's main event.
Thornton was unshakeable following each of four restarts. White moved into second to stay with 10 laps to go. Sobbing held onto the final transfer spot from the 17th circuit on. White and Sobbing both advanced seven positions.
Kevin Stoa and Eric Dailey did stints at the front of the second feature field before Allen worked his way by. Larson ran second the last half of the contest while Jergens dueled with Jimmy Gustin before gaining the fourth spot with two to go.
Four former Super Nationals champions were in the field for the second show. Jimmy Gustin was seventh, Stoa was ninth, Jeff Taylor was 19th and Richie Gustin was 24th.
Joining Thornton and Allen as first-time Super Nationals qualifiers were Jergens and the rookie Sobbing. Abelson and White are both in for the second time, Larson for the fourth and Saathoff for his 13th.
First feature – 1. Ricky Thornton Jr., Chandler, Ariz.; 2. Keith White, Little River Academy, Texas; 3. Johnny Saathoff, Beatrice, Neb.; 4. Jesse Sobbing, Glenwood; 5. Jake Durbin, Perry; 6. Kelly Shryock, Fertile; 7. Jay Noteboom, Hinton; 8. Jay Matthias, Green Bay, Wis.; 9. Ryan Wat­nem, Humbolt; 10. Aaron Turnbull, Estevan, Sask.; 11. Shane Hiatt, Rising City, Neb.; 12. Jacob Murray, Hartford; 13. J.P. Dowell, Killeen, Texas; 14. Brian Schmitt, Wall Lake; 15. Matt Bonine, Onawa; 16. Mark Elliott, Webster City; 17. Beau Kaplan, Boone; 18. Matthew Meinecke, Madrid; 19. Travis Hagen, Williston, N.D.; 20. Kevin Sustaire, Emory, Texas; 21. Jim Lynch, Bloomfield; 22. Dave Pedersen, Brady, Neb.; 23. Tyler Limoges, Redwood Falls, Minn.; 24. Loren Pesicka, Jr., Burt; 25. Jerry Wren, Howard Lake, Minn.; 26. Bob Moore, Sioux City; 27. Cory Wray, Jamesport, Mo.; 28. Jordy Nelson, Marysville, Kan.; 29. Wayne Johnson, Minot, N.D.; 30. Nick Deal, Walnut.
Second feature – 1. Chase Allen, Midlothian, Texas; 2. Chris Abelson, Sioux City; 3. Adam Lar­son, Ankeny; 4. Mike Jergens, Plover; 5. Shane Thome, Albion, Neb.; 6. Brandon Blochlinger, Concordia, Kan.; 7. Jimmy Gustin, Marshalltown; 8. Eric Dailey, Armstrong; 9. Kevin Stoa, Clear Lake; 10. Mike Van Genderen, Newton; 11. Dennis LaVeine, West Burlington; 12. Jeff Stephens, Arion; 13. Michael Albertsen, Audubon; 14. Conner Pullen, Oronogo, Mo.; 15. Devin Havlik, Iowa Falls; 16. Alex Hanson, Northwood; 17. Jeff Streeter, Madera, Calif.; 18. Christopher Fleming, Union Springs, N.Y.; 19. Jeff Taylor, Cave City, Ark.; 20. Troy Cordes, Dunkerton; 21. Mike Peter­silie, Hoisington, Kan.; 22. Steve Reynolds, Springfield, S.D.; 23. Mike Hagen, Williston, N.D.; 24. Richie Gustin, Gilman; 25. Jeremy Frenier, Fort Morgan, Colo.; 26.Kaleb Carey, Osceola, Neb.; 27. Jeffrey Larson, Lakefield, Minn.; 28. Justin Jurgens, Lincoln, Neb.; 29. Brandon Beckendorf, Danube, Minn.; 30. Vern Jackson, Waterloo.