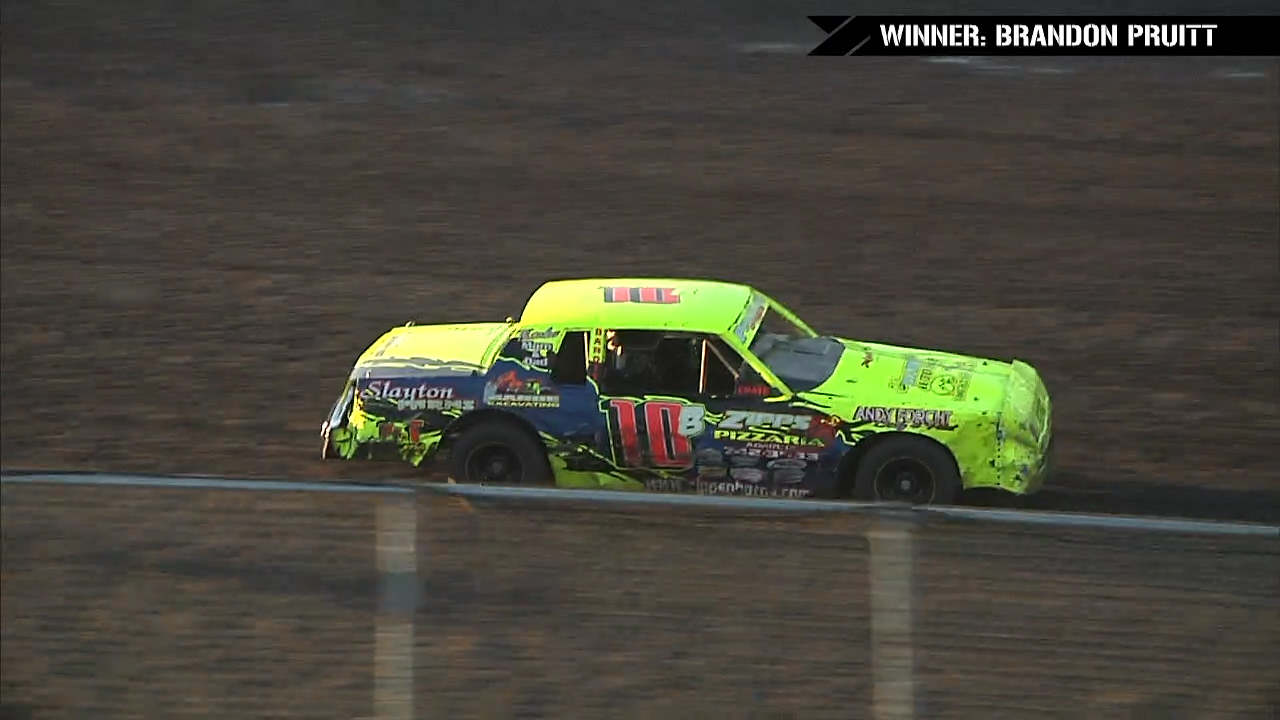 BOONE, Iowa (Sept. 2) – The runner-up in each of the last two Hobby Stock main events at the IMCA Speedway Motors Super Nationals fueled by Casey's will start his drive for the 2013 crown from the pole.
Brandon Pruitt won the first of two qualifying features Monday night at Boone Speedway to secure the inside front row spot for Saturday's big show.
Pruitt started seventh and took the lead on the 14th of 25 laps. Six car lengths ahead by lap 18, he got faster and stretched that advantage in the closing laps.
The race ran caution free, with Pruitt taking the checkers ahead of a multi-car entanglement in the final set of turns.
David Rieks ran a distant second and Jason Kohl was third.
Lining up behind Pruitt, Rieks and Kohl on the inside row will be 18th starting Chris Luloff, Mike Pruitt, Myles Michehl, Shane Slezak and Colby Langenberg.
The front eight starters in Saturday's middle row will be determined by a second Hobby Stock qualifier Monday evening.
Now a six-time qualifier for the Saturday night main event, Brandon Pruitt chased Cody Nielsen to the checkers in 2011 and Shannon Anderson last year.
Luloff is a four-time main event qualifier while Kohl is in for the third time and Michehl for the second. Rieks, Pruitt, Slezak and Langenberg each make their first appearance in the Hobby Stock headliner.
Feature results – 1. Brandon Pruitt, Dexter; 2. David Rieks, Eldora; 3. Jason Kohl, Missouri Valley; 4. Chris Luloff, Independence; 5. Mike Pruitt, Redfield; 6. Myles Michehl, Fort Dodge; 7. Shane Slezak, Lincoln, Neb.; 8. Colby Langenberg, Norfolk, Neb.; 9. Austin Luellen, Minburn; 10. Tiffany Bittner, Norfolk, Neb.; 11. Craig Brotherton, Wall Lake; 12. Chris Jensen, Des Moines; 13. Noah Ludwig, Logan; 14. John Watson, Des Moines; 15. Darin Johnson, Dickens; 16. Justin Nehring, Storm Lake; 17. Drew Barglof, Sioux Rapids; 18. Jake Pemberton, Central City, Neb.; 19. Andy Coffman, Des Moines; 20. William Woehler, South Sioux City, Neb.; 21. Garrett Eilander, Newton; 22. Matt McDonald, Scranton; 23. Tyler Pickett, Boxholm; 24. Cory Adams, Des Moines; 25. Rod Manthey, Norwood, Minn.; 26. Adam Lee, Salix; 27. Malik Sampson, Worthington, Minn.; 28. Nate Bonin, Iowa Falls.
Can't make the 2013 Speedway Motors IMCA Super Nationals fueled by XSAN? Then watch every lap LIVE on XSAN at: www.xsan.tv