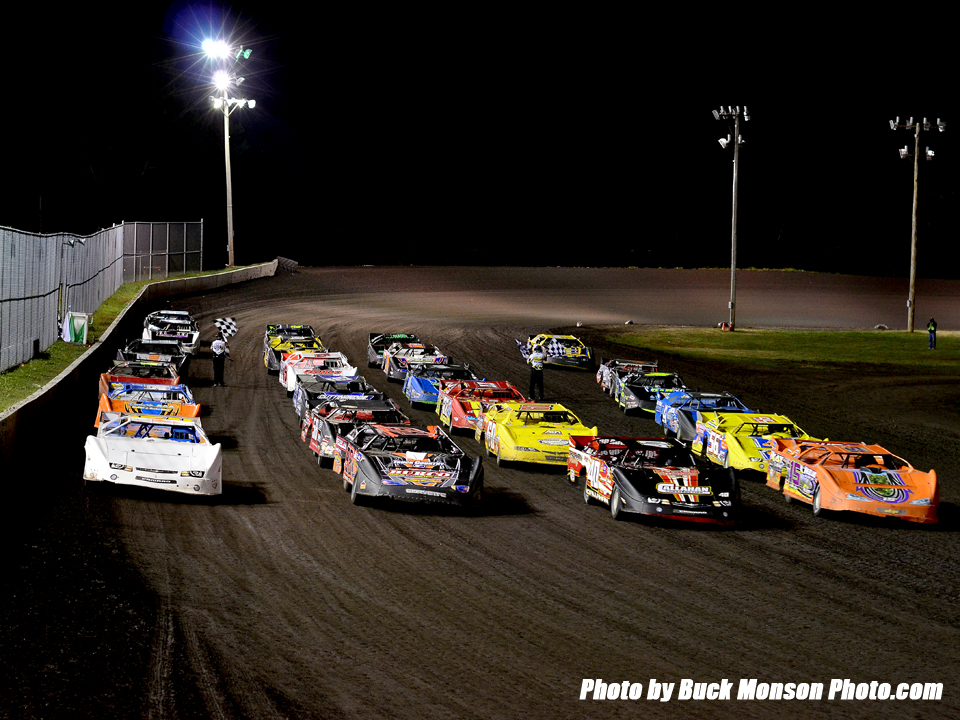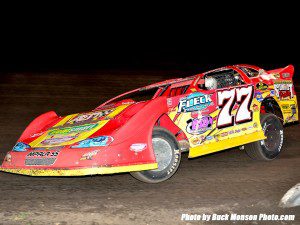 BOONE, Iowa (Sept. 2) – He's been there and he's done that, but it never stops being special.
Jeff Aikey raced to his career third IMCA Speedway Motors Super Nationals fueled by Casey's championship, and his 60th Deery Brothers Summer Series feature win Monday night at Boone Speedway.
The IMCA Late Model victory paid $3,630, including a $630 IMCA Speedway Motors Weekly Racing bonus.
After working his way up from ninth starting to second, Aikey passed Jason Rauen following a lap 29 restart. He led to the finish of the 50-lapper, holding off challenges from Justin Kay and then Ray Guss Jr.
Guss looked to steal the lead away using the lower line with five laps left but Aikey made the higher groove work to perfection. He pulled away to win by six car lengths.
"This was a good race to win. It means a lot to me," said Aikey, a 16-time Super Nationals qualifier and also champion in 1995 and 2004. "I knew Ray and Justin were back there but I had a lot of car tonight. It was awesome."
Guss, Kay, hard charger Todd Cooney and Joel Callahan completed the top five. Guss and Cooney are both two-time Super Nationals champions; Cooney ended in fourth after starting 18th.
Rauen started outside Callahan on the front row and led the first 28 times around the track. Point leader Brian Harris was heading the pursuit of Aikey before going pitside after a frontstretch collision. He returned, restarted 21st and raced back to eighth.
Kay and Harris have been on fire this year," said Aikey, also the Aug. 12 winner at Des Moines. "Any time you can pass them, you're thumping."
Andy Eckrich was the $250 Sunoco Race Fuels feature qualifier drawing winner.
Feature results – 1. Jeff Aikey, Cedar Falls; 2. Ray Guss Jr., Milan, Ill.; 3. Justin Kay, Wheatland; 4. Todd Cooney, Des Moines; 5. Joel Callahan, Dubuque; 6. Andy Eckrich, Oxford; 7. Jason Rauen, Farley; 8. Brian Harris, Davenport; 9. Rob Moss, Iowa City; 10. Terry Neal, Ely; 11. Dan Shelliam, Hazel Green, Wis.; 12. Ryan Griffith, Webster City; 13. Darrel DeFrance, Marshalltown; 14. Bobby Hansen, Center Point; 15. Joe Zrostlik, Long Grove; 16. Dean Wagner, Evansdale; 17. Jon Passick, Waterloo; 18. Curtis Schroeder, Ames; 19. Josh Most, Red Oak; 20. Luke Pestka, Robins; 21. Rick Dralle, Waterloo; 22. Nate Beuseling, Silvis, Ill.; 23. Scott Fitzpatrick, Des Moines; 24. Kevin Sather, Ankeny.
1st heat (top three) – 1. Kay; 2. Zrostlik; 3. Hansen; 4. Moss; 5. Most; 6. Paul Conrad, Colo; 7. Joel Brasch, Dunkerton. 2nd heat – 1. Neal; 2. Guss; 3. Shelliam; 4. Chad Cooney, Des Moines; 5. Paul Glendenning, Mount Ayr; 6. Ryan Giles, Grimes; 7. Schroeder. 3rd heat – 1. Rauen; 2. Aikey; 3. Beuseling; 4. Todd Cooney; 5. Rick Dralle, Waterloo; 6. Jon Binning, Warrensburg, Mo.; 7. Jason Utter, Columbus Junction. 4th heat – 1. Eckrich; 2. Callahan; 3. Harris; 4. Griffith; 5. Craig Jacobs, Des Moines; 6. Randy Foote, Stanton; 7. Passick. 5th heat – 1. Pestka; 2. Wagner; 3. Sather; 4. Fitzpatrick; 5. Al Johnson, Story City; 6. Jason Hahne, Webster City; 7. DeFrance.
1st "B" feature (top three) – 1. Moss; 2. Todd Cooney; 3. Fitzpatrick; 4. Passick; 5. Glendenning; 6. Hahne; 7. Jacobs; 8. Giles; 9. Binning; 10. Conrad. 2nd "B" feature – 1. Most; 2. Dralle; 3. Griffith; 4. Schroeder; 5. DeFrance; 6. Chad Cooney; 7. Randy Foote; 8. Brasch; 9. Johnson; 10. Utter.
Provisionals – DeFrance and Schroeder. Hard charger – Passick.