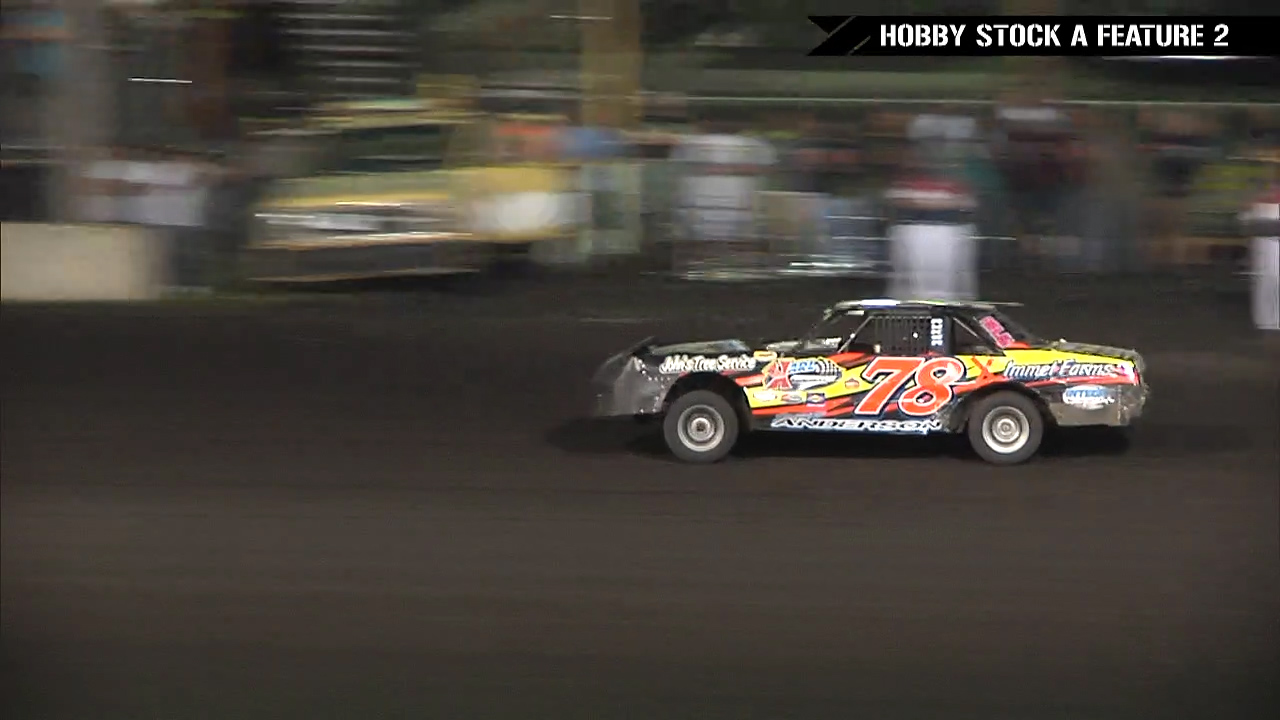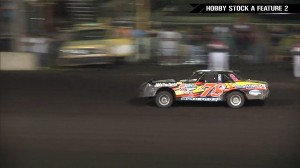 BOONE, Iowa (Sept. 2) – As he's done before on IMCA's biggest stage, Shannon Anderson proved he's as good at running in traffic as he is at running away from it.
Anderson checked out on the rest of the field in Monday's second Hobby Stock qualifier at Boone Speedway after every restart, then used lapped traffic to his advantage to take the checkers comfortably ahead of Jacob Keiser.
And as a result, Anderson will take the green flag from the middle of the front row in the main event Saturday at the IMCA Speedway Motors Super Nationals fueled by Casey's. Now in the big show for a sixth straight September, the 2009 and defending champion will start inside familiar foe Brandon Pruitt.
1998 champion Bill Bonnett, Eric Stanton, Corey Madden, Matt Brown, Randall Macku and Gary Pesicka finished third through eighth, respectively, and will line up behind Anderson and Keiser on Saturday.
Anderson drew the pole and pulled away from the pack after each of the five cautions that slowed the first 15 circuits in the 25-lapper. He deftly got around a lapped car and then stretched out his advantage over Keiser.
Bonnett will start his career ninth Hobby Stock main event on Sept. 7. Stanton is in for the fifth straight year and Madden is now a three-time qualifier. Brown and Macku will start their second big shows, Keiser and Pesicka both their first.
Feature results – 1. Shannon Anderson, Urbandale; 2. Jacob Keiser, Marengo; 3. Bill Bonnett, Knoxville; 4. Eric Stanton, Hartford; 5. Corey Madden, Avoca; 6. Matt Brown, Dysart; 7. Randall Macku, Lincoln, Neb.; 8. Gary Pesicka, Burt; 9. Kyle Bond, Gibbon, Neb.; 10. Weston Koop, Rockwell; 11. Shawn Slezak, Milligan, Neb.; 12. Justin Wacha, Vinton; 13. Andy Hoffman, Sioux City; 14. Seth Janssen, Ogden; 15. Brandon Nielsen, Spencer; 16. Dustin Tapp, Ames; 17. Chad Legere, Des Moines; 18. Matt Hudspeth, Granger; 19. Brian Happel, Van Horne; 20. Cory Ganson, Clear Lake; 21. Jesse VanLaningham, Beatrice, Neb.; 22. Shaun Wirtz, Boone; 23. Dustin Van Horn, Atlantic; 24. Nathan Ballard, Marengo; 25. Derek Hodges, Des Moines; 26. Benji Irvine, Cedar Falls; 27. Brent Schlake, Blue Springs, Neb.; 28. Aaron Rudolph, Grand Junction.
Can't make the 2013 Speedway Motors IMCA Super Nationals fueled by XSAN? Then watch every lap LIVE on XSAN at: www.xsan.tv