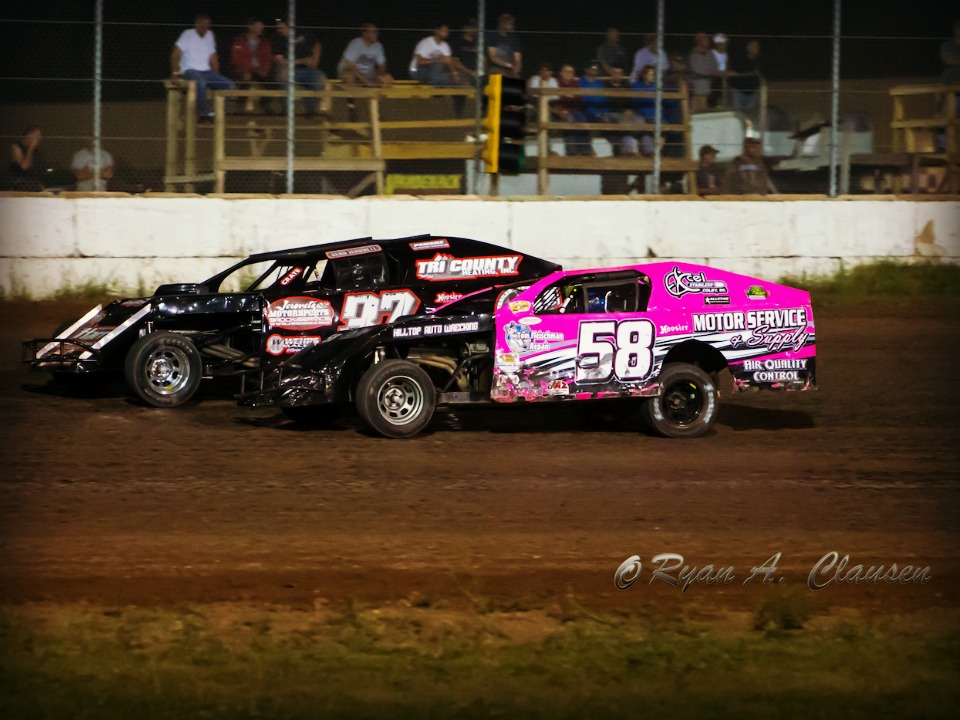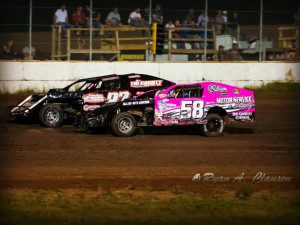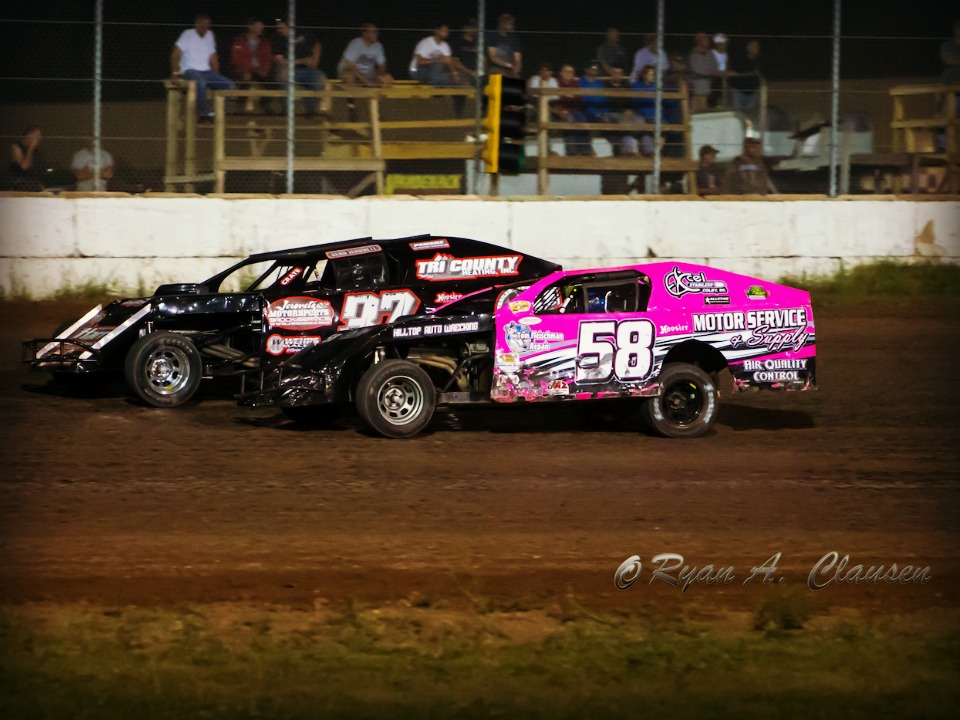 OSHKOSH, Wis. (Aug. 23) – The bonus that Sean Jerovetz got along with a big payday at Osh­kosh Speedzone's George Scheffler Memorial was sole possession of the IMCA Xtreme Motor Sports Modified point lead.
Jerovetz turned back repeated challenges by Marcus Yarie after the pair ran side-by-side for a dozen laps of the Friday night feature. In addition to the $1,000 top prize and a berth of the ballot for the 2014 Fast Shafts All-Star Invitational, Jerovetz also gained a five point advantage over cousin Troy heading into the final weekly show of the season.
Brian Mullen, Benji LaCrosse and Mitch McGrath were next to the checkers.
Eric Scribner sat on the pole for the 20-lap contest but it was Speedzone regular John Schultz taking the lead on the opening lap. The only slowdown of the race was a spin by LaCrosse after contact with another car.
The race resumed with Yarie working under Schultz for the top spot. Sean Jerovetz was also on the move, using the high line to power past Schultz for second.
On lap four the battle for supremacy began, with Yarie hugging the low line and Jerovetz working the high side. The pair ran wheel to wheel around the track for the next dozen laps, tossing the lead back and forth with neither driver able to clear for solid control of the top spot.
Mullen watched the duel from third but was unable to work his way into the lead battle.
Jerovetz got the break he needed when Yarie nicked the infield tires through turns one and two; Jerovetz then dropped to the inner groove with Yarie trying to claw his way back up.
As the race would down, the trio of Jerovetz, Yarie and Mullen wound up nose to tail but without an error on his part Jerovetz kept the field behind him and they could only watch as he flashed beneath the checker flag and took with it the $1,000 prize.
Feature results – 1. Sean Jerovetz; 2. Marcus Yarie; 3. Brian Mullen; 4. Benji LaCrosse; 5. Mitch McGrath; 6. Troy Jerovetz; 7. Mike Wedelstadt; 8. Brian Drexler; 9. Tim Lemirande; 10. John Schultz; 11. Joe McGrath; 12. T.J. Smith; 13. Eric Scribner; 14. Kurt Moeller; 15. Chris Engels; 16. Craig Priewe; 17. Don Scheffler; 18. Mike Klenz; 19. Dennis Schultz; 20. Travis Spaulding.