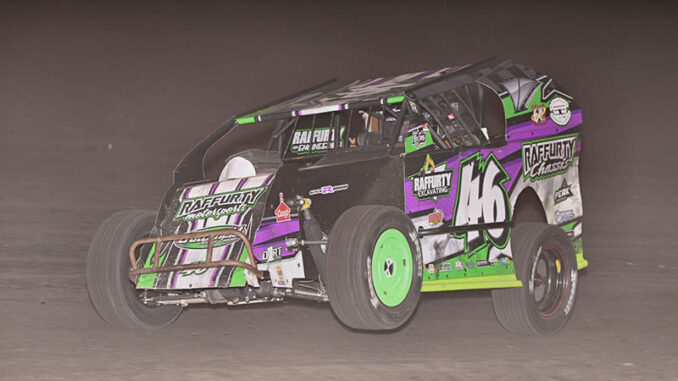 KANSAS CITY, Mo. (Nov. 9, 2023) – Start with long hours in the shop and a sharp eye for detail, then add good help and good sponsors.
The result was 28 feature wins and another Stealth Racing IMCA STARS Mod Lite national championship for Dillon Raffurty.
"We've got a formula that works and we're going to keep using it," explained Raffurty, from Kansas City, Mo. "I don't like change, anyway, and if something is working for you, there's no reason to change."
There have been few reasons to do anything different as Raffurty has raced to the national crown each of the three years the Mod Lite division has been sanctioned by IMCA, totaling 88 feature victories while winning an other-worldly 80 percent of his weekly starts.
He won 28 of 34 outings, along with US 36 Raceway and Valley Speedway track and the Missouri State title in 2023.
After a three-race sweep of the Sugar Bowl Winter Nationals at Florida's Hendry County Motorsports Park in February, Raffurty returned home and went a perfect 16-for-16 at Valley, "a track that's always different week to week and all about adapting."
He won five times at US 36 and twice at Electric City, making out-of-state tows for single wins at Junction Motor Speedway and Marshalltown Speedway,
"It means a lot to all of us to win the national championship and to be able to accomplish everything that we did this season," said Raffurty. "It goes back to when I was growing up, watching my dad race. This class is feasible for us to race weekly and it shows the Raffurty's are fast."
As has been the case since 2021, the Raffurty family was well represented in IMCA STARS Mod Lite national standings. Dillon's brother and crew chief Michael was sixth, cousin Justin was ninth and uncle Jeff 13th.
"We had more local races scheduled this year but we were able to start the season with three Florida wins. Tracks down there are more of a gritty dirt and don't compare to any around here so it always takes some getting used to," Raffurty said. "We got a week away from the cold weather here and I won almost $10,000 so we got a free trip to Florida out of it."
"But the best part about it," he continued, "was that we got to race with people I don't get to race against the rest of the year, or don't see again until Super Nationals."
A flat tire in the early going took Raffurty out of the running for a third straight title at Boone Speedway this September.
"I can't be too mad about that. We led early," he said. "We've already started thinking about next year, everything from racing for our 100th IMCA win to Super Nationals to another national championship."
"Our goal is the keep doing what we've been doing."
Wins 28
Top Five's 31
Starts 34
His Crew: Brother Michael and mother Sherry.
His Sponsors: Raffurty Chassis and Raffurty Excavating, both of Kansas City; and Crutchfield Racing Engines of Chickamauga, Ga.