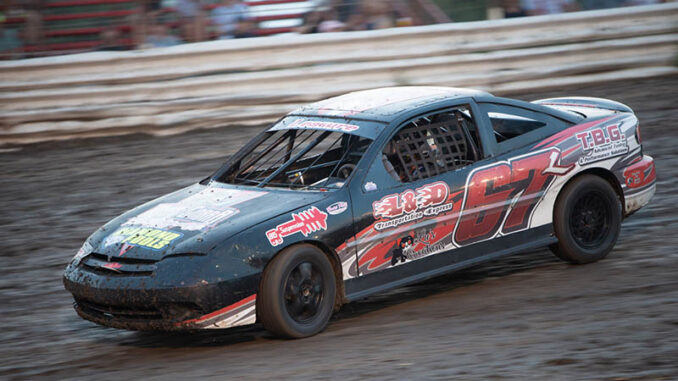 MANSFIELD, Texas (Nov. 9, 2023) – iRacing got Sean Leasure hooked on racing.
IMCA Racing got the Mansfield, Texas, driver on the track, and his Mach-1 Sport Compact nine feature wins and consistent top five finishes throughout an abbreviated season got him the Junior National Championship.
"This was my final year of being eligible to run for Junior National Champion. It was definitely an accomplishment," said Leasure, 18. "Sport Compacts gave me my first foray into dirt track racing and most nights they were a blast to drive."
More than 500 drivers ages 13-18 contended for Junior National Champion honors and accompanying post-high school education scholarship funds in 2023.
"We had a lot of fun this season and were right up there in national points," said Leasure, already a high school graduate with an associate's degree from Tarrant County Community College and planning to resume computer science studies next fall. "I'm looking forward to getting more seat time and seeing what we can do next season."
He'd raced a go-kart in addition to seven seasons of iRacing competition, finishing as runner-up in one of them in the E-NASCAR Ignite Series. In his third season in the 4-cylinder division, Leasure had 30 starts under his belt before selling both his cars and sitting out all of August.
"At that point, we decided that if it happens, it happens," explained Leasure, who would be one point better than Modified driver Troy Morris III in the final standings. "Everything worked out for us."
Leasure borrowed one of the cars he'd sold, a 2004 Cavalier, to make a pre-Boone tune-up start at Benton County Speedway, then finished an impressive third in the main event at the IMCA Speedway Motors Super Nationals fueled by Casey's.
"That car has done a lot of good for us over the years," Leasure said. "The trip to Boone was 13 hours and we were able to finish third even though we were losing power late. Boone is a fun track and next year when we come back, I need to move up two spots."
Sixth in national standings, Leasure would also end up fifth in Texas State and Kennedale Speedway Park standings, and sixth in Abilene Speedway and Boyd Raceway points.
He'll race weekly in a Smiley's Racing Products IMCA Southern SportMod next season.
"We ran the Southern SportMod for the first time and were second to Dean Abbey at Boyd's Richard Snider Classic," Leasure said. "I don't have any complaints about that finish at all."
Wins 9
Top Five Finishes 24
Starts 31
HIS CREW: Father Doug, mother Luane, Sydney Winch, Mark Earl, Justin Converse and "every fan who comes to the track!"
HIS SPONSORS: L&D Transportation, Lu's Creations and 815 Suspension, all of Mansfield; Texas Diamond Pools and Magic Cobra Motorsports both of Weatherford; and TBG Tuned of Keokuk, Iowa.