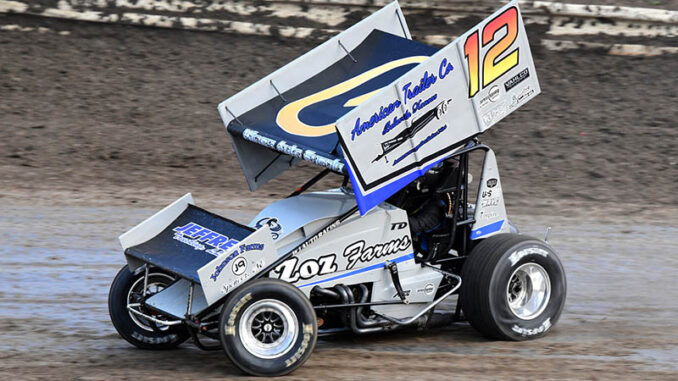 EAGLE, Neb. (2023) ­– Tyler Drueke started the season looking to race with the toughest competition and prove he was the best RaceSaver Sprint Car driver in the country.
He accomplished both goals, racing to a division best 13 feature wins and a career-first IMCA national crown.
"I wanted to do it my way," said Drueke, also champion at hometown Eagle Raceway. "I wanted to find the toughest competition and leave no doubt we were the best RaceSaver team in the country."
"Winning the national championship was our goal from the start of the season," he stated. "I meet with sponsors every winter and when I talked with Cody Cherney at Cherney Enterprises, he thought we should try for it. Rachel Kroese and Matt Warner at mysalesman.com said 'Let's do it.'"
"We've been close but I'd never won it before," continued Drueke, also track champ at Eagle and national runner-up in both 2016 and 2018. "This year we sealed the deal."
A top five finisher in eight of his first 13 starts, Drueke won at a .500 clip the rest of the season, collecting checkers at seven different tracks in four states. He turned heads in topping the Front Row Challenge at Southern Iowa Speedway, his first of five wins ­– two of them at Eagle – during a six-race stretch in August.
The third generation driver had grown up at Eagle, watching father Blane run Friday night flyers and returning the next evening to watch Sprint Cars, "the fastest and most exciting class" on the Saturday night card.
"Coming off the last couple seasons, we thought we had everything figured out but we had to work hard to get the car back to where it should be," said Drueke, who was consistent but didn't get his first Eagle win until mid-July. "Things were not going to plan and it was hard not to panic, but we found new ways to do things and get the results we wanted."
"It took longer to get the feel but we learned what we could do at Eagle that we couldn't do anywhere else. We had to figure out why what we did worked, and why it didn't."
Just the second Nebraska driver to win the IMCA RaceSaver Sprint Car national title, Drueke now has 54 career wins, 11th on the all-time list for the winged division.
"I don't think winning the national championship has really set in yet but I've been pretty busy," he said. "Maybe it will by Friday or Saturday the week of banquet."
Wins 13
Top Five's 28
Starts 39
HIS CREW: Wife Brandy, son Wheelen, parents Blaine Drueke and Vanessa, brother Austin, Matt Zoz and Dustin Gerdes.
HIS SPONSORS: mySalesman of Waverly; Cherney Enterprises, LLC and American Trailer Co. both of Belleville, Kan.; Drueke Trucking & Ranch of Eagle, Alvo, O'Neill and Spencer; Zoz Farms and Double Z Express both of Alvo; Jeffres Trucking LLC of Burwell; Piccadilly Rosehill Ranches of Page; Angels Energy Services and Johnson Farms both of Spencer; Midwest Racing Performance, TD Signs & Graphics and Gordon Electric Inc. all of Eagle; Speedway Motors Racing Engines of Lincoln; Jimbell of Grand Island; Forward Bite of Papillion; ESC, Unlimited Sports Solutions, The WAVE and Empire Fence & Netting, all of Waverly; Vahlco Racing Wheels of New Egypt, N.J.; Charles E. Sykes of Austin, Texas; Schaeffer Oil of St. Louis, Mo.; King's Auto Supply of Rock Port, Mo.; 402 Massage by Andrea of Casper, Wy.; J & J Auto Racing of McKenzie, Tenn.; and AFCO Racing of Boonville, Ind.