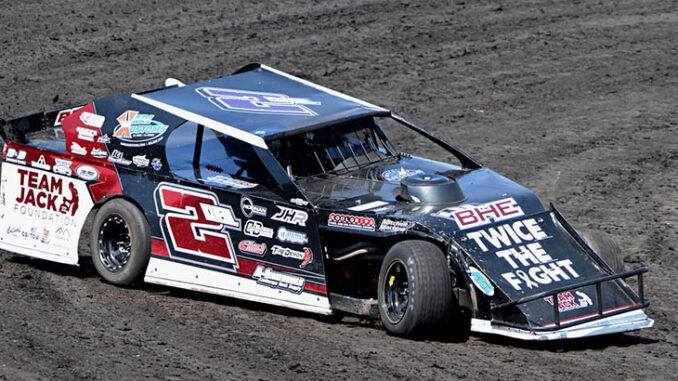 AMES, Iowa (Nov. 7, 2023) – The theme to Taylor Kuehl's Lady Eagle championship winning season had to be Have race car, will travel.
The Arizona native, relocated to Ames, Iowa, since last spring, traveled to 14 different tracks in four Midwestern States over the course of the season, winning seven of 41 Friesen Performance IMCA Northern SportMod starts in topping point standings for the nearly 300 female drivers competing in IMCA in 2023.
"We had a lot of racing planned. We ran mostly weekly shows, deciding on some of them last-minute, and filled in our schedule with specials," said Kuehl, a top five finisher on 20 nights. "We didn't start the season running for the Lady Eagle but winning it was really cool to do. It's another prestigious award to put on our racing resume."
Kuehl found victory lane at Stuart Speedway three times while getting single wins at Interstate Speedway, Independence Motor Speedway, Buena Vista Raceway and 141 Speedway.
"We had a really good year at Stuart. That track was good to us," she said. "I like smaller tracks and that was the smallest one we raced on this year."
Her August checkers at 141 in Wisconsin came from 12th starting and paid $1,000.
"That night was really a testing night for us getting ready for Captain at the Creek. We've gone up there the last couple years and 141 is another track I really like," Kuehl said. "It was a combination of a good car and good luck that night."
Racing to help the Team Jack Foundation and Twice The Fight raise funds and awareness for children with brain cancer, she enjoyed more success at the IMCA Speedway Motors Super Nationals fueled by Casey's before putting final touches on the point season.
"We were hard charger in the main event Saturday at Boone (racing from 27th starting to 10th) and that was our highlight of the week," said Kuehl, who'd run with 2022 Lady Eagle winner Shelby Alves for two years in their home state. "I like how these cars handle and I like having the opportunity to race with and complete regularly with so many of the best drivers in the division and at so many different tracks."
Twenty-sixth nationally, she was one of just four drivers placing in Harris Clash, Captain of the Creek and Super Nationals main events.
"Racing with those drivers, learning and getting better were really our goals at the starts of the season and we accomplished that," she continued. "Our future plans are to earn more wins and take new opportunities in divisions beyond the SportMod."
Wins 7
Top Five Finishes 20
Starts 41
HER CREW: Justin "Santa" Grau.
HER SPONSORS: Bob Harris Enterprises of Ames; Karl Kustoms of Ankeny; Dynamic Drivelines of Des Moines; A-1 Materials of Tolleson, Ariz.; Lighthouse Painting of Yuma, Ariz.; and Jake Henderson Racing of Harker Heights, Texas.