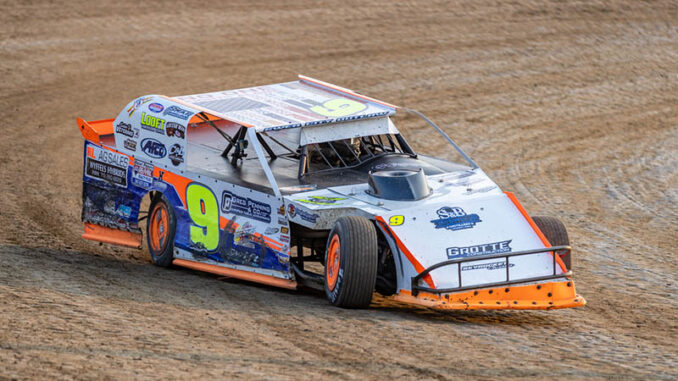 SWEA CITY, Iowa (2023) – Matt Looft took a new approach in his pursuit of another Friesen Performance IMCA Northern SportMod national championship.
He raced less.
Looft chased points at just two tracks, winning titles at Thursday night venue Kossuth County Speedway and Saturday night speed plant Arlington Raceway. Three Monday night checkers at Clay County Fair Speedway and three more in as many Friday night starts at Murray County Speedway would help give the Swea City speedster 31 wins and his third straight and career sixth national crown.
"The only thing that's harder than getting to the top is staying there. Our family is busier and work is busier. It's a real balancing act," said Looft, the division's all-time leader with 263 feature wins and 35 track and special series titles. "My wife and I decided that we'd take some nights off from racing to focus on family things with the kids and make sure the car was ready when we did race. My wife and family are my biggest support system and we couldn't do this without them."
The decision was a bold one, as Looft ­was running full-time in an IMCA Sunoco Stock Car at Arlington as well and knew the consequences that could result from a poor finish at his weekly tracks.
"We knew we'd have to keep our Skyrocket Chassis on point and win a high percentage of our races and that even if we were able to do that, one or two DNFs could make or break our season," he said. "We stayed consistent all year and I don't think we ever went more than four starts without winning."
Friday nights spent in the shop paid off on the podium: Looft salvaged a ninth place finish after his one flat tire of the season on June 26 at Spencer. His lone DNF came two starts later, when he broke a rocker arm while leading the July 1 show at Arlington.
"There's no secret to what we do. We have a good maintenance program and good pit crew help. We fix or replace things that look like they might break and that's one of the reasons why we didn't have a lot of DNFs this season," Looft said. "Another reason is the guys and gals we race with. We raced almost 50 times this year and had one flat and one DNF. We respect each other and don't tear each other's equipment up."
The national points leader by early August, Looft followed a runner-up finish at the Harris Clash with eight straight feature wins, effectively adding the big 2023 eagle trophy to his collection of hardware already dated 2013, 2014, 2018, 2021 and 2022.
"We had the car rolling the best it had been all year," he said. "Everything was just coming together."
A lot of things came together in Looft's second full Stock Car season at Arlington, where he led all drivers in The Class Too Tough To Tame with three wins and was second to Dan Mackenthun in the points race.
"Stock Cars are a lot of fun. They require more finesse because when you break traction, you can't get it back as quickly," said Looft, who came one spot short of qualifying for the IMCA Speedway Motors Super Nationals fueled by Casey's as driver of the B & B Racing Chassis house car. "You can be really aggressive in a SportMod. You can drive them harder, so running the stock car requires a different driving style." Looft is looking forward to continuing running the Stock Car more often and possibly trying an IMCA late model in the near future.
Wins 31
Top Five's 45
Starts 49
HIS CREW: Wife Brittney, sons Brayden and Brysen and daughter Brynlee, Greg Sidles, Zach Schleininger, Tyler Schleininger, Roger Schroeder, Matt Dinesen and Katie Dinesen. Also, Paul Burger, Ben Davis, Mark Davis, and Jason (Ozzy) Otto all helped on the B&B Stock Car house car.
HIS SPONSORS: Skyrocket Chassis of Joice; MB Auto Clinic LLC, Looft Tankwagon Service, of Swea City; Greg Penning & Co. LLC and S & B Farms Distillery, both of Bancroft; RL Ag Sales-Wyffels Hybrids of Armstrong; Bierstedt Farms of Cylinder; Ellsworth Brothers Manure Pumping, Mabus Feed Lot and Lofstrom-Krantz Farms, all of Lakota; Fast Shafts of Des Moines; Mitchell Machine of Webster City; S & S Machine of Belle Plaine, Minn.; Grotte Construction of Fairmont, Minn.; Broken Arrows Photography of Alpha, Minn.; Guitar Man of East Chain, Minn.; Moonlite Race Parts of Good Thunder, Minn.; Brent Prouty – REMAX Realty Plus of Redwood Falls, Minn.; C & L Woodworking of Mankato, Minn.; Esser Distributing of Blue Earth, Minn.; Snap Graphics of Mapleton, Minn; AFCO of Boonville, Ind.; Swift Springs of Chino Hills, Calif.; Engine Quest of Las Vegas, Nev.; and Balanced Speed (Jim Chisholm) of Osage.