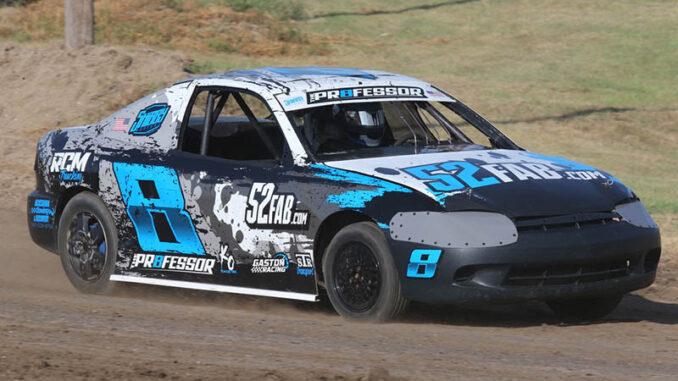 SPRINGTOWN, Texas (Nov. 2, 2023) – A driver who wasn't even planning to race for points at the start of the season led them all at the end of it.
Twenty feature wins helped make Randall Martin the first Texas driver to win the Mach-1 IMCA Sport Compact national championship. The speedster from Springtown won track titles at Boyd Raceway, Kennedale Speedway Park and Southern Oklahoma Speedway as well as Texas and Oklahoma State titles in his first full season in the 4-cylinder class.
"It means a lot for me to win the national championship, and to be the first driver from Texas to do it in the Sport Compacts. That's one of the reasons why I ran for it," Martin said. "It's an awesome feeling and now there's a sparkle in my eye. I wanted my name on that trophy."
Trophies may have been the last thing on Martin's mind after his engine went up in smoke on opening night, but he was the king of consistency from that point.
The wins … seven at Southern Oklahoma, six at Boyd, four at KSP, two at Abilene and even one at RPM Speedway in Kansas, came in streaks and Martin finished in the top five in 39 of his 44 starts.
He made a second racing trip north, with top four finishes at three different Iowa venues before finishing 16th in his IMCA Speedway Motors Super Nationals fueled by Casey's debut.
"I had raced part-time each of the last two years (winning three of 30 starts) and wasn't planning to race for points this season. But after my mom died in December, I decided that I needed to be in a race car," he said. "It was probably just four or five races in that we realized this could be a special season."
"We had some luck and everything just played out in our favor. "The points battles with Kolby Sabin and closer to home with (Junior National Champion) Sean Leasure were really a lot of fun and we got to race with (national rookie of the year) Stephen Stiteler a lot, too," Martin added. "We really knew we had a chance at the national championship when Southern Oklahoma added the Sport Compacts in June."
That was also about the time he picked up a nickname.
"The Professor is what everyone started calling me halfway through the season and a bunch of people begged me to put it in the wrap so I did. The reasoning behind it is that I did not keep any secrets with my setup on the car. I helped anyone I could," Martin explained. "There are probably 15 or more cars that run my exact setup around Texas. I didn't charge anyone. I also helped them as much as I could with driving advice, racing lines and how to keep momentum up in low horsepower cars."
Martin had raced a Friesen Performance Modified back in the day, winning three track championships at Stephenville before a brief stint in an IMCA Sunoco Stock Car.
He hit the pause button on his racing career to follow his kids' school activities. Youngest Madison graduated from high school this spring, giving dad the green light to purse his dirt track endeavors.
"We won a lot of races and we had a lot of good nights," Martin said. "Southern Oklahoma is an awesome track and we did really well there this year. Probably my highlight of the season was when they had 80's Night there. We all dressed up in 80's clothes, I carried the flag and then I won the trophy dash and the feature. I pretty much won everything that night. It was a blast."
Wins 20
Top Five's 39
Starts 44
HIS CREW: Wife Tabitha, daughter Madison, son Korbyn, Brian Newcomer, William Creese and Blake Andrus.
HIS SPONSORS: Ko Racetek, 52fab, Layne's Machine and Gaston Racing, all of Springtown; STR Transport and Creese Epoxy, both of Decatur; and Jacksboro Towing and Recovery of Jacksboro.