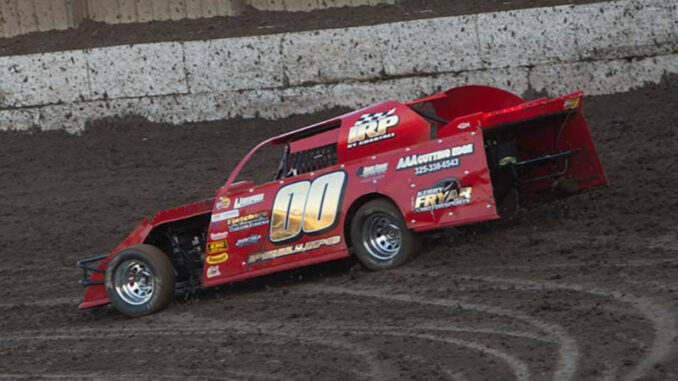 TUSCOLA, Texas ­­(Nov. 1, 2023) – Back in a race car after six years away from the track, David Phillips couldn't have scripted a better start to his 2023 season.
The ending was pretty special, too.
Phillips, from Tuscola, was quick to knock the rust off after his lengthy hiatus, winning a dozen features, Boyd Raceway and Texas State honors on the way to earning the Smiley's Racing Products IMCA Southern SportMod national championship.
"I had something to prove," stated Phillips, who'd wheeled IMCA Sunoco Hobby Stocks, IMCA Sunoco Stock Cars and then a SportMod over 12 seasons before that break. "I had a pretty bad year the last year I raced. It was rough on us. I wanted to come back, prove to myself and show I still had it."
"It's a really, really cool achievement to win a national championship, especially when you look at the list of the other guys who have done it," he continued. "You don't realize what it takes 'til you do it yourself and it was a 100 percent God-given thing on our end. We truly feel blessed and thank Him for this."
Phillips had won Stock Car titles in 2010 and 2012 at home track Abilene Speedway, the obvious choice when it came time to get back on the track last fall.
Best friend Bradly Poor provided the connection to car owner Kerry Fryar, suggesting he drive one of the Southern SportMods in his stable. Phillips' father Roland brought his decades of racing knowledge to the new team, which made its debut at Abilene's 2022 Southern Challenge.
"After I quit racing, it took me about a year just to get used to the adjustment. We did family stuff for the next five years but I never lost my love of the sport," Phillips said. "We didn't do so hot when we came back for the Southern Challenge but we knocked the rust off."
The Kerry Fryar Motorsports Team would have its 'A' game ready for the season-opening special at Abilene.
"We came back and won opening night of the Ice Breaker. The track hammered down and it was our first night of the season with a crate motor," said Phillips. "It was almost as if you couldn't believe it, it was so cool."
He'd total six wins at Boyd and four at Abilene on the year, with single checkers at Grayson County Speedway and Kennedale Speedway Park. In a tight race for the national title with Jeff Shepperd, track championship bonus points earned at Boyd ultimately made the difference for Phillips.
"That first night when we went out and won at Abilene, I realized I still had it. I won opening night at Boyd, too and that perked up our ears but it wasn't until April or May that we looked at national points and decided to give it a shot," Phillips said.
"It's just really cool how my first season back turned out," added Phillips, admittedly still awed to join the ranks of the drivers with IMCA national championships on their resumes. "Now I want to try to win another one and go back to back."
"Why not?"
Wins – 12
Top Five Finishes – 31
Starts – 43
HIS CREW: Wife Caitlin, kids Ellie and Olivia, father Roland, mother Esther, sister Emily, father-in-law Mike,
Car owner Kerry Fryar, Reagan Martin, Dakota Delacruz, Chance Brown, Damon Brown, Robby Crabtree, William Gould, Madison Fryar, Chip Krisp, Chad Clark, Josh Zentner, Chip Ingram and Casey Stillman.
HIS SPONSORS: Kerry Fryar Motorsports, AAA Cutting Edge, Wolfpak, AJ Enterprises and Dosser's Diesel Service, all of Merkel; IRP by Crabtree and Dark Horse Racing Shocks, both of Eula; Fletchers Custom Engines of Abilene; and Showtime Signs and Designs of Hawley.