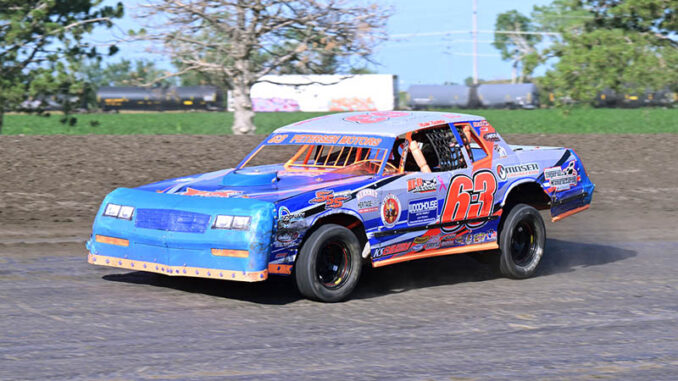 HARLAN, Iowa (Oct. 31, 2023) – Mike Nichols had three lessons to share, following his career 12th IMCA Sunoco Stock Car national championship.
First, do the work. Second, surround yourself with good people. And third, when you find a penny, pick it up.
Nichols won 22 features, along with the EQ Cylinder Heads Northern Region and track championships at Dawson County Raceway and Shelby County Speedway, in matching the legendary Ernie Derr's IMCA career total of 12 national championships in 2023.
"Since I started racing, we have always remembered to do the work away from the track. You can never get away from that," said Nichols, already laying the groundwork for 2024. "And when you continue to surround yourself with good people, good things will continue to happen."
"My racing has become 10-fold better since becoming part of a team," continued the Harlan, Iowa, hotshoe. "Since getting together with my wife Anita late in 2011 we have eight national championships together."
Nichols started his latest championship campaign with nine checkers before the Memorial Weekend, then endured an uncharacteristic slump that saw him win just once in his next 12 starts.
"We struggled in June for a variety of reasons," he recalled. "Then in early July I was looking down and saw a penny laying on the ground and it was heads up. I put it in my pocket and won four straight and six of the next seven."
"I forgot about the penny, it went through the wash and I got second the night I raced without it," Nichols continued. "I guess that at the end of the day, every racer has their own superstitions and we all need some luck to be successful."
That mid-season win streak included the $6,111 win at Boone County Raceway's Tanner Pelster Memorial.
"It was definitely my IMCA career-best payday," said Nichols, "but that wasn't the best part about winning that night. The race itself and the people in Albion are special. I think a lot of (promoter) Delmer Pelster."
Nichols won his first national crown in 2002, adding titles in 2004, 2007, 2010, 2014 and 2016-2018 and now 2020-2023. Derr's 12thand final IMCA championship season was 1971, six years before Nichols was born.
"My grandpa Bill Chapman was a big race fan so I heard a lot about Ernie Derr when I was a kid," said Nichols. "If I do end up passing him, there should be an asterisk because what Ernie did was pretty impressive to say the least."
Nichols has been equally impressive, with 627 feature wins and 48 track and special series championships in addition to the dozen national and regional titles since turning those first sanctioned laps in 1996.
"Never say never, but it is highly likely that 2024 will be my last year of pushing as hard as we have the last couple decades. That is our plan now," he said. "We want to transition to doing other things toward the end of next year."
Wins 22
Top Five's 35
Starts 44
HIS CREW: Wife Anita, crew chief Justin Gessert, Paul Zimmerman, Mike Diercks, Wendall Cross, Casey Farrens, Phil Moyer and Shane Ransom.
HIS SPONSORS: A&M Polishing, Behrens Trucking, Goozman's Westside, Mi Casa Family Restaurant, Petersen Motors, The Rust Family/Rusty Iron and The Lounge, all of Harlan; Gaul Farms of Earling; Shane & Shawn Ransom Independent Scentsy Consultants and Kearney Heritage Farms, both of Walnut; Advanced Communication Services of Manilla; Dragonfly Acres of Portsmouth; What's Your Sign? Graphics of Avoca; Dynamic Drivelines of Des Moines; The Twisted Tail of Beebeetown; Josh Nielsen & Woodhouse Auto Family of Missouri Valley; B & B Racing Chassis of Belle Plaine, Minn.; Kevko Oil Pans of Fairmont, Minn.; KS Engineering of Albert Lea, Minn.; Imperial Manufacturing Racing of Beaver Crossing, Neb.; SSS Motorsports of Springfield, Neb.; FX Suspension of Phillips, Neb.; Noonan Industries of Dorchester, Neb.; Bassett Racing Wheel of Burlington, Wis.; Multi-Fire by Money of Penokee, Kan.; Western Carriers of WaKeeney, Kan.; Comp Cams of Memphis, Tenn.; QuickCar Racing Products of Lebanon, Tenn.; Moser Engineering of Portland, Ind.; Schoenfeld Headers of Van Buren, Ark.; CP Carillo of Irvine, Calif.; Swift Springs of Chino Hills, Calif.; and Wilwood Disc Brakes of Camarillo, Calif.