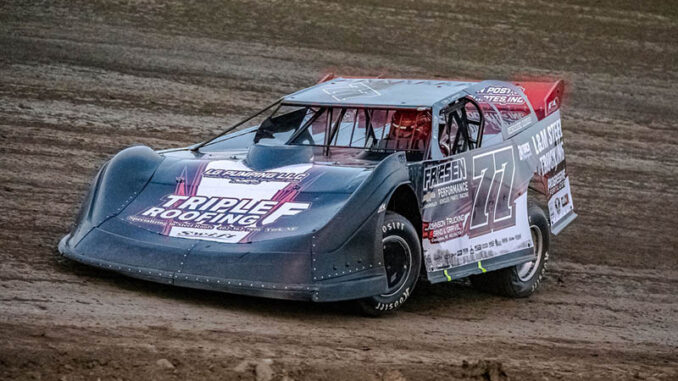 NEWMAN GROVE, Neb. (2023) – Cory Dumpert vowed last fall that he'd "hit the ground running" when the 2023 IMCA Speedway Motors Weekly Racing point season rolled around.
He made good on that promise, racing to 15 feature wins, three track titles and a record-extending fifth straight IMCA Sunoco Late Model national championship.
"Last year was more for fun. This year we just kept our head down and kept racing. It was more of something I wanted to do," said Dumpert, from Newman Grove, Neb., now the third driver in IMCA's modern era to win national championships in five consecutive seasons. "And now that I have won five straight, the feeling is hard to describe."
"We're in uncharted waters."
Dumpert was quick to find victory lane after switching to a Longhorn Chassis, topping the opening night show at U.S. 30 Speedway and collecting another 10 checkers by mid-June.
While he did most of his racing in Nebraska, a visit to Crawford County Speedway in Denison, Iowa, on June 16 provided the second of three feature wins that weekend and a season-highlight victory.
"Boone County Raceway at Albion rained out that night and Denison was the closest track racing," recalled Dumpert. "We pulled in at intermission, guessed on the gear, won from 16th starting and went home. From the time we got to the track until we left was an hour and a half."
He'd add another win about every two weeks after that, picking up track championships at Boone County, U.S. 30 and Off Road Speedway to go along with a fifth Nebraska State crown.
"There were some challenges coming out of the box but we thought right away 'Holy crap this car is pretty good.' I don't know if we've ever won on opening night before," Dumpert said. "And there were times around mid-season when things got stressful. We got flats and didn't win a couple races we could have, and I even lost a transmission backing the car out of the garage. I've never had anything like that happen before and we were lucky enough to find another one before we raced that night."
Runner-up at the IMCA Speedway Motors Super Nationals fueled by Casey's after winning at Boone last year, Dumpert wrapped up his latest national championship with a flurry of top five finishes.
"Our goal this year was to do everything the right way and we did that," he said, eyeing Ernie Derr's all-time mark of seven consecutive IMCA championship seasons. "We've got five. We can't stop now."
Dumpert has 80 wins in his IMCA Sunoco Late Model career. The upcoming national awards banquet he and wife Lindsey will attend as Mr. and Mrs., after their destination wedding this month to Sedona, Ariz.
"We got married on top of a mountain, after a 45-minute jeep ride to get up there. We had about 25 family members and our closest friends there," said Dumpert. "Lindsey and I have been together for nine years and she's had to put up with a lot, so wherever she wanted to go, that's where we were going."
Wins 15
Additional Top Five's 16
Starts 40
HIS CREW: Wife Lindsey Dumpert, parents Cary and Debbie, brother Kyle, Kevin Safranek, Adam Fowler, Evan McIntyre, Casey Nieto, Edward Pritchard, Alex Banks and Kenny Summers.
HIS SPONSORS: Ed and Adam Fowler and Triple F Roofing of York; Johnson Trucking Sand and Gravel of Columbus; L & M Steel Trucking of Newman Grove; Outback Motorsports of Norfolk; Friesen Performance of Aurora; Safranek Racing of Merna; Trotter Fertilizer, Trotter's Tire Pro, Brevant Seed, Channel Seed and LB Thoroughly, all of Broken Bow; Doran Post and Associates Inc. of Lexington; Progressive Fertilizer of Callaway; ACG Ag Consulting Group of Kearney; Sargent Irrigation of Broken Bow; BSB Manufacturing of Wellington, Kan.; Golithium Batteries of Coleraine, Minn.; Swift Springs of Chino Hills, Calif.; and DeKalb Hybrids.