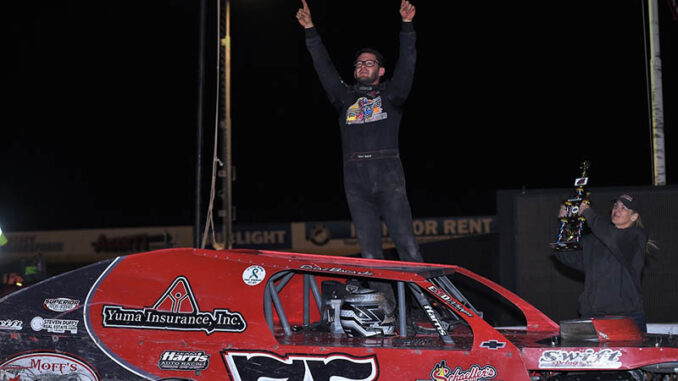 MESA, Ariz. (2023) – Two six-race streaks bookended Chaz Baca's history-making 2023 IMCA Speedway Motors Weekly Racing season.
After starting the year with half a dozen underwhelming outings, the 26-year-old from Mesa got dialed in a new-to-him chassis and won his Friesen Performance IMCA Modified career 100th feature in late May. The checkers kept coming and Baca would race all the way to the national championship.
"There have been so many great IMCA drivers from Arizona. To think I would be the first from Arizona to win a national championship is crazy," he said. "Having three tracks (in the state) to race at regularly lined us up to go for the national championship this year without having to travel so much."
"There were a handful of nights I may have given away a win," Baca added, "but we kept driver errors to a minimum and had more good luck than bad."
Along with a career third Shaw Race Cars Western Region crown since 2020, Baca motored to track titles at Central Arizona Raceway, Cocopah Speedway and Deuce of Clubs Thunder Raceway, collecting 23 of his 25 wins on the year in his home state.
The Arizona State Modified champion also proved to be a two-car star, winning the Stock Car title at Deuce of Clubs.
"We're not a big-time operation. We race out of a two-car garage next to the house," said Baca, the only driver in IMCA with four track championships to his credit in 2023. "Getting 100 career wins was the goal for sure at the start of the season because we knew we were close. The national championship became the main thing after we did that."
Baca moved to a 2021 Harris ride formerly piloted by Kyle Brown this season, working out the kinks before getting his first win of the year in the finale of the IMCA.TV Winter Nationals at Cocopah.
Win number 100, his 13th of the season, came over Memorial Day at Show Low and preceded Baca's announcement that he'd next take aim at 25 wins and the national championship the rest of the way.
"Once we got this car figured out, the wins started coming more often and we decided to push for it," said Baca, third nationally in 2021 and a top 10 finisher in national standings four times since 2018. "While we knew it was something that could be done, we also knew it wouldn't be easy."
Baca won his last six weekly starts, bookending those victories around second and 18th place finishes in the Fast Shafts All-Star Invitational and main event at the IMCA Speedway Motors Super Nationals fueled by Casey's.
"It meant a lot to us that we could go to Boone as the national points leader and run well," he said. "We have finished well in the national standings before but come up short. To work as hard as we did, be successful and pull it off this year was very special."
Wins-25
Top Five Finishes-40
Starts-49
HIS CREW: Father Chaz Sr. and mother Dawn; uncle Dennis; and Spencer Chilton and Robert Werkmeister.
HIS SPONSORS: Baca's Customs, Moff's Mods and Rods, Zaccardi Built Garage, Steven Duffy Real Estate and EMD Wraps, all of Mesa; Yuma Insurance and 928X Motorsports, both of Yuma; Hatch Toyota of Show Low; Cocopah Speedway; Jason Babyak and Schaeffer's Lubricants of Queen Creek; Trail Transmission of Apache Junction; Swift Springs of Chino Hills, Calif.; Superior Fuel Cells of Creswell, Ore.; Garagefab.com of Las Vegas; and Harris Auto Racing of Boone, Iowa.