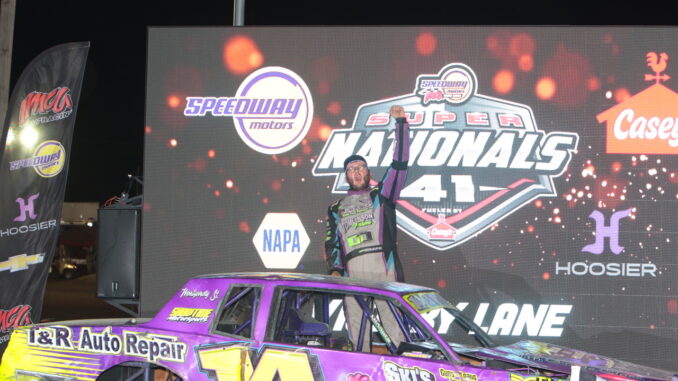 BOONE, Iowa (Sept. 5, 2023) – Mike Smith will make his bid for a second IMCA Speedway Motors Super Nationals fueled by Casey's championship from the front of the middle row in Saturday's Hobby Stock main event.
Tristan Grape, meanwhile, begins his run for a first title from the front of the outside row.
Both won qualifying features Tuesday evening at Boone Speedway, 2021 champ Smith after starting 25th and Grape after leading the last 23 times around the track and dodging a lapped car in the late going.
While Cody Williams led the way in the first qualifier, Smith made the top side work to perfection after his deep in the field start, getting all the way to third by lap 15 and taking over up front following a lap 16 restart.
Two more yellows slowed the finish of the 25-lapper but Smith led Williams and Matt McDonald across the stripe in a green, white, checkered finish. Calvin Dhondt, Jeff Fink, Malik Sampson, Jimmy Doescher and Tom Killen Jr. rounded out the qualifying top eight.
"I knew I had to get going. I was trying all over the place," Smith said.
"That was a fun race. There was a top line and a bottom," he added. "After the race of champions (he finished seventh) we weren't happy with the car. We went back, made a couple changes and made it better. Hopefully we can keep this momentum into Saturday."
Grape had similar sentiments following the nightcap, avoiding getting caught up with that lapper and outrunning a determined Riley Christensen to the checkers. 2019 Super Nationals champ Dylan Nelson wrapped up his run from 23rd in third.
"It feels great," said Grape, 10th in his Super Nationals Saturday night debut last year. "We're a little closer to winning it now. We don't have to start so far back."
Luke Phillips, Wayne Gifford, Justin Frederick, Blake Luinenburg and Eric Stanton completed the top eight and advance to the outside row as well.
Last-chance qualifying on Wednesday sends the final six cars to the main event grid.
IMCA.TV broadcasts the entire week of the 41st annual IMCA Speedway Motors Super Nationals fueled by Casey's.
1st qualifying feature results – 1. Mike Smith, Lake City; 2. Cody Williams, Minneapolis, Kan.; 3. Matt McDonald, Scranton; 4. Calvin Dhondt, Kellogg; 5. Jeff Fink, Denison; 6. Malik Sampson, Worthington, Minn.; 7. Jimmy Doescher, Hollandale, Wis.; 8. Tom Killen Jr., Des Moines; 9. Seth Janssen, Ogden; 10. Colby Christensen, Audubon; 11. Steve Bitting Jr., Phoenix, Ariz.; 12. Cody Hubbell, Rolfe; 13. Curt Reed, Des Moines; 14. David Norquest, York, Neb.; 15. Jeremy Kinsey, Henderson, Neb.; 16. Dustin Gulbrandson, Sioux Falls, S.D.; 17. Justin Maschke, Des Moines; 18. Ben Schneiders, Sioux City; 19. Tayte Harazin, Redwood Falls, Minn.; 20. Kalyb Brunssen, LeMars; 21. Rob Durfee, North Platte, Neb.; 22. Payce Herrera, Price, Utah; 23. Zach Hemmingsen, Mame; 24. Dustin Filloon, Tama; 25. Jordan Ahlers, Slayton, Minn.; 26. David Wright, Panora; 27. Michael Kimm, Vinton; 28. Cody Werner, Clearfield.
2nd qualifying feature results – 1. Tristan Grape, Bellwood, Neb.; 2. Riley Christensen, Audubon; 3. Dylan Nelson, Adel; 4. Luke Phillips, Wapello; 5. Wayne Gifford, Boone; 6. Justin Frederick, Cleghorn; 7. Blake Luinenburg, Reading, Minn.; 8. Eric Stanton, Carlisle; 9.Jason Kohl, Missouri Valley; 10. Andrew Burg, Maricopa, Ariz.; 11. Jason Wilkinson, Neligh, Neb.; 12. Kyle Parizek, Hartwick; 13. Jim Ball Jr., Independence; 14. Tyler Ball, Independence; 15. Mark Neis, Benton, Wis.; 16. Rusty Bates, Casey; 17. Andrew Burk, Milan, Ill.; 18. Dan Van Pay, Denmark, Wis.; 19. Solomon Bennett, Minburn; 20. Austin Lundquist, Sioux City; 21. Shane Richardson, Wapello; 22. Carter Davis, Hinton; 23. Luke Ramsey, Bedford; 24. Matt Wahl, West Des Moines; 25. Craig Clift, Sioux City; 26. Brandon Bombardo, New Prague, Minn.; 27. Joe Doran, Paton; 28. Chad Rigby, Madrid.