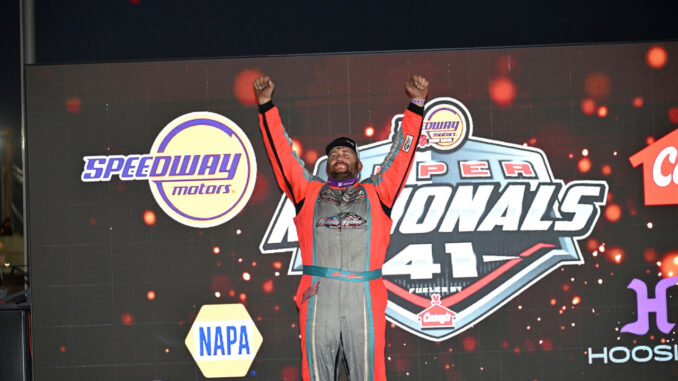 BOONE, Iowa (Sept. 5, 2023) – Before the green flag flew for Tuesday's BSB Manufacturing Northern SportMod Race of Champions, Jake Sachau made it clear he wasn't racing for second.
Twelve laps later, he was holding up the trophy in the infield at Boone Speedway for the second straight year after running three-wide with Spencer Galaway and Tyler Bannister, holding on after contact with Bannister and then beating Galaway to the checkers by less time than it takes to blink.
All that, in the last three laps.
"That was wild," said Sachau, already a Double Down Prelude winner on Sunday and IMCA Speedway Motors Super Nationals fueled by Casey's qualifying feature winner on Monday. "I told the guys we weren't here to run second. We're going to try to win them all."
Joseph Cooper had started outside the front row and led the first three laps. Galaway took charge over the next six circuits with the seventh starting Sachau coming out ahead after that three-wide race out of turn four to end lap 10.
Galaway was back in front by a car length and both Sachau and Bannister had to be holding their breath after getting together when lap 11 was scored.
Sachau found just enough speed to catch Galaway the last time around. Skyler Woods and Cooper were next across the line while Bannister salvaged fifth.
"I've never raced with Tyler before," said Sachau, who collected $300 for the win and another $100 in lap money. "I know he's good and I guarantee he did not expect to see me sliding in there."
Sachau is the first repeat winner in BSB Manufacturing RoC history and just the second to win the event twice, joining Doug Smith (2016 and 2019) in the accomplishment.
Former national and Super Nationals champions, race winners and 2023 track and state champions or point leaders were eligible to qualify for the BSB Race of Champions.
IMCA.TV broadcasts the entire week of the Sept. 4-9 IMCA Speedway Motors Super Nationals fueled by Casey's.
BSB Manufacturing Race of Champions results – 1. Jake Sachau, Manning; 2. Spencer Galaway, York, Neb.; 3. Skyler Woods, Beaver Dam, Wis.; 4. Joseph Cooper, North Platte, Neb.; 5. Tyler Bannister, Bakersfield, Calif.; 6. Kyle Olson, Cedar Rapids; 7. Brayden Ahlers, Slayton, Minn.; 8. Carter VanDenBerg, Oskaloosa; 9. Willy Kirk, Sloan; 10. Hunter Smith, Fort Morgan, Colo.; 11. Mitchell Morris, St. Charles; 12. Derek Murphy, Colorado Springs, Colo.