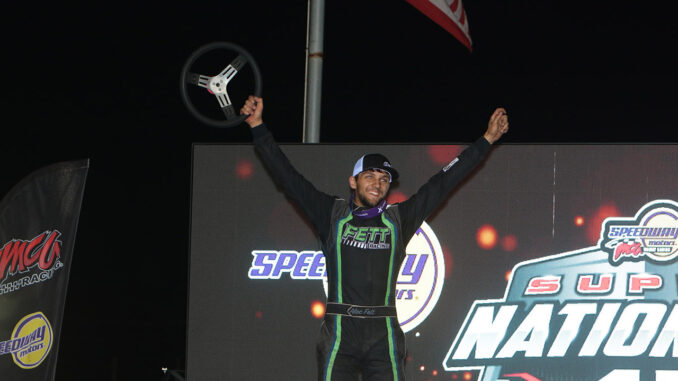 BOONE, Iowa (Sept. 5, 2023) – Alec Fett has raced his way into the Big Dance every IMCA Speedway Motors Super Nationals fueled by Casey's since 2018.
This Saturday, he'll start the Northern SportMod main event at Boone Speedway from the front of the outside row.
The Burt speedster was the third and final leader in his Tuesday qualifying feature, working his way up from 13th starting and passing Josh Barnhart for the front spot with five circuits left in a 25-lapper.
"I never thought I'd start on the front row. It's a dream come true," Fett said from victory lane. "I've made the dance the last six years now and never thought I'd start on the front row."
A Super Nationals career-best fourth in 2021, he was eighth last year.
Kyle Olson completed his charge from 17th starting to catch Barnhart coming to the checkers for second. Scored fourth through eighth and also advancing to Saturday's outside row were Cory Kemkes, Danny Concelman, Ryan Moser, Dylan VanWyk and Kaden Besaw.
Last-chance qualifying Wednesday sends the final six cars to the main event grid.
IMCA.TV broadcasts the entire week of the IMCA Speedway Motors Super Nationals fueled by Casey's.
Qualifying feature results – 1. Alec Fett, Burt; 2. Kyle Olson, Cedar Rapids; 3. Josh Barnhart, Colby, Kan.; 4. Cory Kemkes, Appleton, Wis.; 5. Danny Concelman, Colorado Springs, Colo.; 6. Ryan Moser, Englewood, Colo.; 7. Dylan VanWyk, Oskaloosa; 8. Kaden Besaw, Omro, Wis.; 9. Joe Docekal, Dysart; 10. Derek Fehling, Beaver Dam, Wis.; 11. Austin Stamm, Orangeville, Ill.; 12. Mitchell Morris, St. Charles; 13. Cory Pestotnik, Boone; 14. Ryan King, Colo; 15. Aaron Wiersma, Sioux Falls, S.D.; 16. Jacob Tacheny, Burt; 17. Matt Speiss, Jefferson City, Mo.; 18. Mark Saathoff[, Beatrice, Neb.; 19. Logan Veloz, Colona, Ill.; 20. Kyler Girard, Moberly, Mo.; 21. Logan Anderson, Eddyville; 22. Brayden Ahlers, Slayton, Minn.; 23. Colby Langenberg, Norfolk, Neb.; 24. Will Wolf, Grinnell; 25. Cole Gillenwater, Keokuk; 26. Adam Baker, Bakersfield, Calif.; 27. Cam Reimers, Kelley; 28. Josh Appel, Garner.