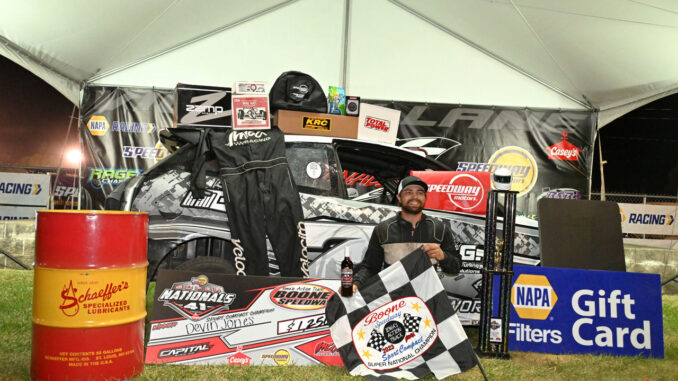 BOONE, Iowa (Sept. 5, 2023) – Devin Jones has been chasing another IMCA Speedway Motors Super Nationals fueled by Casey's championship since winning his first Sport Compact crown in 2017.
He returned to Boone Speedway and won that elusive second title Tuesday night.
"I've been chasing this for six years. Once you win one Super Nationals championship, you want to win another one," said Jones, who made the most of a restart just after midway of the 25-lapper to pass long-time leader Kaylee Richards and then checked out.
"Our car is new this year and we had a rough beginning to the season, but we've figured things out."
A record 95 Sport Compacts, four more than the mark set last year, competed at the 41st annual Super Nationals, running for a top check boosted to $1,250 by division title sponsor Mach-1.
Richards' runner-up showing matched Kimberly Abbott's second place finish last year as the best for a female driver at Super Nationals and Sean Leasure's third-place run was the best-ever in the Sport Compact main event by a Texas driver.
"There were quite a few cars here," Jones said, while loading his own up for the trip home to Mason City. "There were a lot of good drivers in this race, and a lot of good drivers who didn't qualify."
Richards had started fifth, took the lead on lap two and started easing away from the pack before the one and only caution of the night came on lap 15.
Leasure had Richards in his sights before the yellow, but it was Jones making the big move to the front when the green flew again.
Richards chased Jones the rest of the way. Leasure got third back with six laps left while Cristian Grady and Oliver Monson settled into top five spots in the final circuits.
"When that caution came out, I knew it wasn't going to benefit me," Richards said after her career first trip to the Big Dance. "But I can't complain at all. This means a lot. We've put a lot of work into my car this year and tonight it paid off."
Hard charger candidates crossed the stripe behind Monson. Kolby Sabin raced from 23rd starting to sixth, Zach Bohlmeyer from 16thto seventh, 2016 champion Josh Barnes from 30th to eighth and Mick Rykhus from 22nd to ninth.
Jones had won three straight starts before finishing second in Saturday's Double Down Prelude, piloting the Garrett Jacobson-owned 2005 Ford Focus ride.
"I was never a Ford guy," he admitted, "but I think I've converted."
IMCA.TV broadcasts the entire week of the Sept. 4-9 IMCA Speedway Motors Super Nationals fueled by Casey's.
Feature results – 1. Devin Jones, Mason City; 2. Kaylee Richards, Wymore, Neb.; 3. Sean Leasure, Mansfield, Texas; 4. Cristian Grady, Cedar Rapids; 5. Oliver Monson, Thornton; 6. Kolby Sabin, Des Moines; 7. Zach Bohlmeyer, Beatrice, Neb.; 8. Josh Barnes, Keokuk; 9. Mick Rykhus, LeCenter, Minn.; 10. Greg Kohl, Fort Ripley, Minn.; 11. Jake Paysen, Wall Lake; 12. Jenna Hagemann, Fort Ripley, Minn.; 13. Terry Bickford, Shannon City; 14. Branston Arnder Jr., Salina, Kan.; 15. David Kimmel, New Virginia; 16. Randy Martin, Springtown, Texas; 17. Brian Newcomer, Red Oak, Texas; 18. Riley Paysen, West Des Moines; 19. Alex Thompson, Bismarck, N.D.; 20. Brandon Hartmann, Fairmont, Minn.; 21. Colton Stewart, Vinton; 22. Dylan Whitley, Enid, Okla.; 23. Jacob Walding, Sioux City; 24. Chris Pittman, Dunkerton; 25. Tyler Thompson, Sioux City; 26. James Haring, Oskaloosa; 27. Racer Costello, Waukomis, Okla.; 28. Mark Earl, Burleson, Texas; 29. Blake Driscol, Dysart; 30 Tim Schnathorst, Burlington.